You've probably shed a tear while watching your favorite anime if you're an anime lover. Unfortunately, while making that human connection is excellent, sometimes intense emotions can take a toll on the viewer. That is why you need a happy anime to watch!
After all, these continual emotion-driven adventures can start drifting into our lives and make us question our relationships.
For every sad anime you watch, you should have a happy anime too! This article discusses six popular anime to cheer you up so you can always smile while watching anime, including popular romantic comedies, isekai, and more! Enjoy popular anime like Kuma, Kuma, Kuma Bear, The Way of the Househusband, and several others!
This cheerful Isekai is bound to make you smile.
Kuma Kuma Kuma Bear
follows the story of Yuna, a heroic gamer who is transported into a fictitious world.
While living in this world, Yuna must save the people around her from danger using her mystical bear powers. Of course, as a bear, she gets into plenty of hijinks, and it is not always as straightforward as it seems. Still, things always seem to work out in this very positive and uplifting anime series,
Kuma Kuma Kuma Bear
.
There is currently only one season of
Kuma Kuma Kuma Bear,
with the anticipation of more in the future as new volumes of the manga and light novel continue to release.
No Game, No Life
No Game, No Life
is a fantastic story of two devoted siblings who will stop at nothing to prove they are the most significant gamers in the world (and they are!). This isekai follows Sora and Shiro as they are transported inside a giant video game.
After showcasing their skills online in several PVP games, the two siblings are transported into this world where they are destined to beat the final boss and prove their ultimate abilities. You'll laugh to tears as you watch these two clever siblings beat every opponent they encounter using their wits and unique gaming abilities.
No Game, No Life
is incredibly entertaining if you are a gamer yourself.
The anime is based on manga and visualnovelsl. There is currently only one season of
No Game, No Life
. Many fans hope there will be a second season of the anime, but there has been no confirmation that a second season will be released.
The Way of the Househusband
If you are looking for a goofy anime with plenty of laughs,
The Way of the Househusband
is perfect. The manga slice-of-life adaptation follows ex-yakuza member Tatsu as he acclimates to his new life as a househusband.
The unique story is full of laughs as he learns the difference between a world of battle and an oddly-terrifying world of housework, including cooking, cleaning, and mundane human interaction. Things that seem normal to us, like sweeping the floor, will have you belly laughing in The Way of the Househusband as protagonist Tatsu, AKA "Immortal Dragon," fails to recognize real threats.
The second season of The Way of the Househusband will release in January 2023.
KonoSuba: God's Blessing on This Wonderful World!
KonoSuba: God's Blessing on This Wonderful World!
is the story of the hopeless high schooler Kazuma as he is thrust into a mystical world. The clever Isekai follows Kazuma as he gets used to living in this fictitious world, including meeting new people and living out his wildest fantasies as an adventurer.
While his time in his new world is enjoyable, it does not always work out exactly as planned. He is forced to partner up with some of this world's most hopeless adventurers, including former goddess Aqua, causing many problems along the way as he tries to achieve. You'll never stop laughing watching this goofy anime.
The anime is an adaptation of the manga and light novel. There are currently two seasons of KonoSuba: God's Blessing on This Wonderful World! with a 3 season releasing in February 2023.
Toradora!
Toradora! is a romantic comedy that is sure to get you laughing. The happy anime follows protagonist Ryuji as he forms a very unsuspecting friendship with a standoffish classmate, Taiga. You will enjoy every episode as Taiga and Ryuji attempt to win the affection of their high school crushes.
The complications along the way in Toradora! as these two misunderstood high schoolers try to win the affections of their high school crushes will undoubtedly make you laugh. It is relatable for anyone who has tried putting themselves out there and may encourage you to expand outside your comfort zone and shoot your shot!
Plus, the Toradora! Characters are relatable for anyone who has ever been misunderstood by their classmates, colleagues, parents, or anyone else. So you might find your comfort character in Toradora!
The slice-of-life comedy has 1 season, consisting of 25 episodes. However, there is a possibility that there could be a second season.
Love, Chunibyo & Other Delusions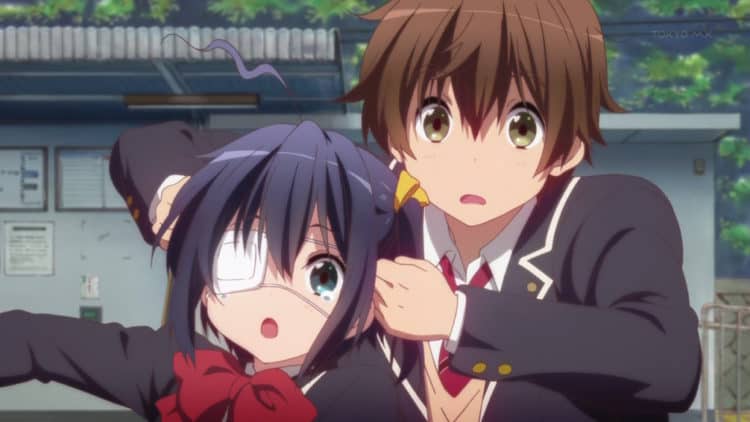 There is no goofier anime than Love, Chunibyo & Other Delusions. The happy anime follows the main character Yuta Togashi as he meets a delusional classmate, Rikka, who is sure to unveil his delusional secrets. You will feel joy while watching this romantic comedy as the two characters experiment with adventure, schoolyard crushes, and the ultimate type of delusions.
If you are unfamiliar with Chunibyo, this is the perfect anime to dip your toes in the water. Love, Chunibyo & Other Delusions introduces the topic in-depth without overwhelming. Plus, the wholesome concept will have you feeling complete by the end of each episode. With an array of unique characters, you are sure to find someone relatable, making this an overall delightful anime.
Two seasons of Love, Chunibyo & Other Delusions, complete the anime. Luckily, the light novel continues,, giving many fans hope that the anime may eventually continue. Still, there has been no news that the anime will ever continue.
February 2023
Tell us what's wrong with this post? How could we improve it? :)
Let us improve this post!