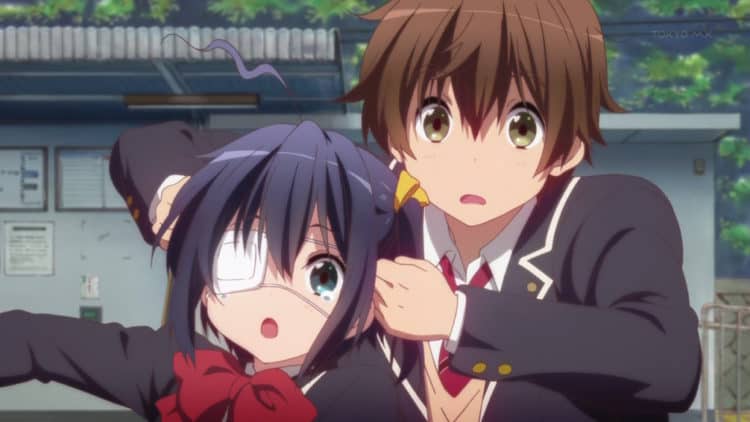 Love, Chunibyo & Other Delusions is centered around a Japanese concept called chunibyo. For those who are unfamiliar, chunibyo means "middle two disease," which is a reference to the second year of middle school. As such, chunibyo is sometimes translated as "eighth-grader syndrome" in English-speaking countries. It is called thus because indicates young teens who have grandiose delusions because of their desperate desire to stand out. For example, someone who is convinced that they possess secret knowledge. Similarly, someone who is convinced that they possess superhuman powers. Initially, the concept of chunibyo was a light-hearted remark. However, it has since been treated with more seriousness, though it falls short of being treated as a true mental health issue.
Perhaps unsurprisingly, Love, Chunibyo & Other Delusions focuses on a cast of characters with chunibyo. For starters, there is the male lead Togashi Yuta and the female lead Takanashi Rikka. Yuta is someone who suffered from chunibyo when he was still in junior high school, with the result that he alienated himself from his classmates by calling himself the "Dark Flame Master" as well as engaging in similar actions. However, he has since moved past said phase, meaning that he now finds it extremely embarrassing. In fact, Yuta is intent on starting fresh in high school where he believes no one knows about his past.
Unfortunately, this is very much not the case. Rikka is the inhabitant of the apartment above Yuta's apartment. She is a sufferer from chunibyo who believes that she possesses a Wicked Eye, which is why she always wears a medical patch over her right eye while having bandages wrapped around her left arm. Rikka started suffering from chunibyo for a couple of reasons. One, she was forced to spend some time living with her father's family after his death. Two, she was inspired by Yuta's own shenanigans. As a result, it should come as no surprise to learn that Rikka is quite interested in Yuta, which is something that he winds up reciprocating even though he finds her delusions to be rather embarrassing.
Eventually, the two form their own club called the Far-East Magical Napping Society – Summer Thereof. Furthermore, they meet a number of other characters who are suffering from their own issues. For example, Nibutani Shinka is a kind and popular class representative who is also a member of the cheerleading club. However, it turns out that she also decided to go to a high school where no one knows her because she was also someone who had chunibyo in the past. Similarly, Dekomori Sanae is someone who has delusions in the present time but manages an awareness that her delusions are not real. Furthermore, she has possession of the "spellbooks" penned by Shinka when she was still a chunibyo, though she finds it difficult to believe that Shinka once suffered from delusions. On top of this, there is Shichimiya Satone, who was the one who inspired both Yuta and Shinka in their delusions in junior high school. Both of them have snapped out of it. However, Satone hasn't, which is the product of a conscious decision on her part.
Will We See a Season 3 of Love, Chunibyo & Other Delusions?
On the whole, it is no exaggeration to say that Love, Chunibyo & Other Delusions is quite popular. The light novel series that served as the source material had a short run, consisting of four volumes that came out in June of 2011, December of 2011, March of 2014, and December of 2017. However, the animated adaptation has been quite lengthy. For starters, there was an original net animation series that came out from September to November of 2012, which overlapped to some extent with the first season of 12 episodes that came out from October to December of 2012. Soon enough, this was followed by the first movie that came out in September of 2013. Something that was then followed by another original net animation series that came out from December of 2013 to March of 2014, which once again overlapped to some extent with the second season of 12 episodes plus an OVA that came out from January to March of 2014. This was followed by a second movie that came out in January of 2018.
Of course, the performance of anime is far from being the sole measurement of a franchise's success. After all, while it is beneficial for anime to sell well, such works are as much advertisements as anything else when they are based on existing works. Love, Chunibyo & Other Delusions doesn't have the same torrent of spinoffs and other related works that exist for some of other series out there. Still, it had a fair amount of merchandise in its time, which suggests a considerable degree of popularity. Under normal circumstances, this would suggest some chance of seeing a continuation, particularly since the various components of the animated adaptation came out in such short succession. However, there is a very good chance why interested individuals shouldn't expect a third season for Love, Chunibyo & Other Delusions.
Further Considerations
Simply put, the second movie was the conclusion of the series, which is a fact that is well-known to a wide range of individuals. Theoretically, the people behind the series could make more material following the same characters in the same series. In practice, that would be stretching things because the relevant plot threads have been tied up, meaning that there would be a very real sense of cynical money-making with little consideration for enjoyable storytelling. Something that could alienate the intended audience. In any case, those who are interested in Love, Chunibyo & Other Delusions should make sure to check out the various components of the animated adaptation that have already been released. By doing so, they should be able to get a complete story, which is rarer than it should be in an ideal world.
Tell us what's wrong with this post? How could we improve it? :)
Let us improve this post!