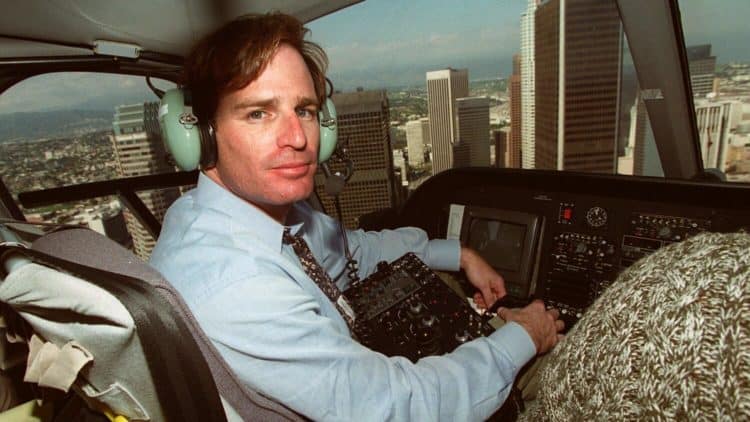 These days, it seems like new content is being pushed out so frequently that it can be almost impossible to decide what's worth watching. The good news is that there's a new documentary in town that might be exactly what you're looking for. Released in August of 2021, Whirlybird is a unique story about two Los Angeles-based journalists whose work during the 1980s and 1990s really changed the game. The documentary is a prime example of how the truth really can be stranger than fiction. Even if documentaries aren't typically your thing, this is one project you'll likely still enjoy. Keep reading to learn more about why you should watch Whirlybird.
What Is Whirlybird About?
The name Whirlybird is probably unique enough to grab lots of people's attention all by itself, but once you learn more about the actual story, you'll definitely be hooked. The documentary follows Zoey (previously known as Bob) and Marika Tur, a previously married couple, who reported on some of the biggest news stories of the 80s and 90s while flying over Los Angeles in a helicopter. They chose to invest in a helicopter because they realized that L.A. traffic was making it difficult to drive to locations in a timely manner. If there's one thing we all know about the news, being on time is extremely important. The pair's work was responsible for bringing us moments like O.J. Simpson's infamous Bronco chase and Madonna flipping her middle finger at the paparazzi on her wedding day. To put it simply, these two were just about everywhere in the area.
Without the risks Marika and Zoey were willing to make, some of the biggest news stories from those decades may never have seen the light of day. Their ability to work together to bring out the best in every story is something that not all duos have. However, things between Zoey and Marika weren't exactly as they seemed. The pressure of working together, particularly in such a demanding industry, eventually proved to be too much for Zoey and Marika.
More Than Just News
Although the news is at the core of the documentary, Whirlybird is really about much more than that. Viewers will also get the chance to learn about Marika and Zoey, whose relationship was complicated due to several factors including them working together. Although they didn't always see eye to eye, their love for news and adventure was always a common thread. Eventually, however, Zoey came out as a transwoman and began transitioning in the early 2010s. Although this happened long after Marika and Zoey's divorce, it has become a part of their collective story. This is especially true because Zoey was really struggling with her gender identity during her marriage to Marika. At times she had even become abusive. The documentary's director, Matt Yoka, handles each angle of the story with care, but at the same time, he isn't afraid to dig deep. Viewers will find themselves feeling intrigued at many of the things Zoey and Marika have to share and their work will forever be an important part of history.
What The Reviewers Are Saying
Even though Whirlybird wasn't widely released until August of 2021, it actually premiered in 2020 which has given critics plenty of time to sink their teeth into the film. Overall, Whirlybird has gotten some solid reviews and people seem to be in awe of the authenticity of the story. On top of that, it's a great reminder of how things have changed in the news industry over the last 30 years. According to a review by Jessica Fisher of Geek Tyrant, she was "blown away at the incredible true story that unfolded". She also added that the story was "heartbreaking" and "fascinating".
Why You Should Add Whirlybird To Your Watch List
One of the biggest keys to a successful documentary is telling a story that is worth being told. Matt Yoka definitely hit the nail on the head in that department. They may not have always gotten recognition from the public, but people within the industry have held them in high regard for many years. On top of that, one of the cool things about Whirlybird is that it can appeal to people of all ages. Even if you weren't around during the 80s and 90s, you'll likely still be fascinated by the things Zoey and Marika had to endure just to bring us the news. If you were around then, you'll probably feel some nostalgia – but you'll also learn lots of new things.