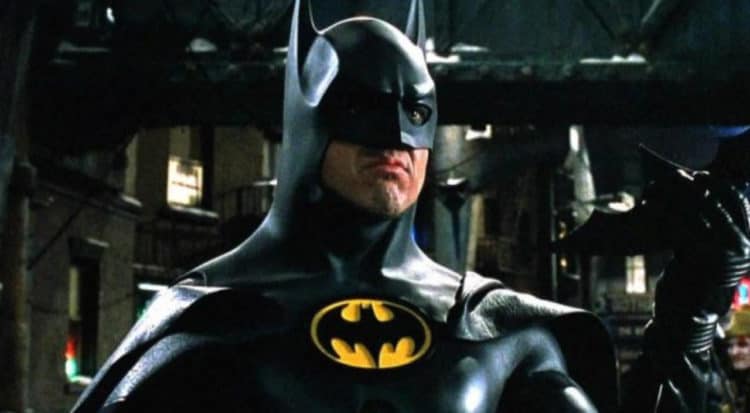 Before we get too excited about Michael Keaton showing up in the DC universe, hopefully this time in a batsuit that allows him full range and less limited mobility, keep in mind the use of the multiverse in the DCEU between the TV shows and the movies, and realize that his Batman won't replace Ben Affleck's or interfere with Robert Pattinson's either. What this means is that he's going to be, as the writers at MovieWeb want to put it, kind of like the Nick Fury type of the DCEU. That in and of itself sounds kind of disturbing since there's still the idea that the DC universe is trying to compete with Marvel and at this point it feels desperate, hopelessly so in a big way since there will have been multiple Batman's on screen that all exist in different universes, but still have the possibility of interacting with various heroes that have already interacted with heroes that have……oh my head. It'd be so much easier to say that we need Keaton as Batman because he was one of the best to take on the role, but somehow it has to get mixed up, beaten up, and tossed through a ringer in a manner that's bound to confuse a lot of people in the process. Likely DC fans are bound to get just this as MCU fans are, but the continual use of the multiverse in this manner feels like it's going to cause problems down the road since it does sound as though Keaton is in talks to appear in several movies, not just one.
Among the Batman actors that have already come along, including Kilmer, Clooney, Bale, and Affleck (no, I am not counting Adam West), Keaton is one of the more impressive for a few reasons. One is that he simply has the acting talent that's needed for the role, another is that can go from cold and aloof to crazy in a matter of seconds, which is impressive, and yet another fact is that he made the role iconic before the others that came after. That's it really, he didn't do a whole lot when it came to the character, other than to do it first and make it look absolutely impressive at the same time. If anyone can remember, his appearance on the screen was great since it was bringing the legend to life in a way that we hadn't seen before, and in a manner that didn't make it look like a slightly overweight man in a hastily stitched-together outfit. My apologies to Mr. West, but up until Keaton came into the role we didn't really have a solid view of Batman apart from the cartoons and comics. And once Keaton left after Batman Returns it took a while for Bale to finally arrive and pull the character out of lethargy and back into the desired mainstream. No, no apologies to Kilmer and Clooney at this time.
But the manner in which Keaton is said to be entering the DCEU, if that's the case, sounds more than a tad confusing as the timelines apparently have been muddled, which means that he could possibly show up in multiple stories. So far the Flash and Supergirl sound like likely landing spots when it comes to the movies, but at this time Keaton still hasn't finalized anything. To have him back would be great, but being realistic, he'd almost have to be an older version of Batman that might lead into a possible Batman: Beyond movie since like it or not it's been a little over three decades since Keaton suited up, and while he's not an invalid he's definitely not a young playboy any longer either. As an elder statesman in the DC universe though it could be interesting to see how he might do since he could bring a wealth of experience to the younger versions of the heroes and possibly be a much wiser and more experienced asset that might be able to a bit more good than Batfleck did in Justice League. Bringing back Keaton would likely please a lot of people, but again, he would need to be brought back in a way that would make sense, as just slamming him into the DC universe in the batsuit at this point would be kind of awkward, kind of like forming the Justice League before everyone had an idea of who the other members were. But seeing as how he might not fully interact with a lot of the other heroes it will be interesting to see how this plays out. After all, among the actors that are currently being used for the DC universe, Keaton is in fact the elder statesman since he made the role of Batman cool enough to keep around, along with Tim Burton.