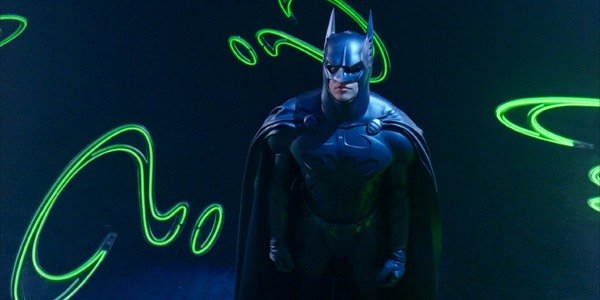 It's kind of odd to think that anyone would listen to a philosophical point made by Val Kilmer in regards to Batman, but for once he definitely makes sense when it comes to the character. As Kevin Burwick of MovieWeb points out, Kilmer's words "It's not about Batman. There is no Batman." are kind of odd and might confuse a lot of people given that they're vague and might be taken too seriously. But what it really means is that Batman is more of an idea than an actual person when one really thinks about it since the caped crusader is the kind of character that could be represented by many different people, though of course there are those that are far better at the job than others. But taking this idea into account it does stand to reason that being Batman is an honor that a lot of people would love to take on, though it does come with a lot of responsibility and a great deal of stress. It'd be nice to hear that this only applies to the fictional characters that have taken up the life of Batman, but it adheres to the real actors that have put on the cowl and cape as well. There's a lot that comes with the costume and the persona that fans want to see when it comes to the big screen. Animation is all well and good and the old TV shows were, well, ridiculous, but the movies have been where it's at for a number of years.
The reason it's hard to take Kilmer that seriously when it comes to Batman is that he was far from one of the best that ever took up the role, and it's been revealed that he was being talked about for the part before he was even interested in it. As playboy Bruce Wayne a lot of guys could easily step into the role, especially given that a lot of Hollywood actors are already kind of living that life in a way. But when it comes to being a troubled individual that dresses like a giant bat there's a certain mindset that a person needs to adopt that a few of those that have played the part just haven't had. Keaton had, Bale had it, even Affleck had it more than Clooney and Kilmer, but that elusive trait is hard to find in a lot of people since during the course of a Batman movie it needs to be turned on and off like a switch, or allowed to flow back and forth as needed in order to complete the character. Some of those that have taken on the role have managed to embrace this, but Kilmer was not one of them. He was pretty much the same between one character and the other, and didn't really impress a lot of people when the movie came out. It could have been that he was overtaken by Jim Carrey just as much as anyone else in the movie since the Riddler was an over the top character that a lot of people focused on instead of anyone else. Clooney had kind of the same issue with Arnold Schwarzenegger and, amazingly, the presence of every other big name on the cast. For one reason another, George Clooney just couldn't be convincing no matter how he tried.
Plus, it does sound as though Kilmer was a bit of a nightmare to work with on the set of Batman Forever, though he continues to refute that claim to this day. Russ Espinoza of Forbes has more on this subject. He's been a great actor in some respects and has a few impressive roles under his belt, but Batman just wasn't the right place for him to show up, largely because it's just not his type of role. For movies such as The Saint, The Island of Dr. Moreau, and even Heat he was great since he got to be a bit off-kilter and a little nutty, but for a movie like Batman he just wasn't in the right place no matter how many people might admit to liking the movie. But thinking that Batman is popular since he could theoretically be played by anyone and people wouldn't care is an interesting observation. It is true that people have been excited to see the emergence of Batman onto the big screen again and again no matter who's wearing the outfit, and even those that thought Robert Pattinson wouldn't be a good fit are starting to come around a bit. Personally I still think that Pattinson has a few hurdles to overcome when speaking of how he'll do in the role of Bruce Wayne/Batman, but at this point all we can do is wait and hope for the best, whenever that day finally comes. As far as Kilmer goes, that one bit of vague wisdom is at least an interesting bit of perspective.
Tell us what's wrong with this post? How could we improve it? :)
Let us improve this post!