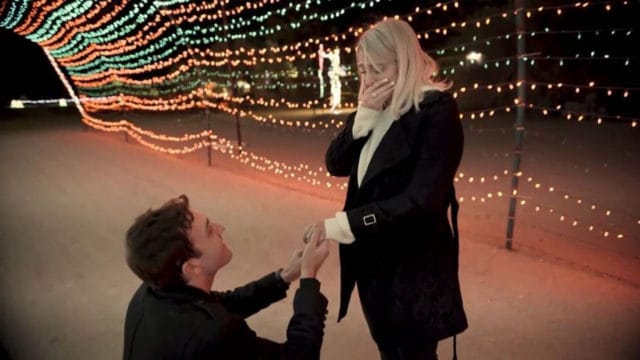 Who doesn't love the cute and extremely talented Nantucket-born singer/songwriter Meghan Trainor? From 'All About That Bass' to 'Lips are Movin', we love them all. Her other great songs include 'Like I'm Gonna 'Lose You', 'Dear Future Husband', 'Me Too', 'Better When I'm Dancin', 'I Love Me', 'Close Your Eyes', 'I'll Be Home', and 'Just a Friend to You', just to name a few. She's also received numerous nominations, accolades, and awards, including a Grammy, two Billboard Music Awards. and a Music Business Association's Breakthrough Artist of the Year award.
Engaged
And, now we're thrilled to find out that Meghan Trainor is engaged to Daryl Sabara! OK, who is he? Well, he's a SoCal born and raised 25-year-old actor, who is probably best known for his recurring role in the "Spy Kids" movies where he played Juni Cortez. But, his other works include roles on TV and in films like "Criminal Minds", "Father of the Pride", "Generator Rex", "Rob Zombies Halloween", "House", "Keeping Up with the Steins", "John Carter", "Machete", "The Polar Express", "Weeds", "Wizards of Waverly Place", "World's Greatest Dad", and as a judge on "America's Most Talented Kids". In the 90s, he did episodes of "Friends", "Murphy Brown", and "Will and Grace". So, as you can see, he's a pretty busy actor, as is his twin brother, Evan.
A Real Princess
He proposed to her on December 22, the day before her 24th birthday and, guess what? She said yes, of course. And her happiness was quite evident on social media where she said that she felt like a real princess, thanking her fiance, her family, and especially her bother, Ryan for the video of the momentous occasion, saying she would watch it over and over. She also called Daryl the love of her life and he called her his soulmate. They've actually been dating since July 2016. He also plays piano and guitar and she says that he sings to her all the time. They both especially love singing Justin Timberlake songs to each other. Hey, maybe Jimmy Fallon will have the couple and JT on "The Tonight Show" together! That would really be fun!
A Fairytale Romance
On the couple's first date, they double-dated, went bowling and sang karaoke. That's when they shared their first kiss. BTW, Meghan described her fiance as a really good kisser. On their five-month anniversary as a couple, they went out for Sushi to their fave restaurant and he gave her a special gift. No, it wasn't a ring or jewelry but puzzles. Daryl obviously already knew her well because puzzles are a true Meghan Trainor obsession.
Feelin' Sexy
Meghan says that she never felt sexy before and now she does thanks to Daryl. She also stated that Daryl loves every inch of her body and lets her know it all the time. On social media, she also thanked him for loving her and making her feel beautiful and special. She also thanked him for making her a better songwriter. Well, it's not like she needed any improvement in that area but we'll all be looking forward to all of her new songs now that she's engaged and obviously over-the-moon happy. Congrats to both of you!