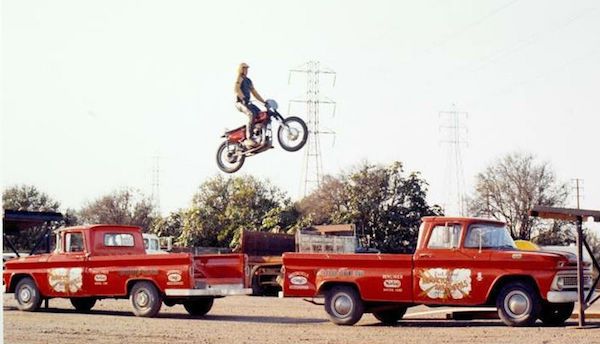 The name [easyazon_link identifier="B0149M41IQ" locale="US" tag="tvovermind00a-20″]Evel Knievel[/easyazon_link] has for many years been synonymous with the lifestyle of a daredevil and risky behavior. The famed stuntman was highly lauded for his approach and seemingly unprecedented flirtation with danger. There wasn't a stunt too dangerous or intense that he wouldn't attempt it appeared and he was able to walk away quite a few times. The life of a stuntman was one, and still is, that remains fraught with danger and a very high level of risk to life and limb. For all those that perform the act today however Knievel is one of the true pioneers that made stunts look good and prove that people can in fact do whatever they set their mind to.
If you thought you knew the man however you might think twice when you learn a few more things about him.
10. He kidnapped his girlfriend so he could marry her.
He actually kidnapped Joan Bork twice. The first time was in 1953 and he was actually charged for the crime. The second time he kidnapped her was in 1959. This time he rode away with her on his motorcycle and eventually married her. Strangely enough they were married for 40 years.
9. He was an insurance salesman.
He had a goal to be VP of the insurance agency he worked at and he was tireless in his methods when it came to opening policies. Unfortunately when he was told that he wouldn't be getting what he wanted he up and quit and headed off to sell motorcycles.
8. The first public stunt he did was a gimmick to sell motorcycles.
You might say a stunt performed to sell motorcycles would be best served by being done right. Shorting the jump and sending a full tank of rattlesnakes into the audience doesn't sound like it would bring in a lot of business. But it did gain him publicity.
7. His name carries a story behind it.
When he was in jail he met a man that he partnered up with and he became [easyazon_link identifier="B000FE3MLA" locale="US" tag="tvovermind00a-20″]Evil Knievel[/easyazon_link]. He took out the i in Evil though and replaced with an e so as to sound a little less evil. Appearances do matter after all.
6. He had to con his way into doing the famous Caesar's Palace jump.
He managed to hype himself up in so many different ways that Caesar's Palace couldn't help but let him jump. Of course it didn't go the way Evel wanted, but oh well.
5. For a while he dominated ABC's Wide World of Sports.
For seven years he was the top star on the show and he was well-liked by so many fans that it was rare that he wasn't seen as the number one star.
4. He forced George Hamilton to read him a manuscript at gunpoint.
When George Hamilton was selected to play Knievel in a movie the daredevil actually held the actor at gunpoint to make sure that he would treat the part with some respect. And you thought critics were tough.
3. He was an arrogant jerk.
Knievel has done a slew of things throughout his life that he only started being sorry for years later. Some decided to forgive him, but it was simply too much for others.
2. Surprisingly he was a fashion icon.
No matter where he went he was styling. The money he made went to clothes in a big part, as he had the philosophy that he wasn't going to take it with him when the end came.
1. He is, in a way, the father of extreme sports.
If you take a look at his career [easyazon_link identifier="B00BTQ5B08″ locale="US" tag="tvovermind00a-20″]Knievel[/easyazon_link] is one of the few that ever dared to push himself further and further. His stunts always got to be more and more dangerous, and his career only grew as he took on the kind of challenges that people figured couldn't be done.
He wasn't the best person in the world, but at the very least he was entertaining.
Save
Tell us what's wrong with this post? How could we improve it? :)
Let us improve this post!