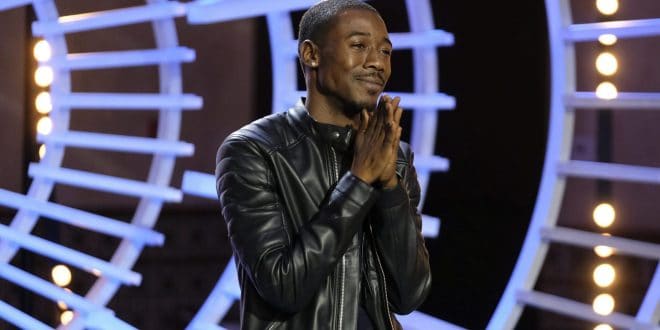 When Jason Warrior stepped in front of the American Idol judges for his audition performance, some were skeptical that he'd be able to pull off a successful performance of Marvin Gaye's classic song "What's Goin' On". Not long after he opened his mouth, however, it became clear that Jason had what it took so knock the song out of the park. His effortless vocals left he judges stunned and earned him a golden ticket to Hollywood. Jason couldn't be any happier and he's looking forward to continuing his American Idol journey. Hopefully, he makes it all the way until the end. Here are 10 things you didn't know about American Idol contestant, Jason Warrior.
1. He's A Chicago Native
These days it's easy to look as Jason and feel like he has it all, but that wasn't always the case. He was born and raised in Chicago and his father spent several years going in and out of jail. Despite the adversity Jason faced, he always refused to let anything keep him down.
2. He Was A Member Of A Gospel Group
Jason's faith has always been a major part of his life and his music. When he was younger, Jason was part of a gospel choir called Walt Whitman and the Soul Children. As a member of the group he got the got the chance to perform for former president Bill Clinton.
3. He Hopes To Inspire Others
Jason loves keeping fans entertained with his beautiful singing voice and captivating stage presence, but music is about much more than that for him. One of his main goals is to use his gift as a tool to inspire others who may be struggling with believing in themselves.
4. He Started A Production Company
As a creative person, the wheels in Jason's brain are constantly turning and thinking of new ideas. When he was in college, he started his own production company called Dramatic Studios right from his dorm room. Through the company, he went on to produce a web series called The Truth.
5. He's Released Original Music
One of the cool things about American Idol is that people come to the show at different places in their musical journey. While some contestants are just getting started, others, like Jason, have been grinding for several years. Jason has already released his own music with his most recent single being "Love Somebody".
6. He's In A Relationship
Now that Jason has his Golden Ticket and is on his way to Hollywood, there are probably lots of people looking forward to the opportunity to slide in his DMs. Those people might want to pump their breaks, though. Jason is in a happy relationship. He hasn't revealed any information about his girlfriend although it appears that she is a singer, too. In a recent Instagram post, Jason shared that he and his girlfriend met while they were part of Walt Whitman and the Soul Children. They have been together for two years.
7. He Was A Contestant On The Voice
If Jason looks (and sounds) familiar to you, that's probably because you might've seen him before. He was a contestant on season 11 of The Voice but sadly he was eventually eliminated. He was also a contestant on Fox's short lived singing competition show, The Four. Unfortunately, he didn't win The Four either. Despite the luck he's had with competition shows so far, he's still hoping to become the next American Idol.
8. He Plays The Trumpet
Jason is the kind of person who has several different talents. Singing and songwriting aren't the only musical talents that Jason has. He also plays the trumpet. Unfortunately, viewers probably won't get a chance to see him play the instrument on American Idol. It's unclear whether or not he plays any other instruments.
9. He Has A YouTube Channel
If you enjoyed Jason's opening performance on American Idol, you'll be happy to know that you can see more of what he has to offer by checking him out on social media. Jason has a very successful YouTube channel that currently has more than 67,000 subscribers. What's even more impressive is the fact that the channel has more than 2.3 million views.
10. He Sells Merch
Jason isn't just about music, he's all about his business as well. He sells merchandise through his website. At the moment, the only items he offers are t-shirts and hoodies. As his time on American Idol continues, there's a good chance more and more people will become interested in supporting him through his ecommerce store.
Tell us what's wrong with this post? How could we improve it? :)
Let us improve this post!