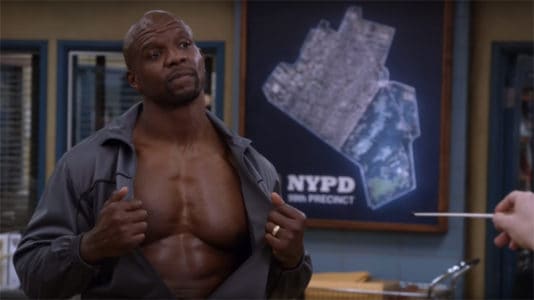 Former NFL football player turned actor Terry Crews joined the fourteenth season of "America's Got Talent" as the show's host in the season premier on May 28, 2019. The talent show has produced many budding singers, dancers and a wide variety of acts. Terry Crews replaces former host Tyra Banks. Howie Mandel and Simon Cowell return as judges with two new judges this season, Gabrielle Union and Julianna Hough. It's clear from the exciting premier that Terry Crews is a great choice for host. Here's why we think Terry Crews is the perfect "America's Got Talent" host.
America's Got Talent
"America's Got Talent" premiered on NBC in 2006 as a spin off of the British series. The show was developed by Simon Cowell and his company Syco. "America's Got Talent" is a reality show that aims to discover some of the best talent in the United States of America and internationally. Contestants bring their talents of music, dancing, comedy, stunts and a variety of other acts to the show. After passing a preliminary audition, contestants compete in front of a panel of celebrity judges and a live studio audience. If a contestant passes the Judge's Cut, he or she moves on to the finale which held live. The winner gets a large cash prize, and in recent seasons, a chance to headline a show on the Las Vegas Strip. Contestants and winners also have the opportunity to get noticed by talent seekers and maybe start a career showcasing their particular talents.
Season 14 premiered on NBC May 28. The panel of judges includes returning judges Simon Cowell and Howie Mandel with new judges, Julianna Hough and Gabrielle Union replacing Heidi Klum and Mel B. Guest judge's this year include Jay Leno, Brad Paisley, Ellie Kemper and Dwayne Wade.Perhaps the most exciting new member of the "America's Got Talent's" family is new host Terry Crews who replaces Tyra Banks. Crews showed off his skills during the premier and fans can't wait to see more of him.
Who is Terry Crews?
Terry Crews is from Flint, Michigan. His interests growing up included football, acting and art. After high school, he received a scholarships for an art education and for a football. He attended the Interlochen Center for the Arts in Michigan and Western Michigan University. He played pro football for several years before starting an acting career in television and film. He later co-founded a design company. Crews also wrote an autobiography that was published in 2014. Crews and his wife Rebecca King have five children and one grandchildren.
He's an athlete
Terry Crews attended Western Michigan University with a full athletic scholarship. He played a defensive end and earned All Conference honors. He won the Mid-American Conference Championship in 1988. In 1991 he was drafted by the Los Angeles Rams. Crews had a successful career in the NFL playing for the San Diego Chargers, the Washington Redskins, the Philadelphia Eagles and for the World League of American Football before retiring in 1997.
He's an artist
Terry Crews received a scholarship at the Interlochen Center for the Arts and an Art Excellence scholarship for Western Michigan University. He worked as a courtroom sketch artist and for a local Michigan television news station. Crews' professional artwork includes a series of NFL lithographs and designing a collection and light fixtures with Nana Boateng for their company Amen&Amen.
He's an actor, host and reality star
Once he retired from the NFL, Terry Crews took his family to Los Angeles to try to make it as an actor. Crews certainly has a creative side and couldn't wait to try his acting in any aspect of film or television. In 1999 he got a break hosting the game show "Battle Dome". This led to a movie role with Ice Cube in "Friday After Next". In 2004 he appeared in "White Chicks" and the following year in the Adam Sandler remake of the prison football movie "The Longest Yard". Crews went on to star in the CW sitcom "Everybody Hates Chris" and in "Brooklyn Nine-Nine". He appeared in other television shows and movies including "Are We There Yet?", and most recently, "Deadpool". Crews has done voice acting including in "American Dad". He hosted the game show "Who Wants to Be a Millionaire?" during the 2014-2015 season. From 2011 through 2014 Crews and his gospel singer wife Rebecca starred in their own realty show, "The Family Crews" on the BET network. The show followed the actor and gospel singer as well as their five children. Their daughter Azriel has followed in her parents' footsteps and is an actress and singer. Terry Crews has also appeared in several music videos and television advertisements throughout his acting career.
He's an activist
Terry Crews is also an activist. In the midst of the "Me too" movement where many Hollywood celebrities came forward with sexual harassment allegations, Crews admitted that he was once groped by a Hollywood executive. Crews received a Person of the Year Award from Times Magazine as one of the "Silence Breakers".
America's Got Talent is ready for Terry Crews
Clearly Terry Crews has talent and he can recognize when he sees it. After just one episode as host of "America's Got Talent", Crews has won viewers' hearts. Crews impressed the audience and judges during the two hour premier episode which featured a performance of "A Song For You" by Kodi Lee, a blind autistic young man who brought the song to life with his voice and piano skills. Crews clearly is rooting for the contestants and connects with the audience and the judges. With his multiple talents in sports, art and acting, Terry Crews is a great addition to "America's Got Talent".Deadpool
Tell us what's wrong with this post? How could we improve it? :)
Let us improve this post!