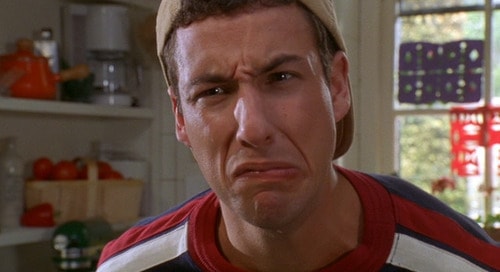 Throughout much of his career Adam Sandler has been a man-child and it's been obvious that he enjoys it. His characters have almost always been the least responsible and most carefree people in the world and yet they've never felt entirely complete, which is why their development is so important. There's no doubt he knows how to raise his voice when he needs to and can shout with the best of them. But most of the times when he does in film it's out of petulance and nothing else. There are times when his character's deserved to get downright angry and unload on someone, but there are also times when he seems to doing nothing more than throwing a giant tantrum that isn't really warranted.
He's a big kid, or at least he used to be, and that was his appeal.
5. Big Daddy
Shouting at a kid is never an optimal idea but I think a lot of us can admit that we've been there and it's a losing battle on all fronts. Kids don't have the necessary means to reason their way through anything other than turning up the volume and making sure you hear them. Some kids manage to talk it out, but when your father figure is a big kid himself the chances of that aren't great.
4. Billy Madison
The entire movie seems weird but it seems even weirder that a grown man would be hanging around with grade school kids like their best buddies. Of course given Billy's intellect it seems like maybe they'd be on equal footing and so that part of it would be entirely reasonable. It's just a good thing that Billy wasn't allowed to show the kids any of the other things he enjoyed doing.
3. The Wedding Singer
Getting jilted at the altar definitely gives you leeway to get angry, especially if you had no idea that it was coming. For a guy like Robbie, who didn't deserve to be left standing all by his lonesome, this was a good time to vent and let Linda know just how much she'd hurt him. Is it any wonder then why he doesn't welcome her back with open arms?
2. Anger Management
A lot of people get walked on at their jobs and it's not a pleasant feeling. A lot of us would like to snap like this as well and let our bosses know just how we feel. Of course we won't because we don't like the idea that someone might call the cops and lock us up for assault and for threatening the boss. But it's so tempting sometimes, isn't it?
1. Happy Gilmore
Miniature golf and clowns. This shot in particular is one that seems to be featured on a lot of putt-putt golf courses, almost as if the owners decided to get together to figure out just how to mess with people while getting them to spend money. Does anyone blame Sandler for his reaction here? Would anyone care to really try and deny that they would have liked to do just what he did?
I didn't think so.
Tell us what's wrong with this post? How could we improve it? :)
Let us improve this post!