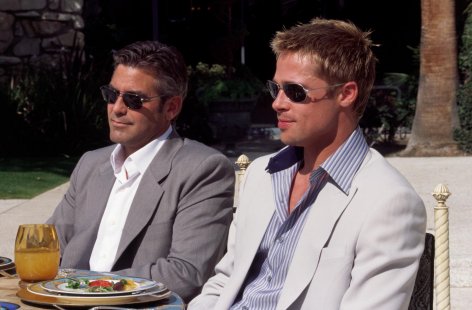 Jackpots are the kind of thing that will get your heart racing and make you believe that your luck has finally turned around. But in the movies they're just about as unbelievable as anything unfortunately. There might very well be a system to follow to get a jackpot, but as soon as the casino figures this out you can bet they're going to change out the machine for "maintenance" or take you in the back for questioning. Even if it's an innocent system that you've figured out to win, casinos don't like to lose. That being said, jackpots are a thrill that most people seem to take for granted, except in films.
How do you tell a gambler from a non-gambler? Hit a jackpot and you'll see.
5. Ocean's Thirteen
Here's where knowing the system comes in handy. If it was this easy then casinos would go broke in a hurry. But like I said above if they're on their game, then those machines will get switched out quickly in order to make certain the house continues to win and the gamblers keep plunking their hard-earned money into those slots. There's only one winner in a casino, and ninety-nine percent of the time it's not the gambler.
4. National Lampoon's Vegas Vacation
This is the kid you want with you whenever you hit Vegas. The kind of guy that luck just seems to hang around like a warm blanket. Every time he plunks in a coin he wins something, so why not ride that lucky streak as far as it'll take you? The only issue with winning cars is you now have this magnificent vehicle that requires insurance, fuel, upkeep, and a veritable fortune just to keep running. But hey, a win is a win.
3. Casino
This is where the casino is on top of everything, and I mean EVERYTHING. Ace isn't a guy that messes around and he definitely doesn't handle screw-ups well. If you see a machine paying out more than once a month then you might get a talking to, but if that same machine starts coughing up jackpots on a regular basis then expect to have your butt handed to you as you're being escorted from the grounds. And with his connections feel lucky that's all he does.
2. Echelon Conspiracy
The impressive jackpots are actually just small blurbs in this film. This movie features a hi-tech conspiracy that eventually shows the Russians seeking to help the Americans make the right decision on whether or not to use a brand new technology that could wave goodbye to personal privacy. The idea that a surveillance device could be used to scan the personal computer of every person online is kind of creepy, not to mention way too close to home at this point and time.
1. All Dogs Go To Heaven
At last, the feel good moment of the article where the poor and downtrodden are finally taken care of and the dog to do it is the same dog that's less than a good guy through much of the film. Give it to Charlie though, he knows how to take care of his friends and he's got a lucky streak a mile wide when he's paying attention to it. No matter that he doesn't quite know who to trust at times, this is a dog that you just can't keep down for long.
Jackpots are good for the soul so long as they last, which is about a minute or less. After that, the thrill either needs to be savored as you walk away, or shaken as you bet it all.
Save