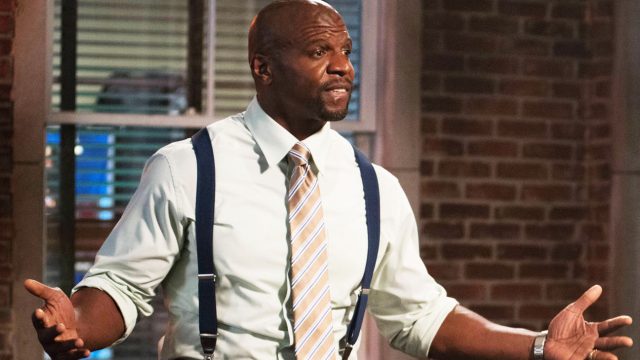 After just a couple of minutes watching Fox's award-winning show Brooklyn Nine-Nine, you'll be able to instantly tell it's not your ordinary cop series. It's a hilarious sitcom that is seriously innovative and unlike anything else on air. The show is currently in its fourth season, and one of the actors that has made it such a success is Terry Crews.
His role on the show is Detective Sergeant Terence "Terry" Jeffords, the 9-9's supervisor, devoted husband and father, and bodybuilder on the side. The way the Sergeant is so needlessly high strung, excitable, and talks about himself in the third person is comedy gold, and the character's scenes on the show are some of the best. Here are ten of the top Terry Crews moments on Brooklyn Nine-Nine.
1. Victory dancing
What better way to bond with your co-workers than a friendly game of football? That's not so out of the ordinary, but most people aren't playing against Sergeant Terry Jeffords. He literally destroys everyone else on the field, knocks people down left and right, and scores a touchdown. Of course, he has to celebrate as only he can by doing an insanely funny victory dance. True fact: Terry Crews used to actually be a pro football player — he was a defensive end for the LA Rams, San Diego Chargers, Redskins, and Eagles — so this entire scene could go down in real life.
2. Shooting up a mannequin and a pinata
The character that Terry Crews plays is anxious and a bit jumpy, which really isn't a good combo for a police officer. Sure enough, Sergeant Jeffords has had a few accidents and shot things that weren't suspects. Two of those things include a store mannequin and a kid's party pinata, and watching him shoot each one is beyond funny.
3. Go back inside!
After it was suggested that he go on leave, the Sergeant becomes determined to prove to everyone that he's totally fine and capable of resuming his duties. Like everything else, though, he completely goes over the top and overboard to prove his point. This time, he lifts up a parked car to show his co-workers that he's as strong and healthy as ever. While his muscles may not be under duress, the same can't be said of his GI tract and the entire stunt goes left.
4. Confrontation about the secret stash
As a health and fitness nut, Sergeant Jeffords doesn't mess around when it comes to lifestyle changes. When Scully is urged to diet and lose his junk food to stay around as long as possible, of course it's difficult for him. That doesn't matter to the Sergeant, though, and he forces Scully to tell him where the snacks are hidden. After he denies having any, Jeffords literally gives him a shake down to find out once and for all. It's believable that Terry Crews would actually do this in real life, as he truly is all about fitness off the screen.
5. Crushing the Magic 8 Ball
This scene is funny, but it's only one of a handful of times that Terry Crews was tasked with appearing to break things on the show. When he obliterates a Magic 8 Ball, he doesn't even react to the goo on his hands or the stunned faces of everyone around him, which makes the scene even more comical.
6. Being 'Scary Terry'
"Scary Terry" is the nickname given to the Sergeant whenever he volunteers to go be in a lineup at the station. While some may think he'd be offended at being asked to do such a thing, Jeffords doesn't mind at all. Why? Because when he's playing Scary Terry, he gets to say what's on the real Terry's Mind. Just don't make him late to the farmers market.
7. Losing his puffy vest
Terry Crews has an incredible physique, but the problem with being so muscular is that it's hard to fit into regular clothes. His character Sergeant Jeffords naturally has the same problem, and it's lead to a number of pieces from his wardrobe being utterly destroyed. One of the most unfortunate incidents occurred when he was flexing in his new puffy best — yes, a puffy vest — and he popped it to pieces. That's funny, but the look on his face when it happens is priceless.
8. The lie detector test
This is one of the funniest moments with Terry Crews' character on the show, and it involves one of the Nine-Nine taking a lie detector test. When asked if Jay Z is his favorite artist, his co-worker gets a flag for telling lies. When Sergeant Jeffords asks if his favorite artist is really Taylor Swift, up comes another flag because he lied and said she wasn't. The exchange between the two is hilarious, especially when you hear the confession of why Taylor Swift really is the co-worker's favorite musician.
9. Undercover at the silent disco
The first thing you'll probably wonder when watching this clip is if silent discos are really a thing — they are. Next, you'll wonder why Sergeant Jeffords is going undercover at one and why anyone would want to go to such an event in the first place. Jeffords asks the exact same question, and blows off the concept entirely. The really funny point in this scene is a flashback that Jeffords has to himself as a disco loving kid in the 70s.
10. The most hilarious yawn ever
In what is the most surprisingly side-splitting scene thus far on the show, the Sergeant is in a situation where he's been pulling overtime and working very hard. That's normal for him, and his superior often has to ask him to go home for his safety and the nerves of everyone on the force. This time, however, when the Sergeant goes to the Captain to get his overtime papers signed he stifles a yawn to cover up for being tired — it doesn't work, and you'll quickly see why.
Tell us what's wrong with this post? How could we improve it? :)
Let us improve this post!