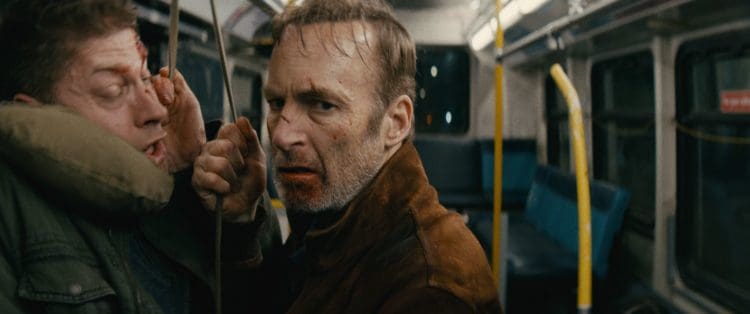 Nobody is an interesting movie. In retrospect, it's essentially John Wick 2.0. The film stars Breaking Bad and Better Call Saul's Bob Odenkirk as Hutch Mansell, a father, and husband who appears to be a disappointment to his son and a stranger to his wife. The strain in his relationship drives even further when Hutch opts to not fight back against two thieves who break into their home one night, despite having the clear advantage in doing so. However, a precious item stolen from his daughter triggers an untapped rage that's been hiding for a long period of time. Hutch's past comes back to light and the overlooked dad must save his family from a dangerous adversary.
Now, I understand that the beginning makes this seem like an unoriginal knock-off of a superior film. That's actually not the case. Yes, Nobody is predictable and the story beats of this 2021 feature are extremely similar to John Wick, but that doesn't mean that you won't have fun watching this feature. Part of that reason is Bob Odenkirk is surprisingly good as the lead character. It's not shocking that the veteran can act; Anyone who's watched Breaking Bad and Better Call Saul knows just how talented Odenkirk is. When you're watching the actor, it never feels as if he's playing a character. Nobody isn't in Odenkirk's wheelhouse, but the story isn't just some mindless action-fest that requires him to be an unstoppable action hero. The main reason Nobody works is due to the fact that it doesn't forget about developing his character. He's a former assassin trying to adjust to living a normal life. But as mentioned above, his world isn't exactly a great one. Odenkirk embodies this character and it's not exactly hard to connect with him because his situation is relatable. Hutch wants a sense of belonging and love, so when it seems that his own family (except his daughter) doesn't respect him, it helps aid in his journey throughout the action feature. But the impressive part comes at how physical the actor is during the film.
That bus scene is legendary. The fight choreography is simply amazing and actually differs from John Wick. The fights here feel grittier and more realistic, even though I'm sure no man would simply be able to get up so quickly after being thrown out of a bus. However, this sequence is so great because of the lack of fancy stunts and the tremendous back-and-forth here. Somehow, this prolonged sequence never feels cartoonish, even though it's extremely over-the-top. Granted, there should've been a stronger reasoning for Hutch's violent outburst towards these men. Yes, there were drunk douchebags, but the graphic and gory nature of the assault seems a bit extreme. Going back to John Wick, the reason the retired hitman loses his cool is due to the fact that his dog is killed for no good reason. That was the last resemblance of his wife, thus his violent response to Iosef Tarasov was completely justified. I understand that Hutch was riled up, but it didn't exactly call for the violent natures of their beatings.
Still, that doesn't particularly take you out of the action or film. Like I stated, the picture follows a predictable path, especially if you've watched John Wick, but the story moves quickly and the action flows nicely. Christopher Lloyd and RZA were fun side characters and there was especially a great rapport between Harry and Hutch. The family is just there. A real nice bonding moment between Hutch and his son would've been great as it generally does seem as if Blake doesn't have much respect for his father. Fighting side-by-side would've been a cool moment. Granted, Blake isn't involved with Hutch's world, but a stronger closure to their story would've been nice. Yulian Kuzentsov is a solid villain, though there's nothing in particular that makes him stand out. We're given enough about his character, so he doesn't come across as a one-dimensional villain, but he's not given much to chew on in terms of an arc. He's essentially there to get his butt whooped and highlight Hutch's awesomeness, nothing more. Overall, Nobody is simply a fun action film. What it lacks in originality, it makes up with a good story that doesn't insult your intelligence and great, brutal action that's better than a good majority of films that come out today. Bob Odenkirk has a nice future as an action star, should he choose to pursue that field outside of Nobody.