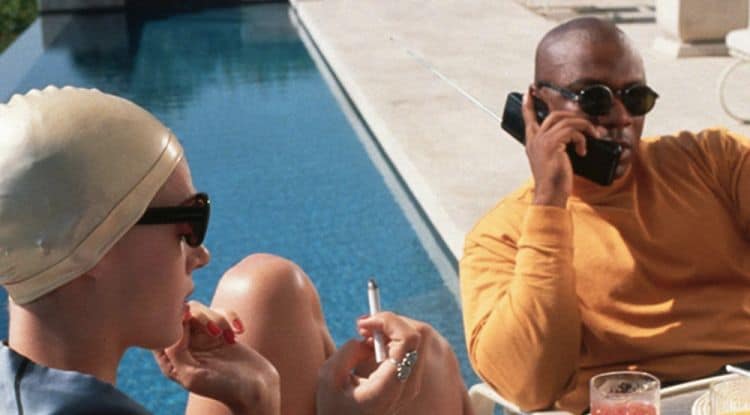 Pulp Fiction is an iconic movie that will live in the infamy of popular culture for a very long time. To recall, the Quentin Tarantino feature interweaves stories about the criminal underbelly of Los Angeles. Of course, we all know who Vincent Vega and Jules Winnfield are, but the hitman's gangster boss Marsellus Wallace and his wife Mia? Likely, you remember that unforgettable dance scene between John Travolta and Uma Thurman's characters. Or perhaps when Ms. Wallace overdoses on heroin. Or for Mr. Wallace, who was used as a mid-day booty call for two rapists. There's so much going on in Pulp Fiction that it's truly hard to focus on a set of characters, which is why Mia and Marsellus should've gotten their own spin-off.
Now, it's not that the couple is hard to figure out. Marsellus is a gangster who runs the seedy criminal world, at least in his opinion. He's cool, but not afraid to get blood on his hands. And Mr. Wallace is extremely protective of his wife. Ms. Wallace may have dismissed that rumor regarding Marsellus throwing a man off of a balcony because he gave her a foot massage, but who says she's telling the truth. On the surface, Marsellus comes across as your generic mafia boss, but who's to say the focus has to be on his criminal lifestyle? There's no explanation for who Marsellus is, but it's always fascinating watching the rise of these types of characters. How did Mr. Wallace become the man around these streets? Was he a Henry Hill type who always wanted to be a gangster growing up? Or, has the violent world around him forced him to become the man that he is today? How did he get Ms. Wallace?
There are plenty of directions to go with the characters of Mia and Marsellus. The most intriguing part about them is actually their relationship.  Mia comes from a different world. She's an actress, though a failed one. Mia may be "the deadliest woman in the world with a knife", but she's not exactly the definition of success without Mr. Wallace, who she relies on for financial support. Their love story could actually be in vain of True Romance; Mia isn't exactly against the world that Marsellus parades in and its possible that the two lovers got into some wild adventures before eventually settling down. The inclusion of Vincent Vega is also an interesting dynamic as well. Mia likes Vincent, though it's exactly sure to what extent. She never says a bad thing about Mr. Wallace nor does she seem unhappy with her life as a gangster's wife. Of course, Vincent Vega is smitten with Ms. Wallace, but out of respect for Marsellus, he keeps his own emotions at bay.
A story documenting the dynamic of Marsellus's world and life could really bring more insight into his character. Despite the fact that we don't particularly get much out of both, Tarantino does a great job of showcasing the different layers of the husband and wife. Those layers are actually the most interesting aspect of the couple. At this point, the gangster story has been done a million times. Could Tarantino make it fresh and exciting? Of course! But my point is that aspect about Marsellus isn't exactly the most interesting part about him. How does he feel about Vincent Vega? He obviously likes the guy enough to make sure he takes care of his wife, but does he suspect that Vega might be into her? Was it a test for the hitman to watch over the gangster's wife? These spin-offs and character studies usually do a great job of giving a new side of characters that one may not have imagined previously.
I go into depth about Mr. Wallace, but Ms. Wallace is the more intriguing culprit. I touch on her failed career or the will they/won't they romance with Vincent Vega but what truly drives the beautiful young lady? We know that for Marsellus, he wants to be seen as the boss of Los Angeles, and more importantly, he cares about his money and operations. Surely though, Mia's life can't consist of being a heroin and dance addict, can it? Does she want to go back into acting? Does she secretly want to take over Marsellus' business? There's more than enough layers to cover an entire feature. It's understandable why Tarantino probably didn't want to dive back into the world of Pulp Fiction. This is wild speculation on my end, but perhaps the filmmaker didn't want to ruin the legacy of his film by creating a mass of spin-offs. Whatever the case may be, it was a missed opportunity to not make a feature on the adventures of Mia and Marsellus.