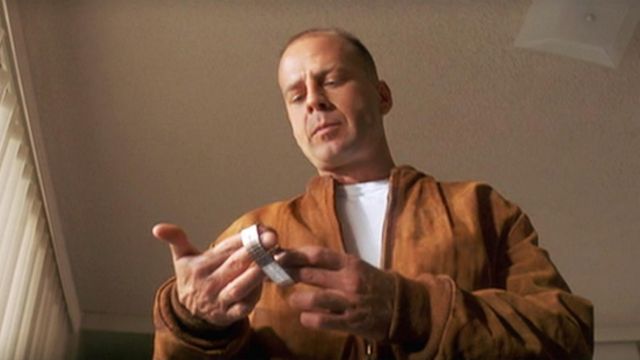 Do I even need to tell you how big Pulp Fiction is in the world of pop culture? Even though the Quentin Tarantino classic came out in 1994, the feature is a huge benchmark in the cinema world thanks to the inventive structure, quotable dialogue, and colorful cast of characters. When most people think of scenes or moments from the film, it's usually about Marv getting shot in the face, or Jules biblical babble, or even Mia and Vicent's dinner and fun little dance number. There are plenty of great scenes within the movie, but the least talked about are the ones with Butch Coolidge. Granted, the madness of him catching two men rape Marsellus is an unforgettable moment, but everything else pales in comparison to the rest of Pulp Fiction. In truth, the Butch Coolidge storyline wasn't needed. It's mostly forgettable and it doesn't serve much of a purpose. Yes, Butch is the man responsible for Vincent's death, but the focus is mainly on the boxing and pawnshop arc as the Vega/Butch stuff is actually pretty good.
Butch barely comes into play during Jules and Vincent's journey (minus the murder) throughout the film. In fact, take Butch out and Pulp Fiction would've been better. There could've been an interesting exploration into the love triangle between Vincent, Mia, and Marsellus. Or we could've gotten more time to know Pumpkin and Honey Bunny before they decide to rob a diner. Since there's so much going on, we're not allowed to get to know the Bruce Willis character. He kills a man inside of a boxing ring and plays on dipping with the money he's won. That's not exactly someone I want to root for. Granted, Pulp Fiction is not a movie that features the most likable characters. Jules and Vincent are no good people. However, we like them because they're fun and entertaining despite their antics. We don't really get that moment with Butch and his side story doesn't have the juice that the others have.
The story of Butch Coolidge itself isn't a bad one. In fact, it's really good and should've flowed better with the overall arc. Butch is coerced into taking a bribe from Marsellus to throw the fight with Floyd, much to the dismay of Vincent, who has some harsh words for the boxer when they first meet. They really could've explored the dynamic between Vincent, Marsellus, and Butch a bit better. Maybe Vincent tries to bait Wallace to double-cross Marsellus? This could've been a great way to add more meat to the story. Since there's not much connection between these men, Butch's side plot feels disconnected with everything else going. The story really needs more time to cook too truly be effective. In fact, Tarantino could've taken out the Butch drama and made it into his own feature. Sort of a Pulp Fiction spin-off that could've given more context to Butch, Marsellus, and Mia. Hell, Vincent could've gotten some more love as well. As it stands, it's hard to care about Butch because we don't know him that much.
We know his girlfriend even less. Yeah, he doesn't take the bribe and discredit the sport, but he does end up killing a man. Now, boxing or any type of combat sport unfortunately comes with that sort of risk, but Tarantino didn't need to script Butch killing the man. He barely shows remorse for his adversary upon hearing about his death. Of course, Butch didn't particularly mean to kill the guy, but we truly needed that moment of severe regret over his actions. However, the main focus is the hit put on Butch, and given the other stories involved, the film couldn't exactly simmer on that. Vega's death at the hands of Butch was fine, but it wasn't exactly well deserved at the hands of Butch. Karma came calling for the hitman, and obviously it makes sense why Butch would put an end to the person who was trying to kill him in the first place. There just wasn't enough heat between the two to feel that Butch got his revenge on Vincent. As I previously mentioned, there's nothing wrong with the story of Butch Coolidge. But we need more in regard to his world and persona. Everything that happens to Butch feels by chance or on accident, instead of earned story beats that lead up to certain moments. Pulp Fiction does earn its title as a classic, but it's definitely not because of the Butch side plot.