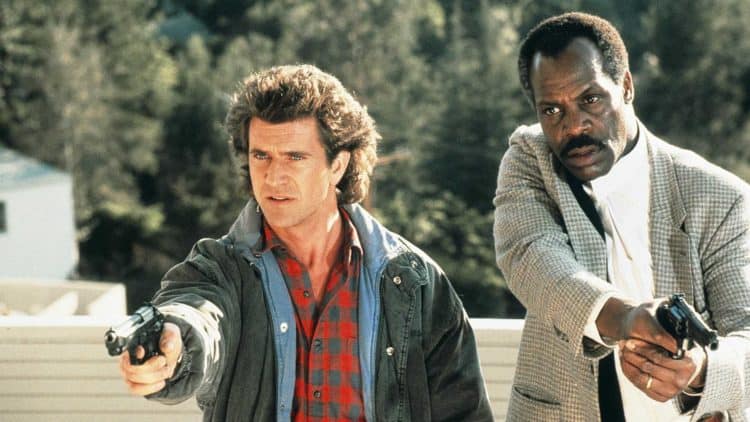 One of the most controversial figures in Hollywood over the years is Mel Gibson. I'll just say it, I'm a fan. Say what you want about what he does in his personal life, but the man is a gifted filmmaker. Even when he's just acting, I love watching him. From one of his most underrated roles in The Patriot, to one of his most popular roles as the Scottish revolutionary William Wallace in Braveheart, this man has a master resume. But before he took on those roles, he was the reckless and hotheaded cop Martin Riggs in Richard Donner's Lethal Weapon in 1987. That has got to be his most popular role to date and arguably his best role. He's funny, he's sympathetic, and he's just very entertaining to watch. Heck, that's probably why he returned to reprise the role for three sequels. Ending the Lethal Weapon run with him and his equally famous partner Roger Murtaugh, played by the amazing Danny Glover, was when they took on Jet Li far past their prime. Their famous "We're not too old for this sh$t!" line is about to have a lot more weight behind it, because now, Mel Gibson is apparently returning. Oh, but it's not just to reprise the role of Martin Riggs. With the tragic passing of legendary director Richard Donner, there's only one logical choice for another director to helm Lethal Weapon 5. In fact, according to Mel Gibson himself, Richard Donner himself wanted him to direct the fifth Lethal Weapon if he couldn't do it.
Is this a good choice? Well, if you like Mel Gibson as an actor, go check out what he's done as a director. From his epic historical adventure movie Apocalypto in 2006, to the very incredible Hacksaw Ridge with Andrew Garfield ten years later, I think Mel Gibson has established himself as a very competent director. Oh, and of course, there's Passion of the Christ, but I haven't seen that. That doesn't matter because I've seen enough to know that Mel Gibson is the perfect choice to direct Lethal Weapon 5. I mean, is there really an explanation needed? Not only is he a good director, but come on. This is the guy who played the lead character in the movies for years. Because of that, he understands the characters fully and because of his age, he would get better than anyone on the limitations of Riggs and Murtaugh. In Lethal Weapon 4, they were middle-aged, but by now, they're at retirement age for cops. Danny Glover is 75 and Mel Gibson is 65. They're up there, but that just makes for a more intriguing story for Lethal Weapon 5. What exactly can they do now that they're older? Well, we all know how crazy Mel Gibson can play his characters, especially his most recent ones.
Let's get real here, the man played a hostile Santa Claus and made it believable. Before that, he played an aging, tattooed convict in Blood Father, who brutalized anyone who tried to kill him. In fact, he would actually make a lot of sarcastic remarks along the way, which reminded me a lot of Martin Riggs. Well, a far more brutal version of Martin Riggs, which is really saying something. I have a feeling Mel Gibson would want to make this aging Martin Riggs as brutal as possible because he'd want him to go out swinging. Granted, I don't think he would kill him off, but we all know how reckless Martin Riggs is. Do you really think old age would stop him from doing his crazy antics? Maybe a little bit, but I expect him to do more crazy stuff. And we can't forget that Mel Gibson has directed himself playing the wild characters in the past. The best example is his directorial debut, the Oscar-winning Best Picture juggernaut Braveheart. Love it or hate, his performance as William Wallace was between the heroic type and the downright crazy. As a Scottish revolutionary out for revenge, he needed to be out for blood and put the fear of God into his enemies. Now obviously, he was much younger when he played William Wallace, but the point is, he is capable of bouncing from in front of the camera, to the back of it. For a director and actor to do that is impressive enough. Believe me, it's quite a challenge and despite Mel Gibson's age, I don't believe he's showing any signs of slowing down.
I can't guess on what else he has in store for Martin Riggs and Roger Murtaugh. All I know is, Mel Gibson is the man who understands both of these characters. On top of that, his experience as a director while being an actor simultaneously is more than enough for me to have faith that he can direct Lethal Weapon 5. Who will join him? Needless to say, Danny Glover will take his side once again, along with Rene Russo, who played Martin Riggs' love interest. And by the way, she was pregnant the last time we saw her, which could put Riggs in a different kind of light. Will being a father make him want to change his reckless ways? It's likely, but knowing Mel Gibson, I'm sure he'll find a way to still make Martin Riggs the savage he has always been. And who can forget Joe Pesci? The man seems to have given acting a permanent rest and we were lucky enough to see him in The Irishman. He's also up there in age, but seeing him as their little buddy was always a hoot. He's the only cast member I don't see returning, but he's also not essential to a sequel. Mel Gibson can manage without him. To be honest, I just want to see how he portrays and develops an aging Riggs. He will do the same with Murtaugh, and probably the same with Rene Russo's character. Many years has passed since we've last seen them so a lot has changed. There's a lot of routes Mel Gibson can take with Lethal Weapon 5 and I'm very curious to see what he does.