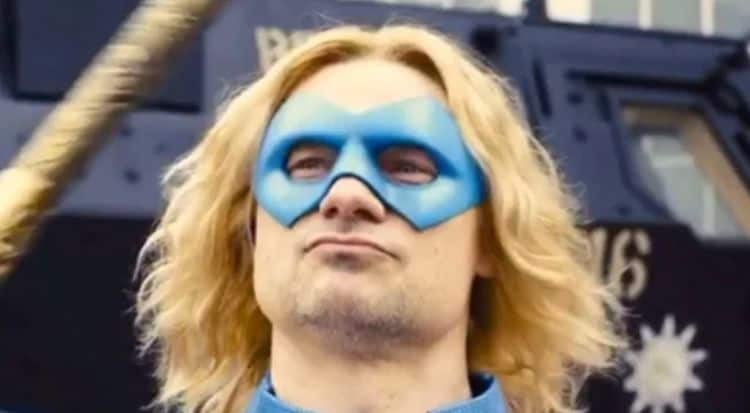 Most of the members of The Suicide Squad deserve a limited series at the very least in order to let people know who they were since, SPOILERS, James Gunn's bloody and thrilling look at the team ended up killing off a good number of them as a diversion. To be fair, Javelin hasn't really been given a decent shake in the DC universe since despite beating Green Lantern in an earlier story, he's been the kind of guy that gets prepared, is ready to go and do some damage, and then gets taken out without that much of an effort. Imagine that, a character in prime physical condition, an athlete no less, who has the costume, the look, and the weapons, but not the necessary arc to be turned into someone that might make it through one important mission on the big screen. Seriously though, Task Force X had two teams this time around, and while it's likely that both teams were meant to make it to the endpoint of the mission, it's kind of obvious that one team was made up of fodder while the other team was made up of specialists that Waller was depending on. It's both confusing and it makes perfect sense why Harley and Flagg weren't included in the second group.
But giving Javelin his own show or movie, well, that might be a stretch. Giving him a limited series might be nice since it would show where he came from and why he turned to crime, and of course how it all went wrong and managed to get him sent to Belle Reve. But as far as anyone who HASN'T read the comics knows, he's just some blond guy with a weaponized javelin that he can throw really far or use as a melee weapon. And unfortunately, that wasn't quite enough when it came to the first and only mission we've seen him in since The Suicide Squad was decimated within the first twenty minutes of the movie, or at least most of them were. James Gunn wasn't kidding when he said that there were going to be some surprising deaths in the movie, but he was definitely downplaying it as well.
One might think that an Olympian athlete might do fairly well a group like Task Force X since the fact that a few of them are metahumans shouldn't be that big of a deal since Harley Quinn, Rick Flagg, Captain Boomerang, and even Deadshot aren't really gifted in any other way except that which they earned through training and a great deal of experience. But the enemies that groups such as the Suicide Squad have been thrust toward often tend to be superpowered villains of such insane power that it's a wonder why anyone would believe that the group should be able to take them on, much less defeat them. But it feels as though there was more to Javelin's weapon in the movie since the sentimental note that he used when handing it off to Harley as he lay dying was swell and all, but kind of cheesy. The fact that he and Harley connected on any level was amusing since the confidence that the two of them displayed was only a few steps away from cringe-worthy since most people knew what was coming, at least in part.
The bottom line is that giving this character his own series, a limited one at that, would give a better explanation as to who he was and why did what he did. It might even help to introduce another hero into the mix since DC has already taken a hint from the MCU when it comes to their introduction. It's enough to make a person roll their eyes for days when thinking about how much these two companies have taken from one another through blatant copying over the years, especially since many fans simply don't care and want to like them both. It does appear as though DC is taking strides forward though when it comes to each new successful outing since TV is where they've dominated for so long, meaning that it's where they're the strongest. But it's likely that they still have a ways to go on the big screen, if only because they've had more missteps than success over the years.
It's very likely that we'll never see a Javelin series simply because there's not a lot of background on the character, as he's likely someone that a person came up with in order to put a body in the mix to deal with. But now that he's here and has actually been on the big screen it's easy to think that there will be others that might want to see what else he can do, if anything. It might be worth it.