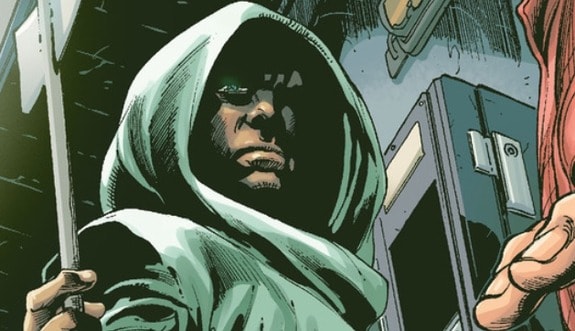 So let's see, Mr. Oz has a deep knowledge of many things Kryptonian, and he's a part of the Superman universe. It's fair to say that it might be someone Superman knows or that knows Kal-El at the very least. Even with comic book logic this seems to be fairly simple. But of course that's usually how it seems to be until the writers figure out that people are on to them and decide to flip the script. One of the many downsides of comic book writing is that it is very fluid and any continuity issues can always be explained away with something completely fictitious that fans are all too eager to accept.
I used to think that comic books were convoluted when I was a kid, yeesh.
So according to the new theory Mr. Oz is a character known as Roz-Em, another character that managed to escape Krypton before it's total collapse. Well, he didn't much escape as get banished when he was caught trying to something quite valuable after arranging his features to look the brother of Jor-El. He was sentenced to spend the rest of his life in suspended animation and was shot into space in a capsule that would hold his prison. Then, as it happens so often in the comics, something came along with enough force to disrupt his prison and free Roz-Em. At this point he managed to soak in the radiation of a nearby yellow sun and then made his way to earth, where he planned on taking his revenge on Kal-El. Oh, and by this time he'd found out that Krypton was gone, Superboy was on earth, and that he was vulnerable to green and red kryptonite.
The sad thing is that Superboy almost bought the lies that Roz-Em was telling him. He was almost ready to leave earth just because Roz-Em had convinced him that they were the same being just from different times. He also told Superboy that if one of them didn't leave it would cause an imbalance that would destroy the earth. But thankfully Superboy was a little more quick on the uptake than Roz-Em was aware of, and managed to banish Roz-Em to the Phantom Zone.
There's not much else to go on to say that this is real or not but the theory seems to be sound enough to hold at least a little water. Chances are it might be something else entirely if this did turn out to be the truth because let's face it, writers don't like people guessing their secrets at times and will gladly change them if they have to avoid being found out. Not all writers, but definitely some.
Whether Mr. Oz is Roz-Em, Ozymandias, or someone else entirely is unknown at this point. All anyone knows is that according to one of the covers showing his countenance he's got Tim Drake and that should count for something. He's a mysterious and foreboding figure and in the comic world that always means something.
Save