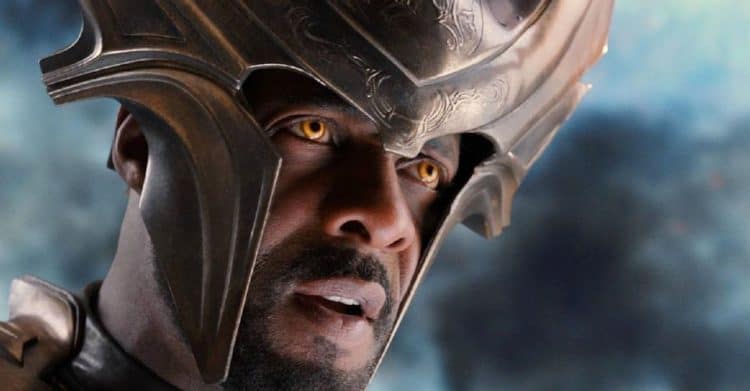 Idris Elba's Norse god Heimdall was one of the most underrated supporting characters in the Marvel Cinematic Universe. I mean, aside from the fact that he was being played by Idris Elba, he just looked so friggin cool. As the Norse god who spent his time guarding the Bifrost bridge and the portal leading in and out of Asgard, Heimdall had a rather crucial role in the Thor movies. Now you can say that his job was pretty boring, since he spent most of his time standing around with his sword and looking cool. However, take Idris Elba, slap some armor and those bright yellow eyes on him with that awesome armor, and you got yourself a cool character. Now his role as a supporting character was unfortunately cut down, much to the chagrin of Idris Elba, but I'd say he was Thor's most useful and loyal supporting character. Sure, you can point to Sif and the Warrior's Three, but the former was missing in Ragnarok. Oh, and how long did the Warrior's Three last against Hela? That's probably why Thor didn't even ask about them. You know who did stick around to help Thor for all three movies? The watchful god and protector of the Bifrost, the bright-eyed Heimdall. I mean, not even Thor's lover Jane Foster stuck around for all three movies. That's okay, because she'll take the hammer in the fourth movie. Oh, but no Heimdall?
Well, let's go back to what we remember. Heimdall played a critical role in saving the citizens of Asgard from Hela and the evacuation from Asgard when Ragnarok happened. What happened next was simply Thanos. The opening scene of Infinity War made us endure Thor losing half of his people, not to mention his brother Loki and his buddy Heimdall. But before the watchful god was impaled by Thanos' spear, he used his sword to teleport the Hulk back to Earth and warn the heroes about the Mad Titan's impending arrival. So even though Thor's buddy had little time in Infinity War, he actually made his sacrifice meaningful. It's just too bad Bruce Banner just couldn't transform back into the Hulk, right? Eh, we'll see the real Hulk again soon enough. The point is, I believe Heimdall was a very good supporting character. Should he return to the MCU? Wait, but he's dead? Oh yeah? Well, as I recall, Thanos was killed and reappeared to fight all the heroes in the same movie. Who else had died and somehow come back to have more story arcs? That would be characters such as Vision, Black Widow, and Gamora. Guys, this is a cinematic universe built on the idea of a brilliant comic book universe. And if you know anything about the history of comics, it's that the characters have tendency to not stay dead.
Now sure, you can argue that Heimdall isn't a big enough character to come back. He is a supporting character, but don't forget, he's still a god. And we can't ignore the fact that he was being played by Idris flipping Elba. Speaking of Idris Elba, he had a recent interview with esquire and was asked if he would ever consider reprising his role as Heimdall in the future. His response was actually pretty surprising. It turns out, Idris Elba would prefer to return to the MCU because he really enjoyed playing Heimdall. Of course, he's very familiar with the character's demise, but also pointed out that he's a god. As he correctly pointed out, anything can happen, especially since it's all set in the MCU. He did play a supporting character, but this supporting character is also a god. After all the crazy tricks Marvel has been pulling recently, it's not too hard to believe that they'll find a way to bring back Heimdall. So just in case Marvel is interested in bringing back the character, should they actually do it? Given that he's a supporting character, he would probably be on the bottom of the return list. That's understandably so, but in my opinion, his character arc was cut short. And as we Marvel fans all know, Idris Elba certainly agrees. We all know how he famously despised returning to do the reshoots for Thor: The Dark World. We've all seen the movie and it's not hard to understand why he was so aggravated. He spent a lot of time standing around and just not doing much. But hey, he did get that one very cool scene where he singlehandedly took down a Dark Elf ship.
That scene alone showed me Marvel could do so much more with the character. Okay, so his incredible skill set wasn't shown too much in The Dark World. Thankfully, Taika Waititi gave him far more to do in Thor: Ragnarok. The long dreads was also a very cool touch. Just the fact that he actually gave him something to do other than standing around looking cool showed that he respected the character. This was a character who had his characterization cut short just when it started to begin. That's a shame, but yes, I do believe Heimdall can return. If Idris Elba is up for it, then that's a start. If you're wondering the how, then that's a whole list. We've seen how Marvel is bringing back the dead and it's all sorts of comic book crazy. They can pull the whole time travel or just resurrection trick, but I'm sure they'll give us more variants. A whole new Heimdall variant could be a very good supporting character for Jane Foster's Thor. I mean, not to mention it's a whole new opportunity to give him back some of that lost characterization he should've gotten. Let's also remember that the Greek gods are on the way, so you can argue there's no need for more Norse gods. If Jane Foster is going to stick around as the new Thor, she'll need more supporting characters. Heimdall was a loyal friend to Thor and he can be the same to Jane Foster. Plus, how can we say no to more Idris Elba? He's achieved double superhero status as Heimdall in the MCU and now as Bloodsport in the DCEU. How awesome would it be if he kept doing both?