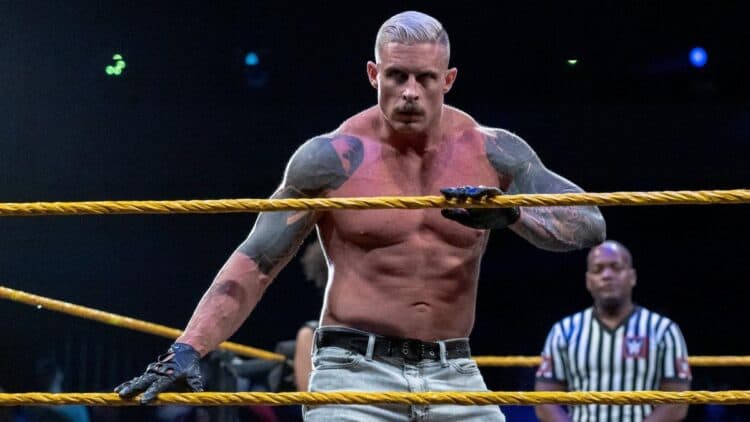 Unfortunately, WWE has done their latest round of talent cuts and one of them is Dexter Lumis. The Florida native made his professional wrestling debut back in 2007 and did some time on the independent scene; however, it wasn't anything notable. Still, it provided Lumis with experience that helped him get a gig with then named TNA Wrestling. Following his Gut Check win the then named Sam Shaw was floundering in the X-Division until he was taken off of television for a brief period of time. Then, he made his return as Samuel Shaw, a man who was essentially a mix between Dexter Morgan and Patrick Bateman. TNA was able to get some juice out of the character, though the vital mistake it that Shaw lost more often than not.
Another thing is that the gimmick went off the rails towards the latter of his career, especially when he was paired with Brittany. Though the alliance quickly ended due to Santana Garrett opting to not re-sign with TNA, it was clear that TNA didn't have much for the character as Shaw was released shortly after. Shaw wasn't as creepy and intimating as he should've been. Again, it all goes back to the presentation and his character never felt anything above mid-card. Shaw's character ran out of steam well before officials knew how to properly use his character in a unique manner. However, that process wouldn't get any better once he made the jump over to NXT.
Now billed as Dexter Lumis, the former TNA star had an even creepier serial killer vibe thanks to the new ring attire and tattoos. The biggest issue would be how the company can correctly use Dexter's gimmick without breaking the bounds of the PG rating. They didn't. On the positive side, NXT creative did what they could with Dexter Lumis' gimmick and provided some fun that actually got him over with the fans. In truth, Lumis was never the strongest in-ring talent on the brand; however, in WWE, characterization is more important than in-ring talent, and the former TNA star had something unique that other talents didn't. Another reason that creative couldn't fully committed to the serial killer gimmick was due to the fact that former NXT Champion Karrion Kross had something similar. Officials were high on the former Lucha Underground star and were going full-in on himt. Lumis and Kross didn't exactly have the same type of gimmick, as the former was more of the stalker/creepy type and Kross was more of the Zodiac killer type, but it wouldn't have been easily to brand similar gimmicks without some type of overlap. Kross was the star. Lumis was just a talent their waiting for his big opportunity.
However, once Kross left NXT, it got somewhat better for Lumis, but it's still hard to brand a gimmick for a program targeted for kids. Even Kross didn't venture into the serial killer aspect much, thus NXT's hands were tied behind their backs with Lumis. They could only scratch the surface of his character without going fully into it. Him turning into a babyface certainly didn't help. Exactly how can you bill a serial killer as a good guy? Lumis ultimately became lost in the shuffle following his wedding with Indi Hartwell. It was a change of direction for the brand as it was more character driven, which should've resulted in him being featured prominently as Lumis's character is perfect for WWE entertainment shenanigans. However, the company was clearly trying to stay far away from the old version of NXT, and with Lumis being at the age of 38, Vince McMahon and creative wanted to focus on younger talent.
This whole storyline with Duke Hudson felt meaningless, even though forming a tag team opened up several interesting possibilities. At the end of the day, numerous factors held back Lumis from reaching his true potential in the company, though his gimmick wasn't the main problem. This is company who had a monstrous fiend and whatever Joe Gacy's current gimmick. Lumis was mostly on the wrong brand. NXT 1.0 wasn't in the over-the-top characters that RAW and Smackdown promoted. That's one of the main reasons he got over because he stood out like a sore thumb. However, neither TNA or WWE could really tap into the true potential of the Dexter Morgan/Patrick Bateman type character, which is a shame because it does have some steam behind it. Add in the fact that Lumis wasn't a young guy anymore, then officials just didn't seem interested in anything serious with him following the transition over to NXT 2.0.
Tell us what's wrong with this post? How could we improve it? :)
Let us improve this post!