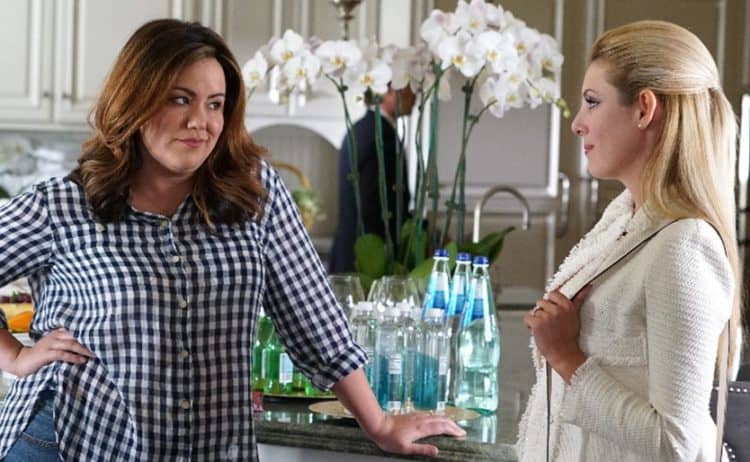 It was a sleeper hit. Nobody expected American Housewife was going to be as loved as it is now. After all, the title tells what it's all about–an American housewife. But when it premiered in 2016, we finally got the picture. It's more than just the housewife; it's also about her dysfunctional family. It's also more than just the family; it's also about the dysfunctional town full of dysfunctional people. It's a wacko show that's full of belly laughs and momentary sighs. Three seasons later, and the family comedy show is still going strong. Here are a few reasons why we believe American Housewife can last as long as 10 seasons and maybe even more.
1. The cast
There's nothing more frustrating than a good show with a weak cast. You can have the best-written script in the world. But if your actors can't deliver that script properly, it would be worth nothing. Fortunately, American Housewife features some of the most talented actors on TV. More than talented, these folks are actually funny. Let's look at lead actress Katy Mixon. At this point, we absolutely cannot picture anyone else portraying Katie Otto's role. Mixon is hilarious, charming, and exactly the type of mom-character we need on TV right now. The show also gives us Ali Wong, Diedrich Bader, and Leslie Bibb–all talented actors that have experience under their belts. We've also seen plenty of awesome guest appearances from other talented actors such as Tiffani Thiessen, Jay Mohr, Wendie Malick, Jessica St. Clair, Patrick Duffy, Timothy Omundson, Oscar Nunez, and so many more.
2. The comedy
If there's nothing else, this show could go on just because it's hilarious. Momsncharge.com says that this show is going to make you feel good about your mothering skills because it highlights all the imperfections that come along with motherhood. Whether you're a mom or not, you'll find the nuances funny and mostly applicable to normal life. Also remember that while the show might be called American Housewife, it's essentially about the entire family. Family comedy doesn't always pull it off properly, but when it does, it's pure magic. American Housewife delivers just that kind of magic onscreen, and you'll definitely laugh hard until you cry.
3. The concept
You probably don't have to think too hard to figure out that you probably know or have known or knew of at least one housewife in your life. Maybe it was your own mother or maybe it was your aunt. It could've been your best friend's mom or just your neighbor. No matter what, we could all relate. No matter what, we all realize that the Stepford wife really doesn't exist. Would it be safe to say that there's an American housewife in all of us? Maybe it's the part of us that feels like we don't belong or the part that feels like we're not doing enough. Maybe it's the part that's totally badass and ready to fight for our families no matter what. Admit it. You can relate. That's American Housewife for you, and that's why this show resonates throughout all generations, genders, and all other classifications you could think of.
4. The character
TV moms rarely get the spotlight. I mean, we've seen mom characters for as long as television's been available. But it's truly rare to see a show that has a mom as the main character. I can't even think of a show off the top of my head. According to ABC7, TV moms have always had the same characteristics. They're loving and nurturing. They take care of the family. They're also likely to be overachievers and work as lawyers or doctors or business people. American Housewife is probably the first show on TV that totally focuses on what it must be like to be a stay-at-home mom (or parent). It's interesting because we rarely think about the housewife as doing anything substantial–besides taking care of the home and the kids and all the logistics that go along with that. In today's modern world, moms are losing respect because there's a huge informational gap between what's expected of moms to do and what moms should be doing. Either way, it's difficult to run out of fresh ideas when you're talking about a character that's constantly dealing with everyone else's crap. It also helps that the same character has her own crap to deal with. That's the life of a housewife, and it's far more interesting than you'd ever think.
5. The issues
Rotten Tomatoes gives American Housewife an audience score of 81%. That's pretty high compared to other family-type comedies. We believe we know exactly why, and it's also one of the reasons why people will keep watching this show even after 10 seasons. The show tackles a lot of issues. These issues could be family-related, work-related, school-related, or just personal issues. American Housewife shows us exactly what our modern lives look like if we were to watch it on television. Sometimes it's funny, but sometimes it's also real. The issues that the show presents in comedy have deep-roots that resonate with a lot of us. Maybe it's easier to laugh about than actually deal with. But the truth is, there's a ton of wisdom in American Housewife that we can all benefit from every so often. This is exactly the kind of show that touches on humanity at its very pulse.
The show itself isn't without flaws. But given that the main character is full of flaws just as we are, we learn to be more accepting. Maybe one day there'll be another show about a regular housewife, but for now, American Housewife is pretty groundbreaking for a sitcom. Again, who knew we'd be so invested in watching a housewife and mom do her thing. I think it speaks volumes about who we are and what we need in our lives today. I wouldn't be surprised if 10 seasons has passed and American Housewife is still in demand. We could always use a laugh only a funny mom could give.