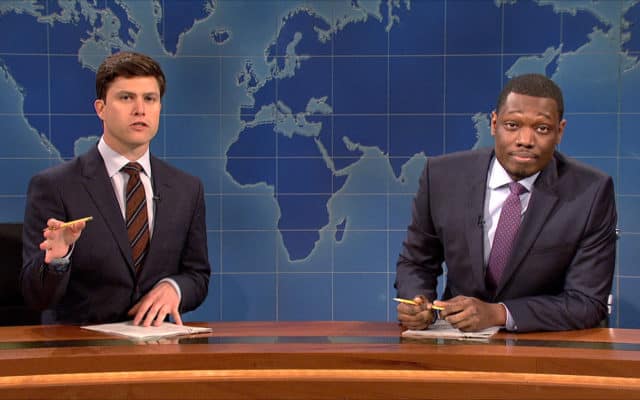 "Saturday Night Live," a hit late-night television variety show aired on NBC and created by Lorne Michales and developed by Dick Ebersol got its start all the way back in 1975. For more than 40 years this has been a pop-culture obsession for generation after generation. Now the staff and show is growing and evolving to continue offering the audience what they want — huge comedy routines based on current events and pop culture. Recently, the show's executives made a pretty big announcement. New co-head writers for the show have been revealed and the two taking on this role are Michael Che and Colin Jost. With this announcement, the writing staff is gaining two talented individuals who are already show veterans.
Joining an Existing Staff of Legends
These talented individuals will be joining the current head writers, Brian Tucker and Kent Sublette. Additionally, "Saturday Night Live" has made the announcement that Fran Gillespie and Sudi Green are now going to hold the role of writing supervisors. Currently, Jost and Che host the long-running and highly successful "Weekend Update" segment on the show, which is something they began doing in 2014.
Jost, was a co-head writer for the show's seasons 38, 39 and 40; however, it is going to be Che's first chance in the position, which makes him the very first person of color to gain this title. With this, there is no question that Che is making history and Jost is providing the people living in Staten Island with even more of a reason to celebrate his abilities and talent.
About Che and Jost
Che has received a number of recognitions during his career, being named on Variety's 10 Comics to Watch list, as well as Rolling Stone's 50 Funniest People. Also, he made appearances on "The Daily Show" prior to joining the cast of "SNL" in 2013. Jost began writing for "SNL" in 2005. He has received the WGA Award four times. He is also the recipient of the Peabody Award.
"SNL" A Long Running Success
The long-running series is coming off of an amazing season last year. In this short period, it was nominated for 22 Emmys and won nine of them. Additionally, Alec Baldwin received the award for Outstanding Supporting Actor in a Comedy Series for the numerous times he portrayed Donald Trump on the show. His antics are so spot on and larger than life (just like the real guy) that audiences love it.
Additionally, Kate McKinnon received the award for Outstanding Supporting Actress in the same category for her portrayal of Hillary Clinton, along with a number of other characters. It also received an award for Outstanding Directing for a Variety Series and Outstanding Variety Sketch Series.
Currently, for the current season, "Saturday Night Live" is averaging a rating of 2.9 for adults between the ages of 18 and 49, as well as 9.6 million viewers for each episode in the Nielsen's Live +7 ratings. As far as reps, Che is represented by UTA and Jost is being represented by 3 Arts Entertainment and CAA.