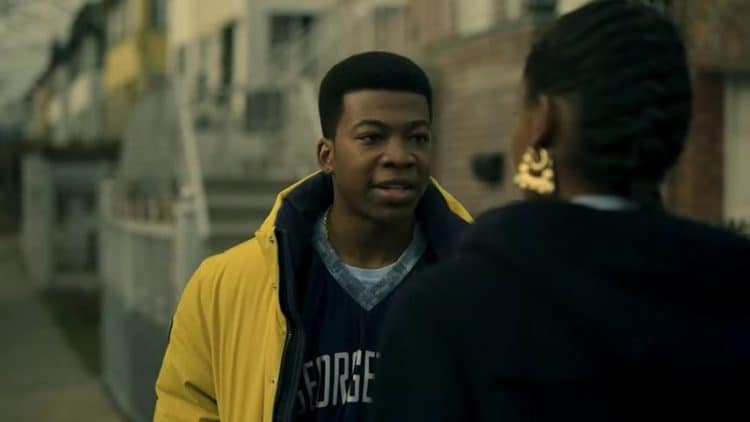 In episode 5, Kanan is still in cleanup mode after watching his uncle Marvin kill Pewee. However, he doesn't realize that the bloody shirt that he stashed under his bed to hide from his mother is gone, which obviously shows that he still has much to learn. As he makes his way downstairs for breakfast, he notices that there are splotches of blood on his shoes, and he quickly wipes them off. However, Raq already knows what's up, and she confronts Kanan head-on at breakfast. Raq is one tough cookie, and Kanan never lies to his mother, but at this moment, he understands that his loyalty to his uncle is more important because you never snitch on your boss. So he lies to his mother.
In the following scenes, Raq confronts Marvin about having Kanan in the stash house. She does let her brother know that Kanan didn't give him up. Although she is angry, she doesn't have much time to spend on the issue. Instead, she has to address a bigger problem; Unique robbing the stash house. Raq doesn't want to go to war with Unique, but she does have a brilliant plan to outsmart him. Raq plans to make a powerful statement but take her product off the corners and move things into the building. Out of sight and out of mind. It's a good idea because it puts all the heat on Unique, and his reup will end up getting confiscated.
Lou Lou and Marvin end up getting into it outside of Raq's house when Lou Lou confronts Marvin about being a screwup. We learn that Jukebox's mom left Marvin to be a New York Knick's groupie during the brotherly tussle, as Lou Lou describes it. Their fight gets interrupted by the police, which in reality, could possibly put heat on their family. The police end up telling them to cut it out on they would be hauled into a cell.
A few noteworthy events that take place during this episode include:
Kanan Begins To Bond With Symphony
Who would have thought that Kanan would actually start to like Symphony? Kanan is book smart, and he low-key admires Symphony's alpha intelligence. So it's safe to say that Saturday classes are going well for Kanan.
Raq Teaches Kanan How To Cook
Of course, Kanan is still persistent about his mom teaching him the game. So she asks her to teach him how to cook. Raq promises to think about it. Towards the end of the episode, Raq gives him and teaches Kanan how to cook crack, which is quite surprising.
Lou Lou Enters The Music Business
Jukebox finally joins Famous in the studio. Famous's sister is there to watch, and Lou Lou ends up joining his girl in the studio. Crown doesn't have enough money to pay his people, and they are hesitant to keep working until Lou steps in and gives him the money. He demands that Jukebox joins Famous in the booth and lays down her vocals on the track. Lou Lou loves it. This is his way into the music business, just like he always wanted.
Jukebox and Christie's Secret Is Out The Bag
Jukebox is eager to let Christie hear the song that she and Famous laid down. She goes to her house to let her listen to the recording. They end up making out, and Christie's mom catches them. Christie's mom is furious, and she yells at Jukebox to leave, that she's no longer welcome in their home and if she comes near her daughter again, she would have her arrested for rape. It becomes clearer than ever that Christe's parents are racist and aware of their privilege.
Detective Howard Is Kanan's Father
Detective Howard finds out that Kanan is his son after he finds out his birth date. For years, the detective assumed that Kanan was older. The detective does the math and realizes that Kanan is his son. He decides to confront Raq to let her know that he knows. For the first time, Raq is speechless. She wants to deny but she can't. We learn that at some point in the past, Raq and the detective had an intimate relationship.
Scrappy Turns On Raq
When Kanan confronts Scrappy about his suspicions of him breaking into the stash house, Scrap gets angry. For years, he was Raq's most loyal soldier, and he's insulted. Scrap doesn't believe that the message is coming from Raq because he knows that she wouldn't send Kanan to do her dirty work. Nevertheless, he is offended, and at the end of the episode, he meets up with Unique.
Tell us what's wrong with this post? How could we improve it? :)
Let us improve this post!