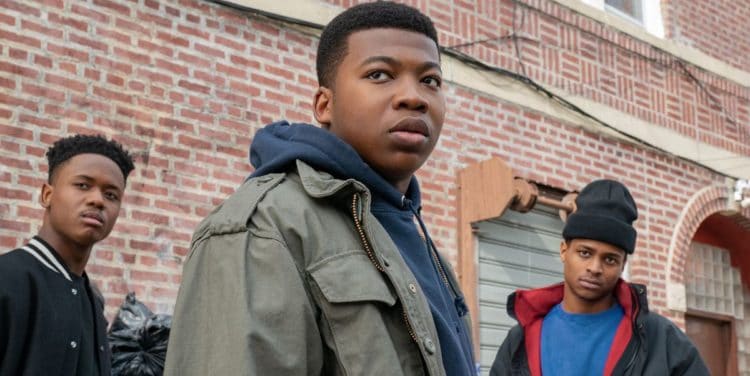 Jukebox is Kanan's cousin and his uncle Marvin's daughter. In the original Power series, we had the chance to briefly meet the older Jukebox, who appeared in a few episodes in the fourth season as a dirty cop and one of the deadliest female gangsters the franchise has ever seen. While Power Book III: Raising Kanan is centered on the upbringing of Kanan Stark, Jukebox's story is just as important as she and Marvin play a vital role in the family business. It's clear from the first episode that Jukebox has been raised so much differently than Kanan. Whereas Raq makes Kanan's education a priority and is hell-bent on keeping the family drug dealing business away from her son, Marvin has already introduced Jukebox to the world of crime. It's easy to forget that Jukebox is Marvin's daughter. After all, in the past five episodes, we have seen her interact with everyone on the show, including Lou Lou, Kanan, Raq, and even her new love interests parents. It's very rare to see the father and daughter in the same scene. So what's the deal between these two, and why does it seem like they are growing further and further apart in each episode?
Jukebox's Sexuality
Some believe that it's Jukebox's sexuality that has perhaps drawn a wedge between her and her dad. However, Kanan seems to be the only one who knows that Jukebox is gay because, in the last episode, he threatens to tell her secret if she tells anyone about his girlfriend's suspected involvement in the stash house getting robbed. Also, in the previous scene, Famous, one of Kanan and Jukebox's closest friends, suggest that he always thought he would be the one to take her virginity. It's safe to conclude that Jukebox isn't really open about her sexuality. Perhaps, Marvin suspects that Jukebox is gay because, in one of the earlier episodes, we see him searching through her room. Jukebox doesn't really have anyone to talk to. This is obvious when Jukebox leaves her girlfriend's house crying after her mom discovers them making out. We never see Jukebox cry, and from her uncontrollable sobs, it's obvious she doesn't have anyone she can go to, especially about this incident.
Resentment From Jukebox's Mom Abandoning Them
Marvin is a single father raising his daughter on the cold streets of Queens, New York. Last week, when Marvin gets into a fight with Lou Lou, we learn that Jukebox's mom abandoned them years ago to become a New York Knicks "groupie". When Lou Lou brings up the fact that she left him, it hits a nerve, and the two brothers end up fist fighting on the street. Perhaps Marvin still has some underlying resentment towards his ex that he is unintentionally showing to Jukebox.
Marvin Doesn't Really Support Jukebox's Aspirations.
Believe it or not, Jukebox has other aspirations besides street life. She has a beautiful singing voice and wants to join the choir at her school, but Marvin quickly shuts that down. She has to sneak across town to sing and participate in a choir with her new friends. In the first episode, we learn that Jukebox had the opportunity to go to the same gifted and talented school Kanan does across town, but Marvin never followed up on it, and she missed out. It seems as if Marvin has already made up his mind that his daughter will follow in his footsteps and join the family business. Although Jukebox has other aspects of her life that she would like to explore, she is loyal to her family first.
Marvin and Kanan Share A Strong Connection
Marvin and Kanan, on the other hand, have a strong bond. Marvin is willing to go against Raq's instructions by introducing Kanan to the game. Marvin gives Kanan his first product to sell and even lets him keep watch at the stash house, although that it ended up being a disaster. In a way, Kanan is like the son that Marvin never had. He is able to use his authoritative energy on Kanan, who is naive in a way that he can't with his daughter. We are not exactly sure about what caused the rift between Jukebox and Marvin, but London Brown, the actor who plays Marvin, does let us know that the father and daughter duo will have a big scene. In this scene, they are going to confront and each other and lay all their issues with each other out on the table.
Tell us what's wrong with this post? How could we improve it? :)
Let us improve this post!