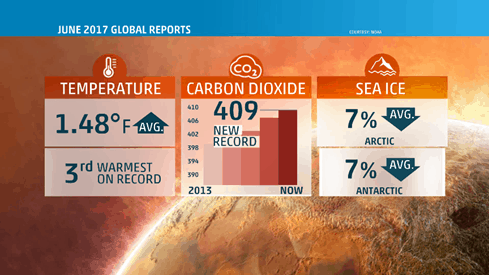 Today, The Weather Channel debuted "Examination Earth" — a new monthly report that monitors the planet's health by providing updates on Earth's temperature, carbon dioxide levels, and sea ice percentages.
Meteorologist Chris Warren introduced the Examination Earth report today on Weather Center Live, as he walked viewers through the report for the month of June, as well as a report highlighting changes in the meteorological indicators over the last six months.
With this new report, The Weather Channel aims to inform and remind viewers about the Earth's shifting climate, as the planet's health has an impact on weather outcomes every day. You can view the clip of the first Examination Earth segment here:
The temperature index shows the percent increase in Earth's average temperature for each month, while the sea ice index tracks the percent decrease in the amount of sea ice in both the Arctic and Antarctic Oceans. The carbon dioxide measure tracks atmospheric carbon dioxide levels, one of the leading greenhouse gases associated with climate change. Following its debut on Weather Center Live today, the report will also be featured on Weather Underground and the network's morning show AMHQ.
"I'm excited to share this new report with the public and to ensure our viewers understand these indicators and critical information about the health of our planet," said Chris Warren, On-Camera Meteorologist at The Weather Channel. "Examination Earth is a reminder that our shifting climate has real life consequences and connections to the weather we experience. We hope that a frequent report will help keep viewers informed and aware of critical changes that are taking place each month."
Nora Zimmett, Senior Vice President of Live Programming at The Weather Channel, said, "Shifting climate patterns and the health of the planet play an increasingly bigger role in the weather outcomes we observe every day. It's just as critical for us to provide the public with information about how climate change is affecting people's lives today, as it is for us to provide local weather reports every hour."
Save