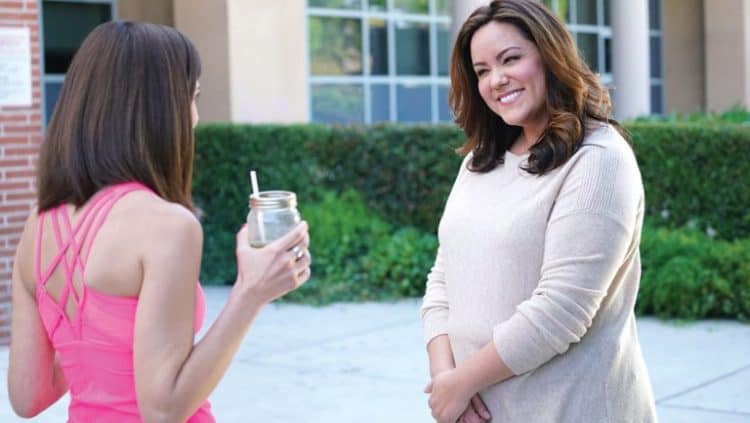 In 2005, an American drama-thriller movie directed by Jamie Babbit, starring Camille Belle and Elisha Cuthbert, called "The Quiet", was aired. The movie focused on a deaf-mute teenage girl, who moved in with her godparents and slowly uncovered the secrets of her new family, especially their daughter, played by Elisha Cuthbert, who played Nina Deer. The film cast also had Katy Mixon in it. Katy played Michelle Fell, Nina's loud-mouthed friend.
The Quiet was one of Katy Mixon's first roles, and she began playing supporting characters in other movies as well before she landed the lead female role in HBO's comedy series, Eastbound & Down which ran from 2009 to 2013.
Here are 10 facts about Katy Mixon
Katy Mixon began her career in acting by playing the role in a Shakespeare production of "Julius Caesar" in 2001 where she played the character of Calpurnia. She was twenty years old at the time, and she travelled to Los Angeles to learn more about acting. Her acting career is a diverse mixture of plays, one of them the popular production "American Standard", TV shows and movies, including a number of supporting roles in movies. She has also worked as a voice actress in the film "Minions." in 2016, Katy Mixon began starring as the lead character on ABC comedy American Housewife, Katie Otto. In 2005, she made her movie debut in The Quiet and in the same year she played a role in the romantic comedy Blind Dating.
Born on the 30th of March in 1981, in Pensacola, Florida, Katy Mixon was born in a large family with seven siblings born from her parent's previous marriages. She was educated at the Alabama School of Fine Arts in Birmingham, Alabama. She later graduated from the Pensacola Private School of Liberal arts. She received a Bachelor of Fine Arts from the Carnegie Mellon School of Drama, and during her youth, she won various beauty competitions.
Katy Mixon is extremely active on social media, though she does not use Facebook. She has active Instagram and Twitter accounts. On her Instagram account, she has over 149k followers, while on her Twitter account she has 51.4k and more followers. Her fans adore her not just for her beauty, but also because of her down to Earth personality.
Her husband is the Olympic javelin thrower, Breaux Greer. They became engaged in 2016, after getting together in 2012. They had their first baby in May 2017, a baby boy they named Kingston Saint Greer. In May 2018, the couple had their second child, a daughter. In the past, Katy Mixon was seen with American chef Bobby Dean, but they split up.
Two examples of Katy Mixon's work has been nominated twice – in 2011, her film Take Shelter was nominated for the Gotham Independent Film Award for Best Ensemble. Five years later, her 2016 film Hell or High Water was nominated for the Washington DC Area Film Critics Association Award for Best Ensemble, and was nominated for the Critics' Choice Movie Award for Best Acting Ensemble, though the film was also given four nominations at the Academy Awards, for Best Picture, Best Original Screenplay, Best Supporting Actor, and Best Film Ending. She has also been nominated for a Behind the Voices Award.
Katy Mixon was once involved in controversy because someone in the media raised hell for her by speaking out about her weight, but she doesn't care. Her role in American Housewife which is set in a neighbourhood where her character Katie Otto tries to keep up with her neighbours who portray themselves as perfect. In real life, however, she doesn't really pay much attention to how she fits in. To her, it doesn't matter or not if she is fitting in with everyone else, as she is extremely comfortable and happy in her own skin. She believes to stay happy, she has to stay positive. In any case, Katy Mixon has a fairly healthy lifestyle as it is, she goes hiking, riding her bicycle, going out on walks with her dog with Olympic javelin thrower Breaux Greer. She has taken flak from the media for not really fitting into the physical shape of a television or movie star, but it doesn't bother her.
Compared to her character in American Housewife, Katy Mixon says she is a completely different person, though she and her character say it how it is, though she never lets the stresses of her life as a mother get to her.
Katy Mixon is the actress who played Victoria Flynn in Mike & Molly, a CBS sitcom, and she was the sister of Molly Flynn. Victoria's character was dim-witted, though kind-hearted and loved to party, who frequently slept with other men and smoked marijuana. Her job in the show was as a funeral home beautician.
She watched Judy Garland, Barbra Streisand, and Audrey Hepburn as a child. These three famous actresses inspired her to become an entertainer when she was older.
Katy Mixon was on American Housewife straight after Mike & Molly was finished. She set foot on the set for American Housewife just four days her old role was finished. In her new role as the titular character, she can't find a single episode to label as her number one favourite since she is fond of quite a few of them.