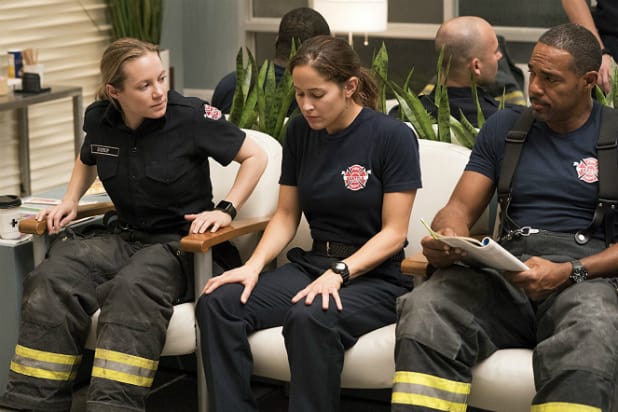 TV audiences have been mesmerized by a medical show called "Grey's Anatomy" for 13-years now. They love it for its gritty reality, brilliant acting, and great medical-oriented storylines. And now, its spinoff "Station 19" has become a fan fave just like "Grey's" only it involves a group of brave and uniquely complicated firefighters with the Seattle Fire Department (SFD). The show premiered on March 22, 2018, and is a highly-entertaining drama just like the long-running "Grey's Anatomy".
Our Choice for Breakout Star
Our choice for the "Station 19" breakout star is Boris Kodjoe, who plays the handsome, tough but sensitive battalion chief. As Robert Sullivan, he's fair with the firefighters working under him and they all love him for it. In his personal life, he's in love with Andy but can't really admit it to himself or to anyone else. So, exactly who is Boris Kodjoe anyway?
Born in Vienna in 1973
According to IMDB, he was born Boris Frederic Cecil Kodjoe in Vienna, Austria and grew up in Freiburg, Germany. He's the son of a psychologist from Germany, who is partially of Jewish descent, named Ursula, and Eric Kodjoe, who is a Ghanaian (West Africa) physician. When he was only six years old, his parents were divorced. He has one brother whose name is Patrick, as well as two sisters named Lara and Nadja.
Named After Boris Pasternak
Kodjoe was actually named after a well-known Russian poet/writer named Boris Pasternak. His Jewish great-grandmother died in the Holocaust, however, his maternal grandmother managed to survive the war by staying in hiding. Of his heritage, he says that his grandmother is part Jewish, which would make his mother and him Jewish, by blood. However, he also states that he and his siblings we weren't actually raised in the Jewish faith. In fact, his maternal great-grandmother [was Jewish. He further says that this is somewhat ironic since his grandmother wasn't a pure-blooded Aryan, so she was never considered as being a member of the master race. Kodjoe also stated that his grandfather was 200 percent German, making the time of her pregnancy quite tumultuous for her since he had to hide her to ensure that she survived World War II. Currently, Boris has been married to Nivole Ani Parker since may 21, 2005 and they have two children.
Talents and Accomplishments
He was named in 2002 as one of the "50 Most Beautiful People in the World" and also speaks some Spanish and is fluent in English, French, and German. Prior to "Station 19", Boris was known for the role of a sports-agent named Damon Carter in "Soul Food", a 1997 popular drama series on Showtime, and as Jason in the 2000 film "Love & Basketball". He met his wife on the set of "Soul Food" where she was his co-star. He's also best known for two particular attributes or trademarks and they are his towering height at 6′ 4″ and his athletic body. And, according to IMDB, he's number 12 on their "Smokin Hot" list, which includes his co-star on "Station 19", Jason George, and well-known hottie, Shemar Moore, who got his start on the soap opera "The Young & the Restless" and then climbed to the top of the heap as one of the stars of "Criminal Minds", and currently as the star of "S.W.A.T.". That prestigious hot guys list also includes major motion picture star, Denzel Washington, and music legend, John Legend. So, Boris is obviously in good company as a member of the list. Hopefully, after "Station 19", he'll also be known for his excellent acting abilities as well.
Critics Will Be Critics
"Station 19" has been criticized by some non-fans, which include some firefighters. According to IMDB, one reviewer said that the show seems to be more about who's having sex with other firefighters and less about actual firefighting. Perhaps they're simply forgetting that it's a drama series and not real life or a documentary.
"Station 19" Characters and Their Future
The characters are actually well-rounded, unique, and quite interesting. The storylines are intriguing and most viewers (like myself) simply can't wait for the next show to see what will happen to the characters that we've come to know and love. We wonder whether Chief Sullivan and Andy will live happily ever after now that they've both finally admitted to the other that they're seriously in love. How will Gibson handle it when he finds out, given that he's not only been rooming with Andy but sleeping with her as well. It may have just been friends with benefits for her but it looks like it may be much more for the incredibly handsome firefighter.
Battling Cancer
One of the saddest storylines on the show is Andy's father, Pruitt Herrera, is dying of multiple types of cancer contracted as a result of being a firefighter for so long. He tries to put on a brave face, (as does she) but inevitably it will get the better of him and he will pass on and leave the show. In the meantime, he has been helping out Dr. Ben Warren with the newly initiated Physician Response Team. But now, the cancer has gotten the better of him and he doesn't feel that he can keep up, so he quits the PRT. As he's leaving the station, Dr. Ben asks him when he gets to haven to say "hello" to his daughter who never made it into this world due to an unfortunate miscarriage early in his wife's pregnancy. He also asks him to tell her that her Daddy loves her. It was quite a tear-jerking moment and required an entire box of tissues!
Tune in on Thursdays
"Station 19" first aired on March 22, 2018, and airs on Thursday nights at 7 PM on ABC. Tune in and see for yourself just how great Boris Kodjoe and the entire cast are in one of America's favorite firefighter dramas of today.
Tell us what's wrong with this post? How could we improve it? :)
Let us improve this post!