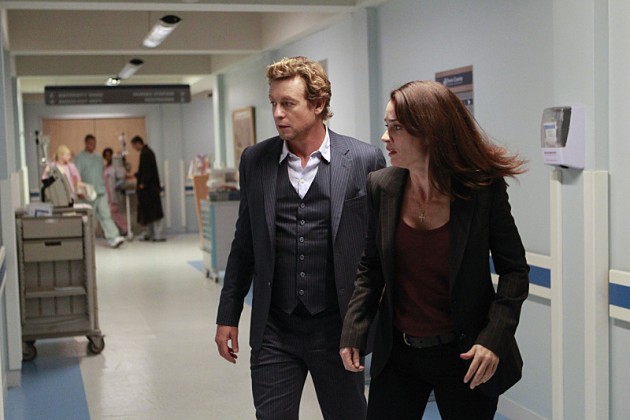 After watching last week's promo for this week's episode of The Mentalist, it was clear that someone on the team was not going to live past the episode and that the viewers were in for some intense heartbreak. Though I wished that I hadn't seen the promo because I think it would've been much more powerful if the character death had been an unsuspected surprise.
The episode begins with an armored truck guard being dragged away by three armed, masked gunmen. The driver of the truck calls in the robbery via the radio on the truck as he hides behind the door, while one of the thieves unloads some of the cash from the truck. Then all three take off in an older car that looks like it's from the 70's.
Abbott, Vega, Jane, and Lisbon then meet up with Cho at the scene, and he gives them a run down of the crime. Vega then says she found out that this was the biggest cash delivery of the year and tracking devices weren't implanted yet given that the armored truck was on it's way to the bank.
Cho suggests that they can do surveillance on all of the bank employees to see who gave the inside information to the robbers, but Jane, being Jane, wants to just ask them. He then goes inside the bank with Cho behind him and asks the employees who among them is the accomplice to the robbery.
The bank manager, Gil, is shocked and says it's outrageous to accuse his staff of something that they did not commit. Jane ignores him and proceeds to tell the bank employees that guilt causes a person to react in a way that shows that they're feeling guilty and ends up singling out a teller who he thinks looks a little squirmy. Sure enough, the nervous teller hands over the burner phone that's in his pocket, and when Cho asks him who gave it to him, the guy faints in Cho's arms. It's great to see Jane back in action again after giving Lisbon her moment in the spotlight.
I was very happy when Wiley invited Vega to attend a League of Legends tournament that's coming up, and she said "yes." I applauded Abbott for knowing everything that goes on within his soon to be former team when Wiley asked him what restaurant the tech genius should take Vega to so that he can impress her without coming on too strong. Abbott then gives Wiley some solid advice, telling him to have fun, and he reminds the resident tech geek that he already got Vega to say yes.
The scene where Vega could see that one heel of the man at the diner's shoe was an inch taller than the other from across the diner, while said man sat at a table in the back, was a bit of a stretch on the writer's part, but I'll let this one go. With only two men at the table, it was no surprise when the third one popped up and started shooting at Cho and Vega. Two of the men ran out toward the back with Cho hot on their tail; he managed to injure one of them as the two drove off in a minivan.
Cho was horrified when he came back into the diner and saw Vega bleeding out on the floor, but he maintained his composure and fought to keep Vega alive, like in the car scene earlier when Vega was lightly teasing him for not being more excited about his promotion; whether it be the best of times or the worst of times, Kimball Cho is steady as a rock.
Listening to Vega ask Cho, "Did I mess up?" as she lay there bleeding to death was truly heartbreaking. Even on the brink of death, Vega was still looking for Cho's approval. The only time Cho's composure began to slip away was when he looked at her photo on the computer screen in Abbott's office and had to call her aunt to tell her that Michelle Vega had passed away.
The person on the team whom I felt for the most was Wiley. He had been so excited when he finally found the courage to ask Vega out on a date, but instead of a date, Wiley had to get dressed up to go to her funeral. I wanted to give him a hug as much as Lisbon did. He finally got the girl but death took her away from him. I felt my eyes start to tear up when Wiley cried at his desk when he heard the news about Vega.
Mourning Vega's death took a back seat as the search for her killers began. Jane came up with a plan to make the robbers turn on each other, and Abbott was willing to give Jane's plan some leeway until he thought the two hostages in the house where the robbers had broken into might be in danger. That's when they decided to send in the SWAT team, and Jane would have sat back and watched if it wasn't for the fact that Lisbon was going to go in with them. Watching Lisbon put her life on the line was more than Patrick Jane could handle, so he walked into the line of fire himself and got the first hostage out in exchange when one of the robbers, Aaron "Ace" Brunell (guest star A.J Buckley who played computer genius Adam Ross from CSI: NY), came to answer the door.
As much as Teresa thinks she understands Jane's fear of losing her, I don't think that she truly does. Jane's fear of losing the woman he loves, especially to violent means, is deeply rooted within his mind. I think that every time he knows Lisbon is in danger, he's mentally walking into the room where he found his dead wife with Red John's signature bloody smiley face painted on the wall above her and is reliving that feeling of overwhelming terror.
When everyone on the team, along with Vega's aunt and cousins, mourned Vega at her funeral, Jane and Lisbon hit a crossroads in their relationship when Lisbon saw Patrick kneeling by a tree and said that places like the cemetery must be hard for him. She then said it didn't feel right taking their weekend trip so soon after Vega's funeral, and Jane agreed. The dam finally cracked when Patrick told Teresa that he couldn't watch her put her life on the line anymore because it could have been Lisbon in that coffin instead of Vega.
Lisbon told Jane that he couldn't stop pulling her away from every train so Jane's solution was to get away from the tracks. He told Teresa that he was leaving, and she could either go with him or stay here and continue to work for the FBI; but he has to leave. Teresa asked him where he was going and all he said was "some place nice." Jane then kissed Lisbon on the cheek and turned to leave. It was a very emotional moment for the both of them.
It's true that Patrick Jane can't live with the possibility of losing his Teresa to violence or death any longer, but Teresa Lisbon has spent her entire adult life working in law enforcement; she's not who she is without it. So where does that leave our favourite couple? I wish I knew, and with only three episodes left of this fantastic series, I can only hope that there will be blue skies ahead for both their sakes.
[Photo via CBS]