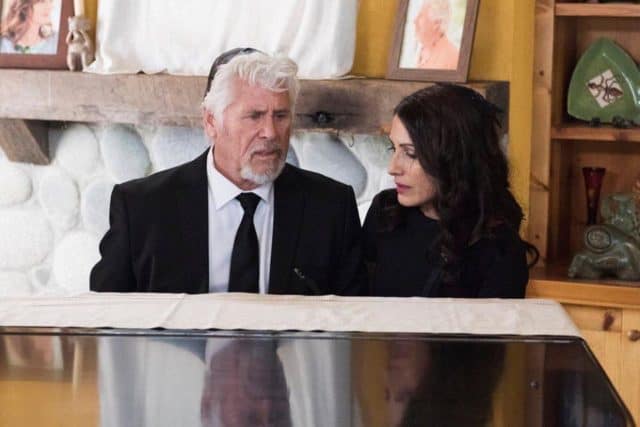 Talk about a tear jerker. Tissues definitely came handy while watching this episode. To recap, episode 3 focused on Abby running off to see her dad who had had a stroke and was unconscious in the hospital. The episode ended with her mother suddenly dying after a heart attack and her father — who was expected to not wake up — waking up to find his wife gone. This episode focused on the funeral for Abby's mom and showing the varying stages of grief and how different people mourn a loss.
Loss and grief are not easy. Everyone deals with it in their own way and this episode showcased how different personality types deal with pain. This isn't an easy time for Abby, she just lost her mother — suddenly. She's now having to host a funeral and bury her mom — a situation no one wants to think about. To top it off, her father is still in recovery and hasn't fully comprehended that his wife is gone. The moment he does realize this is heartbreaking.
Throughout the episode Abby doesn't get a chance to properly mourn until all is done. She's running around getting everything on her mother's list for the funeral and trying to hold down the fort. It's stressful. She's starting to lose it. Her brother, Max (Patrick Heusinger) is back for the funeral but isn't as helpful as she would have liked — the reason explained later, he's splitting up with his husband and is already under a boat load of stress. Regardless, they make it through the funeral. Everything isn't perfect but it's real, and they find moments of joy here and there. This day is hard but as Kate Beckett (Castle) once said, "Even on the worst days, there's a possibility for joy."
During her eulogy, Abby starts to far away from her notes and blunders about past mishaps — stuff she shouldn't really say during her mother's eulogy — but it is what it is. She does get flustered when an old flame, one she's still very much thinking about, shows up. Couch Mike from last season is back to be the shoulder for Abby to cry on. He found out about her mom's death from Barbara and flew out there. He's finally officially divorced and excellent at washing dishes. He proves to be the rock Abby needs when she finally lets the grief out. She held on pretty long, but the only way to truly move past something is to allow it to happen. She needed that cry and he was there to hold her up while she let it out.
Towards the end of the funeral, Abby's father is playing the piano — accompanied by Jo's vocals — when he starts to look around and notice that his wife isn't there. There is a moment shared between father and daughter as they grieve the loss of Dina. This moment is beautifully executed. Lisa Edelstein and Barry Bostwick portrayed the emotions effortlessly.
By the end of the episode, Abby and Max get back to a place they were at eons before and decide on what to do. The two siblings and their father sit down to have breakfast with an empty chair. Their mother's presence is clearly missed and this is a moment that everyone can relate to in some sense. Everyone experiences loss. We all lose loved ones in our lives and this moment is moving. Abby wants to take her dad into her home, look out for him as he recovers — allowing Max the time to get through his separation. The episode ends with a joke of sorts and a much needed laugh.
Meanwhile, the girls are all there for Abby during this time but dealing with their own lives as well. Delia and Jo finally let it all out and come to an understanding. They both deserve to be happy. Jo and Albert seem to fit, however weird that is. Delia confronts her feelings for Paul. She doesn't want to lose him. Phoebe is taking a break from romance to focus on her life and that includes selling her house and moving out to Venice with her kids. Her kids seem much happier with that, she needs to make them the priority.
Grief looks different on everyone, but it passes. You'll never forget those you've lost but you will go on with your life. Life doesn't stop.
Stay tuned for more Bravo Girlfriends' Guide to Divorce news, previews and episode reviews! You can also follow me on Twitter to live tweet with me during the episodes every Thursday night at 10PM.
Save