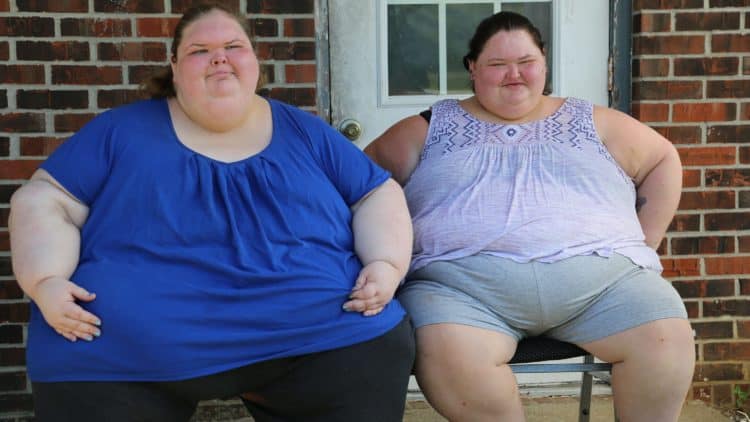 The Learning Channel's new reality television series "1000 Pound Sisters" chronicles the weight loss journey of two sisters, Tammy and Amy Slaton. The ladies weighed more than a thousand pounds with their weight combined at the start of the show, and they move forward with their goal of losing the excess weight so they can live normal and healthy lives. It's a new show that is similar to "My 600 Pound Life," and it is an inspiration for those who struggle with obesity and are looking for answers. Meet the Slaton Sisters, and become acquainted with their inspirational story and the show that is both entertaining and educational.
Who are the Slaton Sisters?
Both Tammy and Amy are natives of the state of Kentucky, who grew up with weight issues since they were very small girls. The two now struggle to lose enough weight to become eligible for potentially life-saving bariatric surgery that will help them to more rapidly progress towards a healthy weight. Amy's initial weigh-in was 406 pound and her sister Tammy's weight was 605 lbs. There were no scales with a large enough capacity to weigh the sisters so they went to the local junkyard and used the heavy capacity scale there to get an accurate accounting of their actual weight.
Tammy Slaton
Tammy is 32 years old and up until the time that she started seeing the doctor, she hadn't left the house. It had been six long years before she managed to get into a vehicle to make the trip. She lived in isolation and her depression grew worse and worse. Just prior to the start of the TLC series, she tried to commit suicide. Tammy has multiple health issues that are associated with her obesity in addition to her depression. Tammy has the feeling that she will die from poor health in the next few years if she doesn't lose weight and this is one of the reasons why she has committed to a weight loss journey.
Amy Slaton
Amy is 31 years old and she is Tammy's younger sister by a year. She is married to her husband Michael, and the couple wants to start a family in the near future, but her obesity is an issue that makes it difficult for her to get pregnant. High blood pressure and diabetes are issues that both girls deal with and it makes simple tasks like housecleaning or going for a long walk monumental and exhausting activities. Amy is more mobile than her sister Tammy, and her weight is approximately 200 pounds less.
The Slaton's are YouTube stars
Amy and Tammy are not strangers to fame. Prior to appearing on "1,000 Pound Sisters," they had a popular channel on the social media site. At first, the sisters were not sure how their fans would respond to the two of them embarking on this weight-loss journey, but they soon discovered that there was a lot of support from their viewers.
Positive changes since the debut of the series
The sisters have struggled to reach some impressive goals. Amy is comfortable with her appearance and she no longer avoids going out in public. She doesn't worry about her looks and she realizes that she is beautiful as she is. Her self-confidence has gone up a lot. Tammy has also gained a new ambition and she has a boyfriend. The two are making plans to move in together and she is considering getting a full-time job. This is a lot of progress since the time not long ago that she was housebound.
The inspiration of the Slaton Sisters
Tammy and Amy are living examples of how addiction can be managed in order to improve health and regain a healthy perspective on life. Both girls are happier since embarking on their journey. When the Slaton Sisters first started out they were plagued with mental struggles as well as their physical health problems. The overarching theme of their journey is more about taking control of your life and taking it back. Food addiction is as dangerous as any other, often resulting in a slower spiral towards poor health and ultimately, premature death from complications. Their story serves as an inspiration for others who experience similar struggles with addiction and poor health.
Unable to post current photos
We also learned that Amy and Tammy are not allowed to post any photographs of their full bodies on social media. We're assuming that this is because of a contract signed with TLC as the results of their efforts are likely to be shown to a growing audience of viewers at a later time.
The journey continues
Tammy has maintained a presence on social media and although she can't post any full-body photos of herself or her sister, she does post pictures of her face. We can tell by the changes in her appearance that she is maintaining the new healthier lifestyle that she has adopted and that she is making a significant amount of progress in her weight loss journey. Tammy had a huge deposit of fat on her forehead that looked like a tumor, but physicians confirmed that it was only a fat socket that had formed because of her massive obesity. We see in her social media facial photos that the bulge that was once on her forehead is no longer present.
Conclusion
Tammy and Amy Slaton made their first appearance on TLC in their reality television series "1,000 Pound Sisters" in January of 2020. It's just been a short while since the two YouTube stars made their television debut, but they are gaining a lot of popularity with viewers. The show was filmed in a six-segment season, but we're not sure what the network or producers have planned beyond that. We're assuming that since there is a non-disclosure agreement of some type in force that we'll receive an update at some point in the near future.