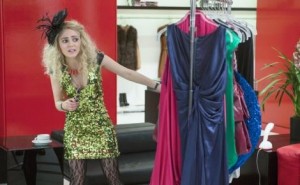 Spring is in the air for everyone on The Carrie Diaries and that means Spring Break. Seasonal changes also mean new identities for Carrie and all of her friends.
Carrie will be spending her entire week off of school working for Interview in Manhattan in order to secure a full time, summer position. After Sebastian's drunken mess caused her to have to leave an important party in last week's episode, I was relieved and thrilled to see him so supportive of her decision to spend so much time away from him, working. He really is so dreamy.
Carrie's first day starts out a bit rough when she promises Andy Warhol's assistant that Larissa will do something Larissa is highly unlikely to actually do. So, in order to keep her job, Carrie is forced to do the only thing one can do in that situation: pretend to be Larissa herself. She is hilariously great at impersonating her boss. And doing so comes with some perks. While waiting at a boutique for a package meant only for Larissa, she gets to try on all of the latest fashions, chat with Sebastian on the phone and is treated to her very first cappuccino. The boutique even offers to give her all of the great outfits she has tried on as a bribe to be featured on the cover of Interview. Uh-oh.
It only gets worse when the package for Larissa finally arrives and the delivery person wants to take her head off with a vase or anything else available because of something the real Larissa did. Carrie barely escapes the boutique with the package containing something "uncut" while still wearing a couture dress. After getting turned around in the Bronx and coming close to having nervous breakdown because she believes the package to be cocaine, she arrives back at Interview where Garret and Walt help her out and open the "uncut" package. It's not drugs. It's Andy Warhol's wig. And in a surprising turn of events, the only way Carrie is able to deliver it on time, is by being herself.
Sebastian is being forced to spend the break with his parents who are apparently going to try to get back together. The family time starts a little early for him, though, when his mom shows up at school to over share about her sex life with his dad. Super gross. Poor Sebastian would rather have his parents remain divorced than hear any more of his mother's TMI. Unfortunately the situation goes even further downhill when he's stuck at home listening to his parents "make up." Super, SUPER, gross.
When Sebastian escapes his house of nightmares to give Maggie her new identity (her new fake ID), they bond over impossible parents. Right before they catch Tom making out in a car with his gum chomping yoga nemesis Will this forever be the Spring Break Sebastian refers to as "The Week of Parental Grossness?" He and Maggie decide it's best not to tell Carrie what they saw, which I think is a really good plan. When Sebastian returns home, his ridiculous mother is looking to cry on his shoulder yet again. And again he does exactly the right thing, telling his mother that he should not have to be her shoulder, that she should be much more interested in his life and that maybe she and his father should just give up. Go Sebastian!
Mouse is preoccupied with her new role as manager for the high school basketball team. She takes it (as she does most things) very seriously. She has the rest of the team taking her seriously as well. Maybe a little too seriously. Her "competition creates winning" strategy ends up causing infighting among the players. Something West insists that she fixes. Taking a page out of The Book of Donna, she gets herself fired in order to give the team a common enemy and a reason to come together again. In doing so, she winds up possibly creating something else with West. Something other than academic rivalry. YAY!
While Carrie is elsewhere, using someone else's identity, Walt shows up for their lunch date. Since Carrie is unavailable, Bennet offers to take Carrie's spot. They spend the afternoon together, eventually helping Carrie deliver the all important wig. But when Bennet chooses to stay behind with a guy from the club, Walt is visibly upset. In one of the most beautiful and poignant moments of the series, Walt confides in Carrie, admitting that he might have a crush on Bennet. He is so afraid of the possibility of being gay because, "it's wrong." and is worried that Carrie might find his possible crush on Bennet to be, "gross." Carrie, being the great friend that she is, reassures him. "If being gay is who you are, Walt, then it must be good. Because you are good. And if anyone thinks otherwise, they're wrong." It's so hard to watch Walt struggle but it's so great to know that he has friends like Carrie on his side. If only everyone were so lucky.
– "I can't think of anything I would be less excited about than work. I plan to avoid work my entire life. Gonna have to figure out how to do that." Maggie is my soul sister.
– "Carrie, what's the deal? Your pacing is making the coke-head receptionist twitchy." Does anyone else love Bennet Wilcox as much as I do? Especially when he uses, "Sike!"
– I'm not sure I could ever be convinced to put goat foreskin moisturizer on my face, no matter how young it made me look.
– "I'm here for the guy watching. This is the only time of year when baseball, basketball and soccer are practicing at the same time." Donna always has her priorities straight.
– "No one wants to have to get involved in their parents' personal lives. We want them to be parents, not people." Sebastian speaks for every teenager ever.
– Does anyone else want to be a fly on the wall while Larissa and Grace Jones are upstate, "smelling things?"
– Walt's coming out storyline on this show is so beautifully handled. One of the best in television history. In my opinion.
In the next episode of The Carrie Diaries, Carrie is ready to lose it with Sebastian. Will it all work out the way she hopes? Check out the preview below and watch all new episodes of The Carrie Diaries, Monday nights on The CW.
http://youtu.be/h81GFET7GVQ