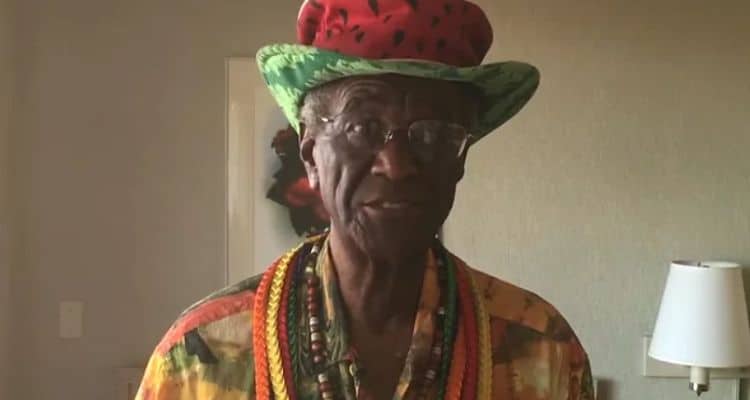 During Shark Tank's more than 10 years on the air, there have been quite a few memorable people who have entered the tank. Among them is Wallace "Wally" Amos. When he appeared on the show in 2016, he was asking for an investment of $50,000 in exchange for 20% of his company, The Cookie Kahuna. Although Wally may have looked unassuming, he was no stranger to the business (or cookie) world, and he was hoping to get his next venture off the ground. In the years since the episode, Shark Tank fans and cookie lovers alike have wondered what became of Wally and his brand. Keep reading to find out what the Cookie Kahuna has been up to since its appearance on Shark Tank.
Who Is Wally Amos?
Before we can talk about The Cookie Kahuna, it's important to talk about the man behind the brand. After all, Wally Amos is a legend in his own right. Born and raised in Tallahassee, Florida Wally relocated to New York City when he was around 12 years old. He developed an interest in cooking during his childhood, and it didn't take long for people to realize that he had some serious skills in the kitchen. Cookies became his specialty thanks to a recipe from his aunt Della. Wally eventually developed his own recipe based on his aunt's and he had no idea that recipe would eventually make him famous.
After serving time in the military and going to college, Wally became a talent agent who went on to represent several legendary musicians including Marvin Gaye and Sam Cooke. However, cooking was always his passion. In the late 1970s, he decided to open up a cookie shop at the suggestion of a friend. With a $25,000 loan from Marvin Gaye, Wally was able to open his first store which was located in Los Angeles. The business, Famous Amous Cookies, became a huge hit. Eventually, the product even became a staple in the cookie aisle in grocery stores all over the country.
Sadly, however, Wally was forced to sell the company in 1988 due to financial issues and he was unable to take the name Famous Amos with him. Throughout the years, he started other business ventures although none would achieve the same level of notoriety as Famous Amos cookies.
What Happened During The Cookie Kahuna's Appearance on Shark Tank
As mentioned earlier, Wally was looking for $50,000 in exchange for a 20% stake in his Cookie Kahuna company. While in the Tank, he shared that while he is great at marketing, he struggled with other aspects of other of running a business. He also hit a bit of a roadblock because he wasn't allowed to use his face to market his new brand due to legal obligations relating back to Famous Amos. Unfortunately, due to those issues and the Sharks feeling like the business was not investible, Wally left the Tank with no deal.
What Happened to The Cookie Kahuna After Shank Tank?
It goes without saying that getting a deal is always the goal on Shark Tank. However, there are plenty of businesses that have gone on to be successful without an investment from a Shark. Unfortunately, though, that wasn't the case for The Cookie Kahuna. In 2017, Wally shared a video on his YouTube channel announcing that The Cookie Kahuna had officially gone out of business. He expressed sadness over the loss of the company and also shared that it had left him "flat broke". He then revealed that he didn't make as much money throughout his cookie career as most people probably assumed. Wally then made a plea to viewers to donate money to help him get back on his feet.
Several people in the comments section of the video expressed sadness over the business' closing and wished Wally nothing but the best.
What's Next for Wally Amos?
Sadly, the website that Wally set up for donations is no longer live so it's unclear if he was successful in his quest to raise money. Since it doesn't appear that Wally has an official social media presence, it's a little hard to tell what he's up to now and what he plans to do next. However, now that he is 85 years old it seems a little unlikely that he will try to start another business. Even though some would consider him a failure, Wally has always maintained a positive attitude. While he is no longer a part of the Famous Amos brand, he will go down and history as one of the most legendary people in the cookie business.