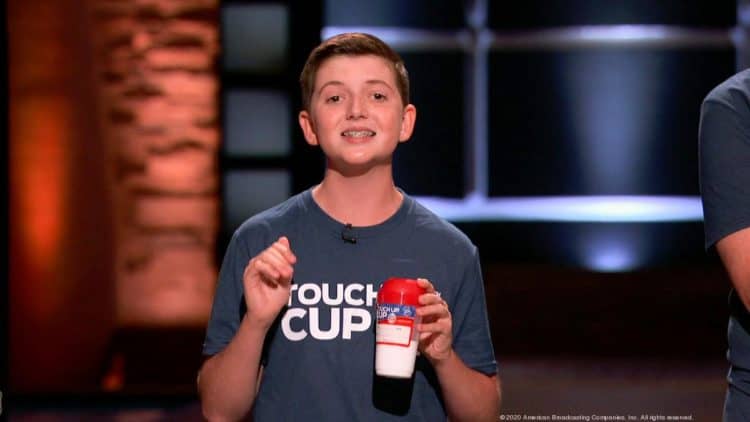 If there are two things Shark Tank has taught people over the years, it's this: entrepreneurship is a lot more accessible than many people realize and sometimes the simplest ideas are the best. At the start of season 12, the show welcomed a product that provided an awesome reminder of both of those things. The Touch Up Cup was invented by a teenage boy named Carson Grill with the help of his father. The product was designed to keep paint fresh for up to ten years and also make it easy to mix. The Sharks were impressed with the product and the level of poise that Carson maintained through the pitch. Since the show, lots of fans have if its time on the show was beneficial for the product. Continue reading to find out what happened to Touch Up Cup after it appeared on Shark Tank.
The Touch Up Cup's Story
Most 13-year-olds are probably thinking about things like school dances and hanging out with friends. However, Carson wasn't like most 13-year-olds. When he was that age, he came up with the idea for the Touch Up Cup after a painting project didn't go as planned. According to the Touch Up Cup's about page, Carson and his father "went to open just a few gallon cans when they realized the RUST, CLUMPS, and SMELL. They quickly realized that their expensive paint had gone BAD! They looked at each other and said "There has to be a better way". That's when Carson invented the Touch Up Cup for paint! "
The Touch Up Cup's Shark Tank Pitch
Walking into the Tank is probably one of the most nerve-wracking experiences an entrepreneur can have. At the same time, however, it's also one of the most important. A deal from the Sharks has the power to take a business to the next level and turn founders into millionaires. When Carson and his dad came to the show, they were seeking $150,000 in exchange for 10% equity in their company. Carson was fully prepared for the Shark's toughest questions and it was very clear that he had a good handle on the ins and outs of the business. Even the Sharks that weren't interested in investing commented on what a great job Carson did. Carson and his dad ultimately received an offer from guest Shark, Blake Mycoskie: $150,000 for 17.5 percent of the company. Although that was more equity than they wanted to give up, they accepted the offer based on all of the value that Blake could bring to their business.
What's Been Going On With Touch Up Cup
Shark Tank has become so popular that just being on the show results in an influx in sales for most products. Not only did Touch Up Cup get a lot of attention on the night of its episode, but it seems to still be doing very well. The Touch Up Cup is currently for sale on Amazon and in stores such as Home Depot. Even though we weren't able to find any information on how much money Touch Up Cup has made, the item is thriving and it doesn't look like sales are going to slow down any time soon. Those who have purchased the product seem to be very happy with the quality. In an Amazon review, one buyer said, "Love these! They were perfect. I purchased these when I purchased my paint to tackle a huge kitchen project. I knew I needed something to store paint in with lids to keep my paint from drying out. The metal spring like item inside them assisted with mixing them. I used them to mix colors and to paint directly from. I need to repurchase more for future projects. Highly recommended."
Fresh-Line Keepers
Touch Up Cup isn't the only product Carson and his dad now have in their portfolio. They have also launched another item called Fresh-Line Keepers are storage containers designed to keep bagels, muffins, and other snacks fresh for an extended period of time. Not only will Fresh-Line Keepers help prevent items from getting stale, but they are also microwave and dishwasher safe and can be stored in the freezer.
Carson's Future
Carson isn't even 18 years old yet and he's already a successful entrepreneur with two inventions. If he continues on this path, there's no doubt that his business will continue to grow. It'll be interesting to see how many other cool things he comes up with over the next several years. I have a very good feeling that we haven't seen the last of Carson.
Tell us what's wrong with this post? How could we improve it? :)
Let us improve this post!