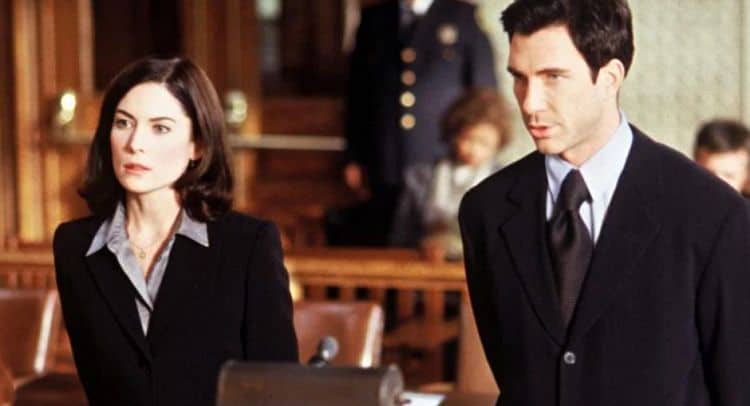 When The Practice debuted in 1997, it didn't take long for the show to become a big hit. Centered around a group of lawyers in the Boston area, the series showed some of the ups and downs of life in the legal field. It also showed some of the ethical dilemmas that can arise. For some of the cast members on the show, the series gave their careers a huge boost and they went on to do some great things after. For others, however, The Practice was of the last big things they've done. Either way, it's been almost 20 years since the show aired its final episode, and lots of things have changed for everyone involved. Keep reading to find out what happened to the cast of The Practice.
Dylan McDermott
Dylan McDermott is one of the most well-known cast members from The Practice, but the show was actually his first major TV role. Since then, he has gone on to find lots of success on the big and small screens. Some of his most noteworthy TV credits since The Practice are Law & Order: Organized Crime and the American Horror Story franchise. When it comes to films, Dylan has been in things like Olympus Has Fallen, Party Monster, and The Clovehitch Killer. Although things in his career have been going well, things in Dylan's personal life appear to have been a bit rockier. In 2009, he and Shiva Rose divorced. Several years later, he and actress Maggie Q got engaged but ended up going their separate ways before tying the knot.
LisaGay Hamilton
After graduating with a BFA from Juilliard, LisaGay Hamilton began her acting career in the mid-1980s. Although she had a handful of acting credits before being cast in The Practice, the series was her first role as a main cast member in a TV show. She has continued to work fairly consistently since the show's end, but she has never had another role as big as Rebecca Washington. A few years after The Practice, LisaGay married well-known historian, Robin Kelley. It doesn't appear that the couple has any children. Unfortunately for all of LisaGay's fans, she doesn't appear to be active on social media so it's difficult to find any additional update on her life.
Steve Harris
Steve Harris has been a fixture in the entertainment industry for more than 30 years. His younger brother, Wood Harris, has also had a very successful acting career. When Steve was cast in The Practice, he had already had several film and TV roles. However, like many of the other actors on the show, The Practice was his first major opportunity. His talent and versatility were apparent in his role as Eugene Young and he was nominated for two Primetime Emmy Awards for his work on the show. In the years since Steve's career has continued to do well although most would still consider The Practice his most well-known role. However, fans will be happy to know that he currently has a major project in the works. He will have a main role in an upcoming series called Black Mafia Family. Additionally, he has even gotten the chance to work with Dylan McDermott again on Law & Order: Organized Crime.
Camryn Manheim
If you've been following Camryn Manheim's career over the years, you might agree that she doesn't always get the credit she deserves. The extremely talented actress always brings something special to each project she's a part of, and her roles tend to leave a lasting impact on viewers. That was certainly the case with her portrayal of Ellenor Frutt in The Practice. Her work on the show earned her a Primetime Emmy Award in 1998 for Outstanding Supporting Actress in a Drama Series and a Golden Globe Award in 1999 for Best Supporting Actress – Series, Miniseries or Television Film. Since The Practice, she has continued to have lots of success and she has landed several other great opportunities. Some of her most notable work has been Ghost Whisperer, Harry's Law, and Stumptown. Camryn also has a son named Milo who is an actor.
Michael Badalucco
Michael Badalucco broke into the entertainment industry when he was in elementary school. Once he got a taste of what it was like, there was no turning back. However, prior to The Practice, most of Michael's acting work had been in films. Since the show's end, he has consistently worked on both film and TV projects. Although there's no doubt that Michael is a very versatile actor, many of his roles since The Practice have been in the legal genre.
Kelli Williams
Consistency and longevity are two of the hardest things to come by in the entertainment industry, but Kelli Williams has managed to find them both. Kelli has had several significant roles since The Practice. Some of her biggest appearances in the following years were Army Wives, Medical Investigation, and Lie to Me. Over the last few years, it appears that Kelli has shifted her focus from acting to more behind-the-scenes opportunities. She has directed episodes of several popular shows including All American, The Resident, and Good Trouble.
Marla Sokoloff
Marla Sokoloff was just a kid when she started her career, so there are a lot of people out there who probably feel like they watched her grow up. Although it can be difficult to make the transition from a child star to an adult, Marla can proudly say that she managed to avoid the child star curse. The Practice has been her longest-running TV role to date, but Marla's career has continued to be successful since the show ended.
Lara Flynn Boyle
During the 1990s, Lara Flynn Boyle was arguably one of the brightest stars in the industry. However, things started to slow down for her in the early 2000s right around the time The Practice ended. In fact, she was one of the only original cast members who did not appear in the show's final season. We weren't able to find any information on what caused her to depart from the show early or why she began to work less around that time. Although she has been a part of several small/independent movies in recent years, she hasn't had a TV role since appearing in an episode of Law & Order in 2008.
Tell us what's wrong with this post? How could we improve it? :)
Let us improve this post!