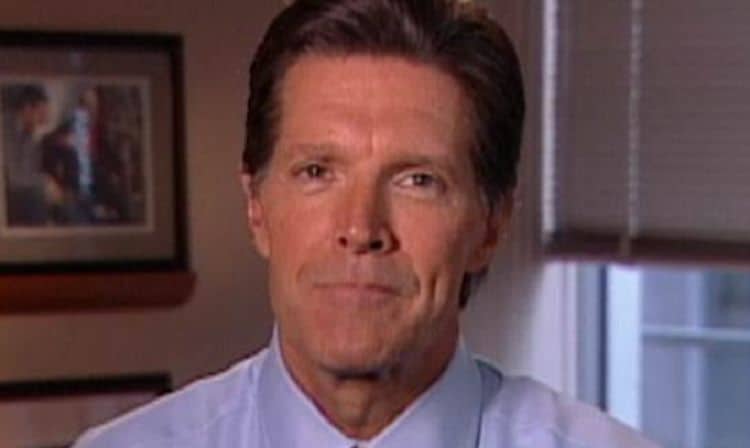 There was once a time when the name Stone Phillips was spoken on a regular basis in house holds across the United States. The Emmy Award winning reporter had become a fixture in the news world. He was well-known for his calm demeanor and straight to the point attitude. Over the years, Stone worked with several major networks including ABC and NBC. He eventually became best known as the co-anchor of Dateline, a position he held from 1992 to 2006. However, ever since his time on the show ended, he has been largely absent from the spotlight. According to IMDB, his last on screen appearance was in a 2012 TV documentary called Confessions of a Serial Killer. So, where has the once popular anchor gone? Continue reading to learn about whatever happened to Stone Phillips.
The Early Days Of Stone Phillips' Career
After graduating from Yale University, Stone Phillips was ready to embark on his career. After a brief stint as a teacher, Stone finally found a job at a local TV station in Atlanta. In just two short years, he received an offer to work for ABC News in Washington D.C. He quickly began covering major stories and it was obvious that Stone had real talent. He worked for ABC News for over a decade before deciding to take a position with NBC News in 1992. In addition to becoming the co-anchor of Dateline, he also became the host of Weekend Magazine with Stone Phillips which debuted in 1993.
During his time with NBC News, Stone's interview skills allowed him to see down with some high-profile people including serial killer, Jeffrey Dahmer. By the time he was let go from Dateline, Phillips had done hundreds of interviews and had become one of the best-known people in the news industry.
Why Did Stone Phillips Leave Dateline?
It's clear that leaving Dateline was a huge turning point in Stone's career, but many people still don't know why he left. Apparently, he was hoping to renegotiate his contract after the 2006 season, and he and the network couldn't come to an agreement. As a result, NBC decided not to renew his contract. Typically, getting let go from a job is very devastating, but Stone seemed to take in in stride. In some ways, it may have even been a good thing for him because it freed up his time. At the time, Stone shared that he had no immediate plans to get back to work. Instead, he was going to take advantage of the opportunity to spend more time with his wife and children.
Prior to Phillips leaving dateline, most viewers probably couldn't have even imagined the show without him. But if there's one thing that's always been true about the entertainment industry, it's that the show must go on. The show is now in its 28th season and is currently anchored by Lester Holt.
Where Is Stone Phillips Now?
If you've been wondering what Stone Phillips has been up to for the last several years, you certainly aren't alone. Lot of people have started to wonder why he chose to step away from his work and if he ever plans on coming back. Stone has never directly addressed this, however, a few years ago, he made a small and quiet comeback when he began contributing to PBS NewsHour in 2013. That isn't the last time he was active, though. Even though IMDB lists his lasting on screen appearance as 2012, that isn't actually true. In 2014, he produced an hour long documentary called Moving with Grace. The project followed Stone's mother, Grace, and highlighted the journey through aging. Since Moving with Grace, it doesn't look like Stone has made any other on screen appearances and he's avoided the spotlight all together.
By now, many of Stone's fans have probably tried to find him on social media. Unfortunately, that's sort of a deadend. Stone does have a Twitter account, but it doesn't appear to have any activity since 2018. Stone's wife, Debra Del Toro-Phillips, is a little more active on social media and last posted on Instagram at the end of July. According to her LinkedIn page, she lives in the New York area which means Stone likely lives there as well. The couple has a son together, Streeter, who also lives and works in the New York area.
While the exact details of where stone is and why he left his career behind remain unknown, there's a good chance he simply just wanted to leave it all behind and enjoy a simpler life. Either way, Stone's legend in the news industry continues to live on. If he ever does decide to reappear, lots of people would be very grateful.
Tell us what's wrong with this post? How could we improve it? :)
Let us improve this post!