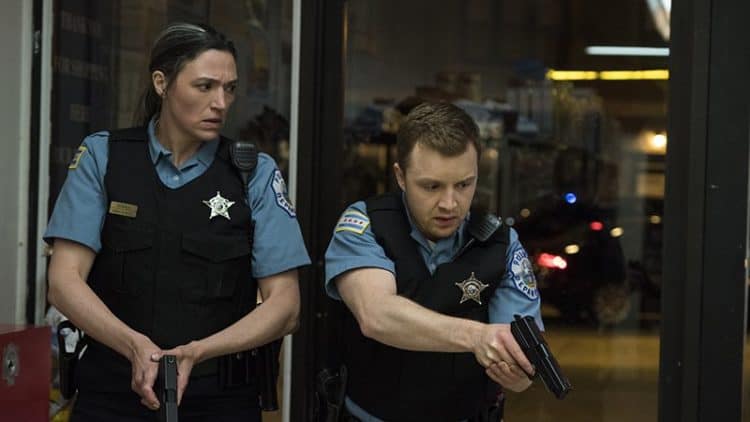 The Red Line is a new mini-series that is being broadcast on CBS. Said mini-series is focused on the impact on three families when a white cop kills a black doctor while assuming that said individual is the man robbing the store that he has been called to. Here are 10 things that you may or may not have known about The Red Line:
1. Topical Premise
In further detail, Dr. Harrison Brennan is buying milk at a convenience store when a robber comes in. The cashier is hit in the face before the robber runs outs, which prompts Harrison to attempt to give aid that is rejected by the cashier, who shouts that he doesn't want help. When Officers Paul Evans and Victoria Renna enter the convenience store, Paul proceeds to shoot Harrison twice in the back without so much as saying a word beforehand.
2. Paul Doesn't Face Charges
Perhaps unsurprisingly, the first two episodes reveal that Paul wouldn't be facing charges for having shot Harrison twice in the back. It turns out that Victoria played a critical role in this by taking the surveillance video from the convenience store, which would have revealed Paul shooting Harrison twice in the back without so much as saying a word.
3. The First Family Is the Calder-Brennan Family
As stated earlier, The Red Line is focused on the responses of three families. The first family is the Calder-Brennan family, which consisted of Daniel Calder and Harrison Brennan plus their adopted daughter Jira Calder-Brennan. Of course, Daniel is very upset by the reveal that Paul wouldn't be charged, which prompts him to launch a civil lawsuit against the City of Chicago in order to get what measure of justice that he can.
4. Jira Wants to Find Her Birth Mother
The incident instills a desire in Jira to find out more information about her birth mother, who is presumably black like she is. Daniel is reluctant, but he is convinced when Jira tells him that she needs to speak with someone who looks like her about this kind of incident, which matters because Daniel is white. Jira's argument is strengthened by footage of Paul showing him putting his hand on his gun when he pulls over a couple of black men on his very first day back on the job.
5. The Second Family Is the Young Family
Speaking of which, the second family is the Young Family, which consists of Tia Young and her husband Ethan. It turns out that Tia knows Harrison's face and vice versa because the two met face to face as part of the adoption process. However, Daniel does not because the two couldn't adopt Jira as a gay couple but instead had to have Harrison adopt her before Daniel could adopt her as well afterwards.
6. Tia Wants to Reach Out
Tia recognizes Harrison when his face makes the news. As a result, she starts thinking about reaching out to Jira when she hears about the incident, though her husband Ethan thinks that it isn't a very good idea. Eventually, Tia attends the same LGBT gala as Daniel as well as Jira, where she interacts with them for a time. Due to this, Tia works up the courage to tell Jira the exact nature of their relationship with one another, starting off by sending an email to says that she is Jira's birth mother.
7. The Third Family Is the Evans Family
The third family would be the Evans family. In short, it is revealed that the Evans family has a long tradition of working in policing. In particular, it is worth mentioning Paul's older brother Jim, an ex-officer with a very volatile temperament, which is presumably connected to how he was paralyzed while working as a police officer.
8. Paul Gets Terrible Advice
As mentioned earlier, Victoria took the surveillance video from the convenience store to conceal the fact that Paul started shooting without saying so much as a single word, which would have made his actions look even uglier than it already did. Paul knows about this. Moreover, he has talked about this with Jim, which makes the terrible recommendation for Paul to continue with the cover-up. However, when Jim states that Paul needs to make sure that the surveillance video is destroyed, Jim finds out that Victoria has been lying to him when she says that it has already been destroyed because he manages to find the tap in her safe. As a result, it seems safe to say that there is a very good chance that the tape will be making further appearances in the story of The Red Line, in which it will presumably have a very large impact indeed.
9. Expects Eight Episodes in Total
It should be mentioned that The Red Line has a clear starting point as well as a clear ending point. In total, interested individuals can expect eight episodes to be broadcast in the months of April and May of 2019. This is possible because CBS has made the choice to broadcast the eight episodes in two-episode blocks on Sundays. This choice means that The Red Line is going head to head with the final episodes of Game of Thrones, which does not bode well for its viewership numbers.
10. The Title Refers to a Rapid Transit Line
For those who are curious about the meaning of the mini-series's name, it seems that it is a reference to a rapid transit line that can be found in the Chicago "L" system operated by the Chicago Transit Authority. The Red Line is very busy, so much so that it sees more than two hundred thousand passengers on a daily basis. In fact, the Red Line is the busiest line operated by the Chicago Transit Authority, which is already responsible for one of the most often-used public transportation systems in the United States.