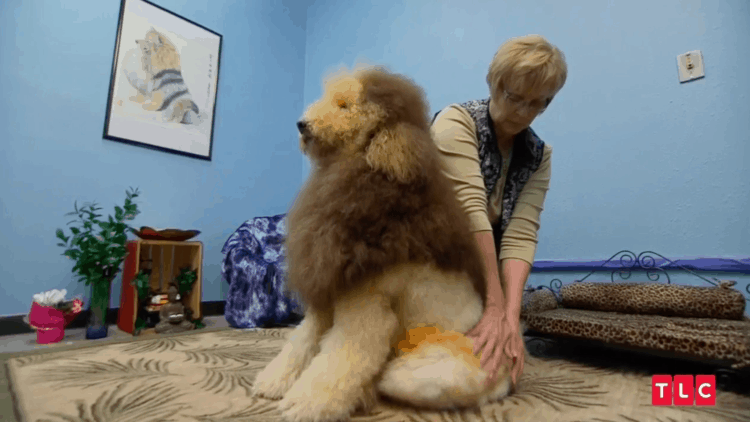 TLC is known for airing some of the most interesting and bizarre reality television show. The show, "Wait, That's a Dog?" is one that highlights some of the most unusual dogs on the face of the earth. Groomers go all out to create one of a kind styles for their coats and the show has received some mixed reviews. If you haven't tuned in to watch it yet, and you're not quite sure if it's something you'd enjoy, here are 10 things about "Wait, That's a Dog?" that might help you to make up your mind.
1. Groomers make dogs look like other animals
If you've ever tried styling your dog's coat into some really unique styles, then this is likely to be a show that you'd find entertaining. It's one thing to give a poodle poms around the ankles, head, and ears but these groomers transform the pooches into critters that don't even resemble dogs anymore. Some of the styles come out looking more like a camel, a buffalo, a lion, and more interesting creatures. We can't help but wonder how the dogs feel about this.
2. The show is a one-off
The TLC special was what is known in the business as a one-off. This means that there was just one episode ever made and released. It's a show that was aired almost a decade ago, so you might not even remember it, but there are some who do. The name of the episode was "Extreme Poodles." The show was never turned into a television series, and there are some who wished it would have and others who are glad that it didn't.
3. The show was a contest for groomers
Although the dogs were the real stars of the show, "Extreme Poodles" was a contest among groomers to see who could come up with the most unique styling for the dog that was being groomed. In their quest to achieve the perfect aesthetic, the cameras rolled while each groomer went to work on their poodles. One of the dogs came out looking like a Roller Derby Girl. It was really fascinating to watch these expert groomers at work, and although the dogs looked really cool, they didn't really look like dogs anymore.
4. Viewers stuck up for the dogs on social media
There were several viewers who were absolutely outraged about what the groomers did to the dogs. One of them even said that it was "horrible" and that the acts of the groomers were "reprehensible." There were calls for the groomers to be prosecuted even for their reshaping of the dogs' coats. This is a bit extreme, but there were several responses to the post in agreement that the dogs weren't having a good time and that they even looked "miserable."
5. You can stream the video to watch it for yourself
There are still comments being made about the show, and people are generally a bit unhappy with it, but there are those that thought it was a good watch anyway. Even though there was only one episode aired and it was nine years ago, you can still stream it and find out what all the fuss is about.
6. Some people loved the show
Although there are a lot of criticisms out there about the TLC show, there are also those who thought that it was brilliant. When sharing his impression of the show, Rick Juzwiak talked about things that he really liked about the show and he suggested that it's one that shows the talents of the groomers and he even ventured that it's worth a re-visit. Juzwiak even made himself a montage of the highlights of the show for his own pleasure.
7. The groomers used scissors and paints
We were a bit surprised to discover that the groomers didn't just cut, shape and style the fur of the dogs that they were working on. They also used paints to change the color and accentuate the fur. This made them look more like the creatures intended by the groomers. We're assuming that the paints used were non-toxic, but you've gotta admit that painting a dog is taking it over the top. One groomer said his dog liked being pink.
8. Some of the dogs were pampered
We know for certain that at least one of the dogs appearing in the show is a pampered pooch. The dog named Falkor has an owner who goes to great lengths to calm the nerves of his dog. Have you ever heard of a poodle that undergoes Reiki treatments for jangled nerves? Well, Falkor is one that does.
9. One of the owners humanizes his poodle
We found it extremely interesting the way that the owners humanized their dogs. We're not saying that this is a bad thing or a good thing, it's just a fact. One owner called is poodle a "metrosexual." We really weren't aware that such things could apply to animals as well as for humans, but perhaps….
10. The reviews are mixed, none-the-less, it's interesting
"Wait! That's a Dog?" is a show that is different than most you've probably seen, and it's one that you'll either love or you'll really hate. It all depends on how you feel about a dog getting a makeover that changes their looks totally. Some feel it's animal abuse, and those who know that dogs are sensitive creatures who experience embarrassment, will probably agree. Others think that it's the display of skill and a true art form. It's one of those things that you have to see to truly believe, and it's still available for all who have an interest in checking it out for themselves.