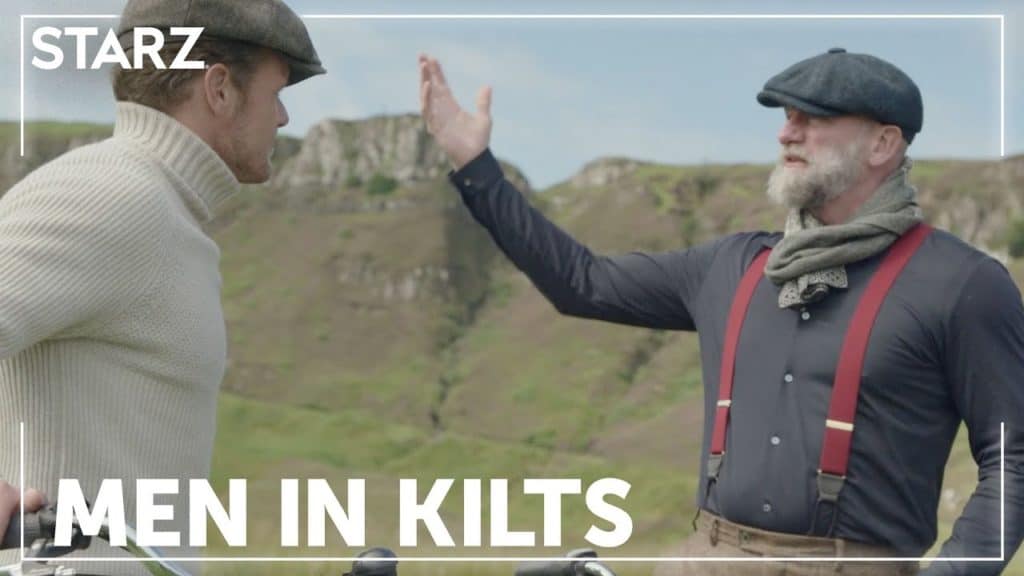 So Sam and Graham are a bit silly, that much is true, but the fact is that they're taking a trip around Scotland in an effort to show just how beautiful and how complex the country is, and thus far they've done a great job since it's been a great time, if a bit corny now and then. But the inane nature of the two men and their back and forth banter is a big part of what makes the show easy to watch since it's almost like watching a nephew and uncle on a grand road trip to see how well they can stand one another for a long period of time. Plus, the views that are given of Scotland are simply beautiful, not to mention quite interesting. Thanks to one of the past episodes, learning Gaelic, enough to be understood, is now an interest since it is a rather intriguing language. But in this latest episode, By Land, Air and Sea, it becomes even more evident just how wondrous Scotland is as the guys end up taking a bike ride, a trip to Loch Ness, find themselves taking a seaplane for a brief jaunt, and even taking a rather chilling dip that's likely a little too brisk for Graham's liking. But perhaps the best part is watching Graham brave the steep face of Kilt Rock as the guys go abseiling, or descending the rock, in a manner that might scare the hell out of just about anyone, especially those that are scared of heights, as Graham is.
The fact that Graham does it and manages to come back up without breaking down is great, as the crew and Sam can't help but applaud him for facing a huge fear and getting through it. Of course, Sam goes down and then back up without an issue since, well, some folks aren't scared of much, or at least aren't too worried that the person holding the line for them is going to slip or that Murphy's Law might step in and assert itself. But with that in mind the show was one of the more enjoyable ones as the banter between the two men reached a point that made it clear that while they are able to get along and have a good time, there are moments when Graham really does feel a bit of irritation and anxiety, despite the fact that he moves past it quite readily. Simply getting a look at this beautiful country is enough to make quite a few people enjoy the sights and wonder how they might possibly make their way to Scotland to see what's there to enjoy and to experience. Likely as not it's a bit of a spendy trip, not to mention that it would take a while to really see and experience everything that there is to be seen. But it would be worth every penny without a doubt and would be something that a person would take with them for the rest of their lives, especially since Scotland is one of the many countries that is so rich in history and in tales that can be shared with anyone willing to listen.
One story in particular, about the Cailleach, is something that anyone can find since it's a very common but treasured tale among the islands and one that was nice to hear about, even briefly, on the show. The formation of any landscape has numerous legends that are told by many different people within their various cultures, and it's fair to say that with each area there are bound to be several legends that will explain how things came to be. In Scotland, this is no less true, but there are very common tales that, while different from person to person, are still more or less the same when they come down to the fundamentals. If truth is told, Scotland is likely one of the places where some of the greatest tales have come from since many great stories have at least passed through this land if they didn't originate there. Plus, Scotland has played host to a few different movies and even TV shows over the years that people might have missed considering that the nature of the movies or shows might not have made it obvious where they were. All in all though, this land is one of those that a person can feel a great deal of history from even if they've never set foot there, especially with two individuals like Sam and Graham traipsing about while throwing tidbits of history around for people to listen to. It is kind of amusing though how the midges continue to find Sam wherever they go, and appear to not bother Graham at all, at least not that we see.