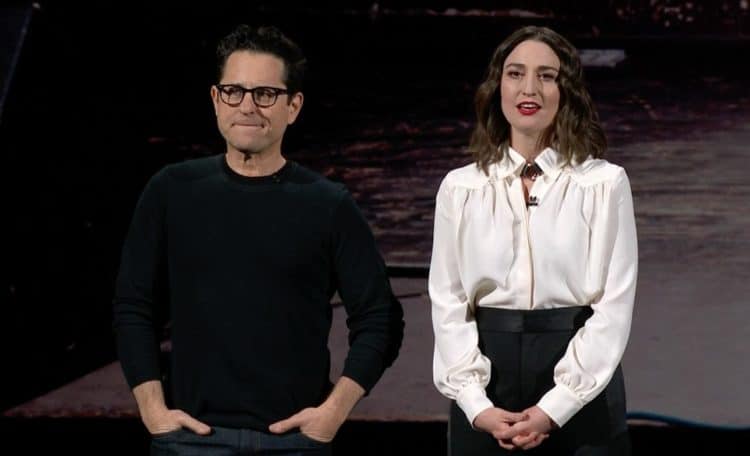 Apple has a new streaming service and they've acquired the show "Little Voice" as a part of their lineup of available television series. If you haven't heard of the service or the show, then you're in for a double treat. Apple TV is getting involved in one of the hottest industries in entertainment and they're off to a good start, offering quality programming for their subscribers. Apple TV has been working on the launch of their new streaming service for two years, and they're finally ready to launch their new streaming service called Apple TV +. Apple will offer a lineup of programs including dramas, television series, movies, documentaries and "Little Voice," and here are 10 things you didn't know about the new series.
1. "Little Voice" is a Sara Bareilles production
Popstar Sara Bareilles is the executive producer of "Little Voice." the script is written by Jessie Nelson, J.J. Abrams, and Ben Stephenson. The show is all about finding one's voice and the journey involved in making this discovery.
2. The series shares its title with an album
Sara Bareilles released her debut album with a major record label called "Little Voice." This is an inspiration for the television series. The album was released 12 years ago in 2007. This is a project that has been in the works for some time.
3. The series will feature original music
We learned that Sara Bareilles is set to compose all original music for the series "Little Voice." You're not only going to get in on a good story, but you'll hear new music that is written specifically for the show. We can tell you that a previous Broadway musical called "Waitress," was scored by Bareilles, and for her compositions for the musical, she received several Tony nominations, one of them being Best Original Score. This is a good indication that we'll have something very special to look forward to upon the release of the series.
4. The series is going to be very different
We get used to watching television series which are in a specific genre, and the majority of them are not musicals, but rather romance, comedy, drama, crime, horror, and so forth. "Little Voice" is going to be much different. The show will be based on a format which revolves around original music which is rare in a television series.
5. The episodes are ready to roll
We learned that "Little Voice" is not going to be one of those flashes in the pan series that gets canceled after a few episodes. There are ten full half-hour episodes slated to be streamed via Apple TV Plus. This is good news for those who enjoy a good musical series because there are so few of them offered these days.
6. "Little Voice" is written by the writer of "I Am Sam"
Jessie Nelson is the writer of "Little Voice," and she is a noteworthy screenwriter who is credited with multiple box-office hits. The films that she has screen written include "I Am Sam," "Corrina, Corrina," and "Stepmom." This gives one the immediate impression that the writing is probably going to be top-notch. Nelson will also take charge of several roles for the first episode of the show including showrunner, executive producer and director.
7. "Little Voice" covers three genres
When we were trying to find out more about the upcoming new television series for Apple TV Plus, we learned that it's going to cover three genres. Aspects of the show will fall under the comedy-drama category, so we can expect some humor and a few laughs along the way, but there will also be dramatic aspects. It will also feature romance, so we're going to get three in one.
8. The series will inspire people in their 20s
"Little Voice" is about finding your voice when you're in your early 20s. It's also an inspiring series with the goal of encouraging people to have the courage to use their voice once they find it and to move beyond fear and barriers to accomplish their passions and goals.
9. The show follows a songwriter
There is a plot and a story associated with the new series. It isn't just about music, it's about a great many things, including pursuing your true passions when you discover what they are. The show has been described by critics as "a love letter to the diverse musicality of New York." The series will follow a young songwriter in New York as she navigates her way through the city, the music and her life in general. It's about finding your "authentic voice." The series will star Brittany O'Grady, Samrat Chakrabarti, and Gopal Divan.
10. The music for "Little Voice" is by the writer of "Brave"
When The hit single "Brave" was released, it was nominated for the Best Pop Performance award at the Grammys. Bareilles is the writer and the voice behind the hit that took the world by storm. This is exciting news for music lovers because you might just find your next favorite song.
Final thoughts
The new Apple TV Plus streaming service will feature the new series "Little Voice." It's secured the rights to the television show and you'll be able to sign up for the service starting on November 1, 2019. You won't want to miss out on this new exciting series that combines a variety of genres in one highly anticipated package. If you're looking for something that is just a little different, we've come to the conclusion that "Little Voice" is going to offer a refreshing change that is both entertaining and challenging for those who watch and who are searching for their own authentic voice.
Tell us what's wrong with this post? How could we improve it? :)
Let us improve this post!