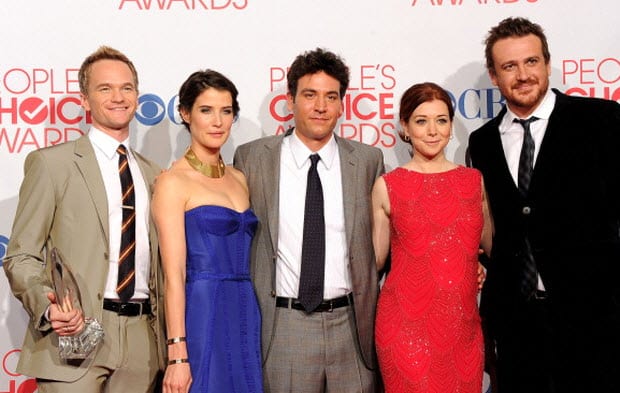 There are not a lot of things to look forward to on Mondays. Knowing you have to spend the next five days stuffed in an office cubicle would make anyone depressed. The one thing to look forward to is a new episode of How I Met Your Mother. The latest outing entitled, "Slapsgiving 3: Slappointment in Slapmarra," will be just what you need to help you get through the rest of the week.
If you are a fan of How I Met Your Mother, and I am sure you are if you are reading this review, you know that Marshall (Jason Segel) was allowed to slap Barney (Neil Patrick Harris) five different times whenever he saw fit. Also, Marshall was awarded three extra slaps when Barney refused to wear the Rubber Ducky tie. Prior to this episode, only six slaps have been given.
The episode begins at 1 AM Sunday morning. It is now 17 hours until Barney and Robin (Cobie Smulders) tie the knot. I am sure you are thinking, "17 hours still?! Is this wedding ever going to happen?" But you will be sad when it finally does happen. I am sure of it. Barney is about to get another slap when there is a flashback to a few weeks before the incident. Barney claims that he is now immune to Marshall's slaps, which is why Marshall sought out "special training" to get his final two slaps in. With the aid of three masters who teach Marshall speed, strength, and accuracy he is now able to deliver a slap of 1 million exploding suns.
Marshall "flies" to Shanghai to seek out the first master. The first master is "Red Bird" and bears a striking resemblance to Robin. She is able to slap Marshall without him seeing due to her great speed. When "Red Bird" hears that the slaps are intended for Barney Stinson, she quickly agrees to train Marshall. The training lasts for an entire year. His final test is to slap "Red Bird" and he succeeds.
Now Marshall must trek to Slap Mountain to meet "White Flower." In case you are unsure of where Slap Mountain is located, just remember it is the largest of the Slappalachian Mountains. Not surprisingly, "White Flower" looks just like Lily (Alyson Hannigan). Like "Red Bird," "White Flower" has retired from training but soon begins to teach Marshall the art of strength after learning the slap is for Barney. Marshall must harvest the anger of others in his slap in order to pass the test. He needs to find people who hate Barney and have them slap him to increase his strength. After getting slapped in the face by many of Barney's past conquests, he passes the test and is sent to Cleveland to find the third master.
The third master is named "The Calligrapher." I am sure you can guess that this master is Ted's (Josh Radnor) twin. "The Calligrapher" teaches Marshall the art of accuracy, after Marshall agrees to set him up with a woman. Unfortunately, when trying to save "The Calligrapher" from choking, he slapped out his heart causing him to die. As a result, Marshall was never fully trained and is only a Slapprentice.
We are now taken back to present day where Marshall is about to deliver the 7th slap to Barney. Due to not being properly taught about accuracy, he misses. Barney runs off in a panic and comes to a willow tree where four woman are sitting. This is the same scenario that Marshall told Barney would be the setting for the slap. The gang catches up to him and we learn that Marshall DID get his training completed and is ready to give out the final two slaps. It only took 2o minutes, but Barney gets a nice, well-deserved slap across the face.
In the closing scene, fans were treated to a montage of all the slaps Marshall gave out to Barney over the years. What is even better is Boyz II Men sang a song to go with the montage. Marshall does manage to remind Barney that there is one final slap. With roughly 10 episodes left to air, we won't have to wait very long to see it. I am sure it will be legen…wait for it…dary.
[Photo via Kevin Winter/Getty]
Tell us what's wrong with this post? How could we improve it? :)
Let us improve this post!