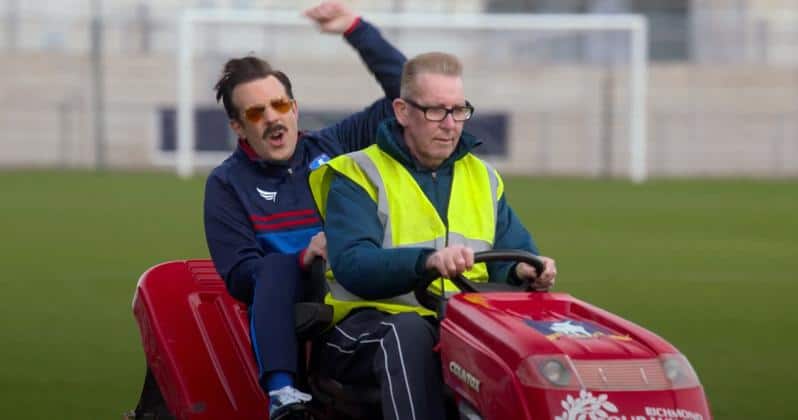 "Ted Lasso" was the sleeper hit that came out of nowhere to warm the hearts of fans, who definitely needed something uplifting in 2020. The series is weirdly based on a character that was invented for some NBC promos after the network got the rights to broadcast the English Premier League. He's supposed to be an American football coach who was then managing an English football team (you know…soccer). The promos were funny, but the idea of making a sitcom around a character from them doesn't seem like it should go anywhere. And yet…it's awesome. It's heartwarming. It's a happy show you can watch when you're having a terrible day.
Considering that the creator of the show is Bill Lawrence, who also headed up the excellent, off-the-wall show "Scrubs," as well as "Spin City" and "Cougar Town," it was probably a good bet it would turn out well. Star Jason Sudeikis, who co-created the show with Lawrence, gives his character optimism and humanity, and makes the show a must-watch when you need a pick-me-up. So what's Bill Lawrence doing next? Working on a TV show involving a washed-up detective, a severed arm, and a monkey. Naturally.
Lawrence is adapting Carl Hiaasen's book "Bad Monkey," which was released in 2013 and is a best-seller, for Apple TV. The show will star Vince Vaughn as detective Andrew Yancy, who was demoted from his detective duties to be a restaurant inspector (he calls it Roach Patrol) in south Florida. When a tourist finds a severed arm while out fishing, Yancy obviously stores it in his freezer while he tries to figure out what happened. Although there are those who think the unfortunate arm owner met with a boating accident and/or was chomped by a shark, Yancy isn't buying it. As he tries to investigate, Apple TV explains that he's pulled into a world of "greed and corruption that decimates the land and environment in Florida and the Bahamas. And yes, there's a monkey." Carl Hiaasen is also known for books about the evils of development and toxic waste. He wrote the hugely popular kids' book "Hoot" about a pancake house – also in Florida – that wanted to build a restaurant and destroy a colony of owls. So "Bad Monkey," at least in the book, brings in those environmental elements as well.
The book was described by the New York Times when it was released as "a comedic marvel … beautifully constructed," and a "…rollicking misadventure in the colorful annals of greed and corruption in South Florida." Although only Vince Vaughn has been named as an actor on the show at this point, there's plenty of room for quirky, funny characters in those "colorful annals of greed and corruption." We can't wait to see what guest spots or other actors are hired for the show to round out what has to be a zany cast. And then there's the monkey. In the book, the monkey Driggs is a former animal star who was in the "Pirates of the Caribbean" movies. He was fired after he mistook a series of brown wigs for a lady monkey and…we'll leave it at that. He'll provide plenty of his own caustic, comic relief in the show, undoubtedly.
Vince Vaughn is taking this as his first regular series role since he was in "True Detective" during Season 2. Although he got his start in funny movies, in the crime series he played Frank Semyon, a sketchy businessman who develops a plan to build a high-speed rail system in California. He got his start in the independent film "Swingers" which was an unexpected hit in 1996 and helped catapult him and his co-star, Jon Favreau, to stardom. He was in several other wacky comedies including "Wedding Crashers," "Dodgeball," "Anchorman," and "Old School." He has also produced and executive produced a number of TV shows and movies including "F is for Family," and "Sullivan & Son."
The Hollywood Reporter says that according to sources, Bill Lawrence's deal with Warner Bros. TV is now being renegotiated after the success of Ted Lasso. Small wonder, since the show recently broke Glee's Emmy record for the most-nominated new series with 20 nominations. Lawrence is working on several other projects as well. He's rebooting "Clone High," which was an MTV animated series about a high school for clones of famous historical figures. There are characters including teenage Abe Lincoln, Joan of Arc, Ghandi, and JFK, all attending high school together. The series is meant to parody teen dramas like "Dawson's Creek" and "Beverly Hills 90210." Lawrence is also busy as the executive producer of a remake of "Head of the Class" for HBO Max, based on the ABC show that premiered in 1986.
Tell us what's wrong with this post? How could we improve it? :)
Let us improve this post!