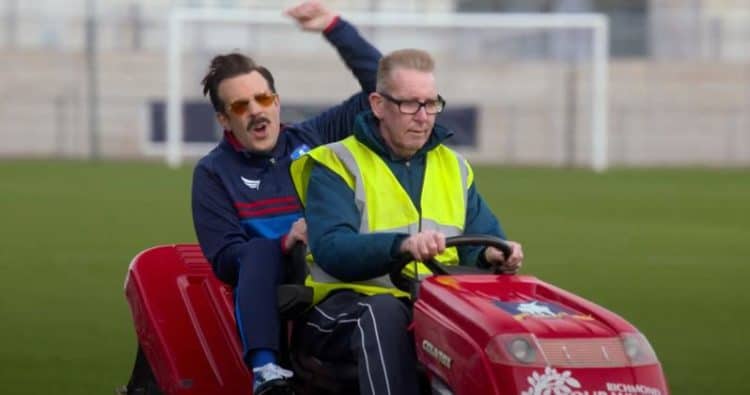 With 2020 behind us and 2021 half gone, it's easy to look back and say that things have been kind of rough for a while, but thankfully entertainment has been there for a lot of people that need something to cling to and a feel-good moment or two that can perk them up. TV shows are often good for this since they tend to be filled with a variety of moments and situations that can and usually do manage to give us something else to focus on that's not overly negative and can grant us the ability to just kick back and realize that there are plenty of things to still be grateful for, no matter how bad things might get at times. TV might not always be the answer, but sometimes it's a way to just sit back and let the worries of the world wash over you in a way that creates at least thirty to sixty minutes of relaxation.
Here are some of the best feel-good shows of 2021.
10. Hacks
You can't help but think that this might have happened a few times in real life, that an entitled newbie, or someone that has a lot to learn about the comedy business, has teamed up with a veteran and metaphorically had their butt handed to them. But somewhere along the line, one would think that the two would learn from each other at the same time. Up until that point though it's anything goes and all is fair, kind of.
9. All Creatures Great and Small
There's something about a hard-luck story about the main character that moves from one location to another and in the doing makes the next location better in some way is definitely worth watching. It's especially worth it when one gets the chance to see a person work on people by working on animals first. That might sound weird, but the premise of healing animals and in the same process healing people is something that's kind of appealing since it feels like a miracle in the making.
There's something truly cathartic about shows such as this since they do have plenty to offer since there's drama, humor, action, and even a bit of horror when watching someone trying to do something that might be a bit risky. Okay, so it's not that horrifying, but it's still enough to make a person cringe when someone makes a big mistake since it's the type of show that one can't help but want to watch to see people accomplish something amazing.
7. We Are Lady Parts
The title of the sitcom is a little odd, but the premise isn't too bad since a group of young women that decide to form a band and then take their sound even further than a garage is a good story in the making. It could even be great if it were meant for that, but whether or not that's going to happen remains to be seen. But one can at least guess that things are going to be kind of humorous as well as dramatic, but ultimately positive simply because of the nature of the show.
There's not much to say other than how awesome this series has been and how it's taken everyone on an emotional rollercoaster. But as much danger is coming in season four, there's still a reason to see it as a feel-good series since by season three, Daniel has made peace with an old enemy, and now Johnny and Daniel have merged their dojos to take down Kreese. The downside is that now Kreese is calling in Terry Silver, so we'll have to wait and see just what kind of damage that's going to do. But the unity between the two dojos is great to see.
5. WandaVision
It might be odd and even awkward to call this a feel-good show, but at the same time, it was nice to see Vision and Wanda back together again for just a little while. And despite the fact that there won't be a second season, as it's already been established, the upside is that Wanda has found a way to work through her grief finally, and as time goes on it's no doubt going to make her a stronger character.
4. Frankie and Gracie
A friendship comedy is always a welcome sight since quite often the friends are going to be so opposite that it's hard to believe that they've managed to stick around one another for so long. But that does give for a lot of antics that make the show worth it.
3. Monsters at Work
Picking up where the first movie left off, this show is going to go back to Monsters Inc. and will be bringing back several of the original celebrity voice actors as a new employee tries to figure out what he can do with a scare factory that no longer deals in screams. It's bound to be kind of interesting.
2. The Mighty Ducks: Game Changers
It's fair to say that seeing the Mighty Ducks as the antagonists was kind of awkward, but the fact that the Don't Bothers became the new underdogs and were led by a kid that started out as a Duck was definitely a great way to balance the story.
1. Ted Lasso
This is the epitome of feel-good shows since Ted never lets anything get him down, but it does feel as though the next season is going to test him in ways he hasn't even thought of yet. Knowing Ted well enough by now though, it's fair to say that it will take a lot to phase him.
There are plenty of shows out there to give a person a good feeling.
Tell us what's wrong with this post? How could we improve it? :)
Let us improve this post!