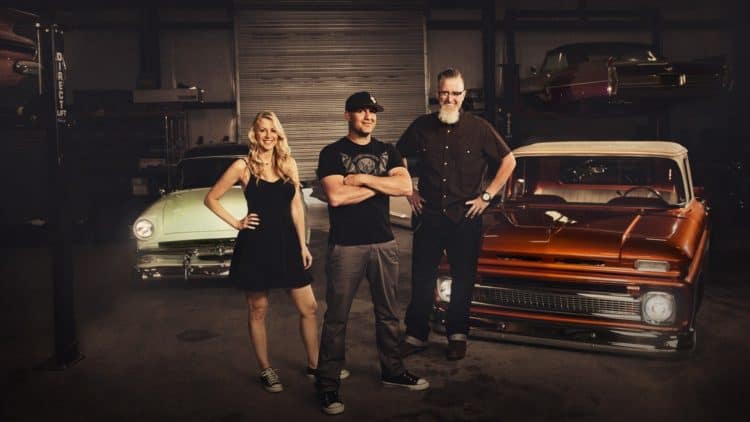 There's an odd satisfaction that comes with seeing technological devices come back to life. Be it a broken computer that has been fixed or an old car. Iron Resurrection is a show that focuses on just that, as it is all about fixing cars and other automobiles. Whether a busted bike or a rusty truck, Iron Resurrection believes that all vehicles and automobiles deserve a second chance. The show has gained favor with many viewers most probably due to the comradery often portrayed by it's three mechanics.
What is Iron Resurrection all about?
Iron Resurrection is an American show that airs on the Motor Trend Network, and follows the lives of three mechanics Joe Martin, his wife Amanda and his best friend Jayson Arrington. Joe Martin is the winner of the Biker Build-Off show which aired on Discovery Channel. The three work together at the Martin Bros Customs together with their team and breathe life into old and rusty vehicles of all kinds, sizes, and shapes. According to Motor Trend, each episode sees Jayson, who is fondly referred to as Shag, and Amanda scouting around the countryside in Texas for unappealing vehicles. The duo looks for hidden and unpolished mechanical valuables to bring back to the shop for remodeling. Each member of the team brings a specific set of skills to the table. Amanda rolls out the jobs and rolls in the cash with her unique knowledge of car lots and sheds within Texas state.
Shag puts his marketing and persuasion skills to good use by bringing in the best deals possible. Joe and the rest of the team are in charge of getting the cars to look as good as new. Viewers get a close up of every car that is brought to the shop. They get to see the creative process that usually goes into restoring the cars. The team does a good job with every single machine that enters the establishment. Be it trucks, boats, cars and even bikes, the Iron Resurrection team never fails. They stick to their mantra that no car is really dead and prove just that. With every episode, the team shows viewers how different and unique every car is and how they managed to turn the dusty scraps of metals into shiny cars. Their work is pleasant to see as they customize on every project they handle.
Joe started learning about vehicles at a young age. Over time, he found people with similar interests and together they worked on the shop. He is always enthusiastic about every car that comes in as he takes it as an opportunity to make something new out of it. He stated that he mostly uses old metals as a way to show his viewers that they shouldn't really consider those old cars in their backyards as broken. At first, he had considered his talent as a hobby but it slowly grew into a business. Joe who is the face of the business got recognition after he won the Bikers' Challenge. The Discovery Channel took a deep-seated interest in him and Jason thus released 2 shows featuring the two friends called World Biker Build-Off and Biker Build-Off.
Part of the Cast Left in Season 4
The show had other notable characters in the first seasons but some of them exited due to unknown reasons. Their unexpected exits left fans puzzled but production came in and cited that their move was due to various personal reasons. According to Cinemaholic, characters like Pompa, Ammy, Shorty, and Cato left due to family concerns and not due to disagreements with other cast members. Shorty became a grandfather and decided to exit to spend more time with his family. Even though he left Iron Resurrection, he decided to focus on other business ventures in Dallas. Cato's wife got a new job in Atlanta, and to support her, he had decided to take a break from his reality television career. He then relocated to Atlanta with his family.
So, will Iron Resurrection get a 5th Season?
It is still unclear concerning the fate of Iron Resurrection as there has been no news or communication regarding the show's renewal. Early last year, it was reported that the show Iron Resurrection was getting renewed for a fifth season. The news left fans eagerly waiting for the show's episodes to drop. Up to now, the network has not issued a statement regarding the cancellation or renewal of the car revival show. In the end, the ratings are what usually determine if a show comes back to television or not. According to Distractify, about 85 million households in the United States receive Motor Trend, an American automobile magazine owned by discovery channel. These numbers show a wider audience for the show to capture and take advantage of. Iron Resurrection had been assigned a 9 pm timeslot every Tuesday. This creates a great opportunity for it to gain favor with its viewers. However, ratings and television are generally inconsistent. There is still no word as to whether Iron Resurrection will return for its fifth season or not.
A Similar show – Diesel Brothers
This is a reality TV series that premiered in January 2016 on Discovery Channel. The name Diesel Brothers might have you think that the 4 men involved are all brothers, but this isn't the case. Despite their striking resemblance to each another, they are not brothers but friends. The show started when the 2 best friends Dave "Heavy D" Sparks, and "Diesel Dave" Kiley started a fix shop for every type of vehicle. They hired 2 other men to their team to help them run the shop. Later on the iconic Diesel Brothers show was formed as a result of that friendship. Since the show's premiere in 2016, it has gone through many changes that have seen it evolve into one of the best reality television series in America today.