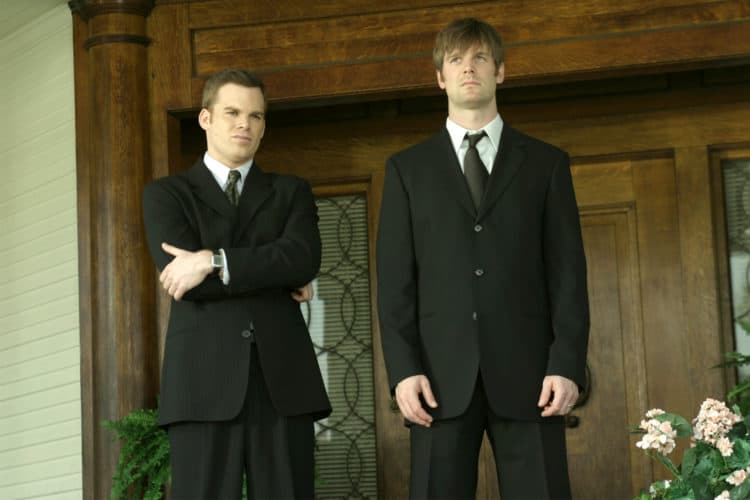 Two decades after it first premiered, HBO's spectacular series Six Feet Under is apparently getting revived. Details are scarce about what it might entail, and who beyond creator Alan Ball and the executive producers will be involved. But it's a good bet that at least a few of the actors who got their careers started from this show will be back, especially considering how active they've been since the show ended in August 2005. Here's what the cast of Six Feet Under has been up to since then.
Peter Krause (Nate Fisher)
Krause has been particularly busy, starring as a series regular in no fewer than four shows. First up was ABC's Dirty Sexy Money, which debuted in 2007 and only lasted two seasons due to the writers' strike. Next was a much longer stint as a far more put-together father in NBC's Parenthood, which ran for six seasons. Another two-season show, The Catch, brought him back to ABC, and he moved over to Fox for his current gig, playing a firefighter on 9-1-1.
Michael C. Hall (David Fisher)
Hall followed up his role as a by-the-book mortician with another premium cable role that put him close to death. Dexter ran for eight seasons beginning in 2006, and, while its series finale wasn't well-received, Showtime opted to bring it back for a new iteration, Dexter: New Blood, which is currently airing. Hall has also found time to headline two underrated films that played at the Sundance Film Festival, Kill Your Darlings and Cold in July, and to star in two Netflix series, Safe and The Defeated.
Frances Conroy (Ruth Fisher)
The family matriarch has been all over TV since she finished this role. Her most prominent show has been the anthology series American Horror Story, which has netted her two Emmy nominations. She has continued to hone her penchant for playing memorable mothers, stopping by shows like How I Met Your Mother, Casual, and Dead to Me for guest spots, as well as the movie Joker. A small role in one of 2021's most acclaimed films, The Power of the Dog, shows that Conroy remains a critical part of the industry more than forty years after her first screen credit.
Lauren Ambrose (Claire Fisher)
Ambrose tried to make a return to TV opposite another fantastic actress, Parker Posey, in The Return of Jezebel James on Fox in 2008, but that show lasted only three episodes. A handful of TV credits and independent film roles followed, as did a successful run on Broadway as Eliza Doolittle in My Fair Lady, which scored her a Tony nomination. Recently, she's made it back to top-tier TV with a starring role in the Apple TV+ series Servant.
Freddy Rodriguez (Federico Diaz)
Rodriguez has been doing steady voice work on shows like Teen Titans and Young Justice. He appeared on Ugly Betty and had a lead role in Chaos on CBS, which only lasted one season. He starred in NBC's The Night Shift and then in the first five seasons of Bull on CBS. Rodriguez was also in Robert Rodriguez's Planet Terror, one half of the double-feature Grindhouse.
Rachel Griffiths (Brenda Chenowith)
Australian actress Griffiths moved on from Six Feet Under to another well-received role in ABC's Brothers & Sisters. Since then, she has appeared in a handful of TV series in both America and Australia, including Camp, When We Rise, Dead Lucky, and Total Control. Her most recent shows have been The Wilds on Amazon Prime Video and Aftertaste on ABC TV.
Jeremy Sisto (Billy Chenowith)
Sisto has become a dependable TV star, first starring in NBC's Kidnapped before really hitting it big on Law & Order. He tried comedy in ABC's Suburgatory, which ran for three seasons, and then had two one-season series in the same year in 2015, The Returned and Wicked City. A return to procedurals has suited him well, anchoring FBI on CBS for four years so far.
Matthew St. Patrick (Keith Charles)
Though he was one of the first actors to star on a new show after this one ended, again playing a cop in Fox's Reunion in 2005, which lasted just one season, St. Patrick hasn't been all that visible in the past decade and a half. He did have roles in a few films, including War and Alien Raiders, plus a handful of TV guest spots. His most memorable appearance was in Sons of Anarchy as a security operative severely lacking any of Keith's kindness.
Justina Machado (Vanessa Diaz)
Machado has appeared in numerous TV series, leading a few of them. She joined ER in its final season and recurred on Private Practice and Jane the Virgin. She was a main cast member in Three Rivers and Queen of the South, and she was also the star of an underrated NBC comedy, Welcome to the Family, that sadly only lasted three episodes. Her biggest role was in the reboot One Day at a Time, which, despite a few obstacles, had a successful four-season run.
Richard Jenkins (Nathaniel Fisher, Sr.)
Though his patriarch died in the first episode, Jenkins was a crucial part of this show. He hasn't done too much television since, though he did star in Olive Kitteridge and Berlin Station. He's been particularly active on the film front, earning Oscar nominations for The Visitor and The Shape of Water. After premiering two films at Sundance in 2020, The Last Shift and Kajillionaire, Jenkins has two holiday releases out at the end of 2021: The Humans and Nightmare Alley.
Tell us what's wrong with this post? How could we improve it? :)
Let us improve this post!