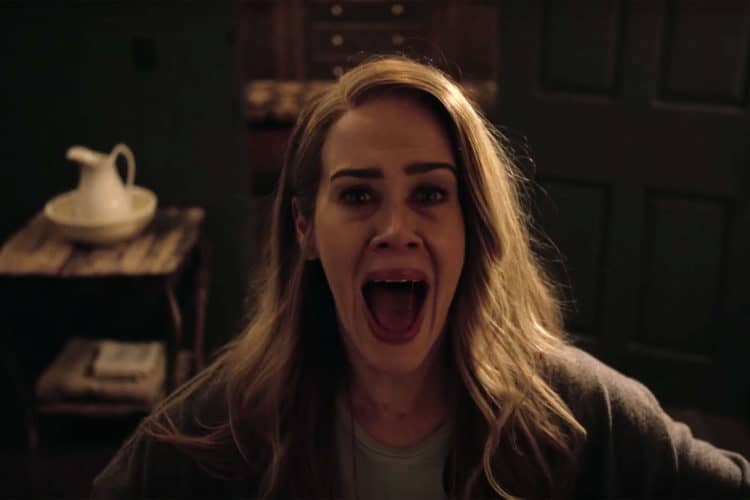 Since its premiere in 2011, American Horror Story has been captivating and terrifying audiences, across timelines and genres. With that said, fans are still quite polarized when it comes to 'The Best Season of AHS'. There's countless arguments on Reddit and Twitter, lobbying for each fan's favorite. It goes without saying that every season of AHS is good, so this is just the best of the best! *Obvious Spoilers Ahead*
10. Double Feature (Season 10)
Listen, I'm really not trying to come for anyone's wig here. Season 10 just bit off more than it could chew. Episodes 1-5 come in strong as some of my favorite episodes of AHS, but everything after that just unravels the story. There was so many great characters and storylines being set up in the first half of the season, it's just kind of a let-down to have things spiral into madness (with seemingly no tether between the stories). Evan Peters singing 'Islands In The Stream' with Frances Conroy does a lot for me, but I think most fans would agree that this is the weakest season. It's unfortunate, as there's some really incredible performances from Paulson, Culkin (honestly, surprised me), and Wittrock nestled into Season 10. I have long believed that AHS's curse is trying to fit too much in one season without fully tying things up, and that perfectly explains what happened in Season 10.
9. Roanoke (Season 6)
Do I need to elaborate on this? I feel like this might be the most hated season of AHS, as it's the one I never hear the fanbase mention. Aside from the amazing Trixie Mattel cameo that happens, the structure of this season was a big risk; one that didn't necessarily pay off. It was definitely a fresh twist on the narrative pace from earlier seasons, but it feels a little like a rushed mess. Roanoke has a few pitfalls, but chief among them is the amount of different stories they try to weave into this season. It's about a haunted house that is the setting of a documentary, that then gets a reality show with the real people and the actors involved in the dramatization, which then turns into multiple story threads about previous owners, ghosts, sacred ground, and a redneck cult. It was an ambitious undertaking that unfortunately didn't deliver. But Kathy Bates as The Butcher? Come get your Saturn Award, girl.
8. Freak Show (Season 4)
Don't get me wrong, Freak Show has its moments. It's a beautiful color scheme and aesthetic, with a heartwarming message about chosen family. I just didn't understand why we needed all the musical numbers. It was starting to become distracting. Jessica Lange will always get a pass, because she's a transcendent icon in nearly every moment of Seasons 1-4. The other cast however? The tune wasn't carried, it was kidnapped. The story starts to fall all over itself around Episode 9, and the last few episodes of the season feel like they come out of nowhere. We have characters behaving in ways that don't track with their motivations, Neil Patrick Harris introduced in the last couple episodes for some reason, and basically everyone eating a bullet by the end of the season.
7. 1984 (Season 9)
Now, I feel I might have just divided the room. Season 9 delivers on quick-witted humor and 80's slasher chaos, with Billie Lourd, Cody Fern, and Leslie Grossman giving iconic performances. It incorporates everything trademark about the 80's aesthetic; sex, drugs, and rock n' roll. While the multiple timelines in this season aren't as distracting as previous seasons (looking at you, Roanoke and Hotel), they do tend to skip around gratuitously. With the addition of several new faces (and the removal of some of our favorite actors from the story), it just doesn't pack the same punch that other seasons do. There's a gaping hole where Paulson and Peters usually shine, and while the actors do a great job, it just pales in comparison to other ensemble performances.
6. Hotel (Season 5)
This season will always hold a special place in my heart. A lot of people hate this season, and I honestly just don't understand it. I really think the show was trying to make a shift into something more campy and flashy, which is where the addition of Lady Gaga really stands out. Now, she's still getting her feet wet, and there are some scenes where that's obvious, but she does a really amazing job. The Countess is such a big undertaking, and she left no stone unturned (even if there were a few cringe lines). Liz Taylor's arc is pure perfection, with the theme of forgiveness reigning over the whole thing from start to finish. Angela Bassett and Kathy Bates crush as two women hardened by the world, and Finn Wittrock does an amazing Rudolph Valentino. Say what you want about John Lowe's family and his arc as the 10 Commandments Killer (because I wasn't a fan either), but Hotel has so much more to offer.
5. Apocalypse (Season 8)
This is a really polarizing season as well, with critics and fans divided. Critics were living for Season 8, but fans? Not so much. Apocalypse makes good on the promise that every season is, in fact, tied together. We see Paulson back in the role of Cordelia Goode (which she obliterates by the way), with Cody Fern playing the anti-Christ (who also obliterates). From start to finish, this season gives us great solo performances, the return of Angela Bassett and Jessica Lange, and a really strong ensemble performance. All that out of the way, the story is all over the place. It's an incredibly ambitious task, to cross over multiple seasons and timelines, and they really almost pull it off. But after you resurrect 3 people from the dead to save your story line, the stakes and consequences of characters disappear.
4. Asylum (Season 2)
I can hear y'all shouting at me as I get closer to the top of this list. Asylum was really great, showing off Peters' and Lange's range, with the crown jewel of the cast being Paulson. This season has you guessing at every turn, and does a good job of switching between a few timelines at once. Lily Rabe as Sister Mary Eunice is transcendent, and the additions of Joseph Fiennes and James Cromwell really give the story that extra sparkle. Everyone is at the top of their game here, with every episode delivering on horror, social commentary, and sacrilegious shock. The only thing that knocks it down the list for me, is the chaos that comes out of trying to do an alien story and an insane asylum story in the same season. It feels a little scattered at times, and the alien storyline doesn't always make sense with the asylum storyline.
3. Murder House (Season 1)
It's tough to beat the original. The first outing of AHS still remains #1 with many fans. The story is rock solid, the cast is perfect, and the humor is consistent. This is the first season that I genuinely don't have a bone to pick with. It had just the right amount of twists and reveals, without the story getting meta or convoluted. It's much more realistic and grounded than many seasons of AHS. The Harmon's feel like people we might actually know, struggling in their marriage, with a suicidal teen, and searching a fresh start. It's the perfect place for the AHS universe to begin, and still stands up (11 years later) as a really strong showing for the series.
2. Cult (Season 7)
Season 7 really divides the fanbase. I am of the belief that Cult is actually my #1, but I conceded to #2 for those who would put this season as #10. Evan Peters and Sarah Paulson give a masterclass on tension, chemistry, and manipulation (especially in the last three episodes), while each of them give a solo performance for the ages. This season is funnier than most, with Billy Eichner, Leslie Grossman, Billie Lourd, and Chaz Bono serving up a majority of the laughs. I feel like a lot of people rejected this season when it first debuted, because it was hot off the heels of the 2016 election. That created this disconnect with fans, where everyone loved to hate it. But hindsight is 20/20, and looking back on Season 7, it's one of the finest iterations of AHS. (Watch Evan Peters kill Billie Lourd. Tell me you don't get chills.)
1. Coven (Season 3)
I can hear y'all typing in the comments already. Here's the long and short of it; Coven is the finest that AHS has to offer. Every single performance is a star performance, from Emma Roberts' resident queen bee, to Sarah Paulson eating as Cordelia Goode (and her arc as Supreme), and Frances Conroy's iconic "BALENCIAGA!" moment. It's hilarious, sexy, cool, and scary. But the best part about this season? The entire story is about women. It's about women's relationship with each other and themselves, about what sisterhood really means, and about what we can do to other women when we fight. The tension and drama feels so authentic, with the mother of all performances being Angela Bassett as Marie Laveau. From beginning to end, this season is packed with women in peak performance, and nary a man to muck up their hustle.
Tell us what's wrong with this post? How could we improve it? :)
Let us improve this post!