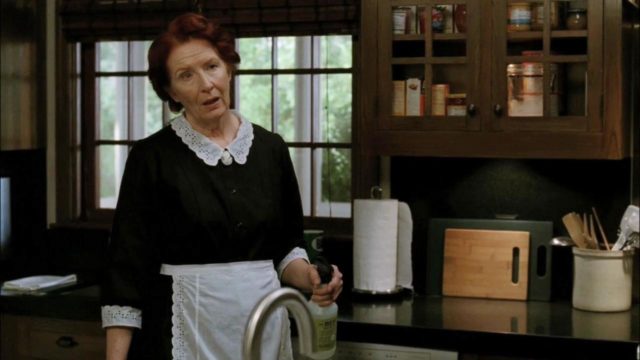 Frances Conroy is an American actress who was born in Monroe, Georgia, on November 13, 1953. She is a prolific actress whose work includes theater production, television series, and movies. She is particularly well-known for playing the role of Ruth Fisher in 'Six Feet Under', an HBO series. Another series for which she is well-known is 'American Horror Story'. This is an anthology horror series on FX. She intends to return to the series for its seventh season. Although she is recognizable on screen due to the number of famous productions she has been involved with, there are many things that few people know about this talented actress. Here are five things you probably don't know about Frances Conroy.
1. She Predominantly Worked in Theaters During the 1970s
While she was a student at Dickinson College between 1971 and 1972, Conroy was a member of the Mermaid Players and performed in many theatrical productions. She then studied drama in New York City. Throughout the 1970s, she regularly performed with touring and regional theatrical companies. The most notable of these was 'The Acting Company'.
2. She Made Her Broadway Debut in 1980
In 1980, Frances Conroy made her Broadway debut. This was in 'The Lady from Dubuque' by Edward Albee. Both the show as a whole and Conroy's performance were well-received by the audience and by theater critics. Following this success, Conroy concentrated on a career on stage for the next two decades. Some of the production she performed in included 'The Ride Down Mt. Morgan', 'Our Town', and 'The Little Foxes'.
3. She is an Award-Winning Actress
Frances Conroy has been nominated for awards on many occasions, especially during her time on the series 'Six Feet Under'. In 2004, she won the Golden Globe Award for Best Actress in a Television Series Drama. Along with the rest of the cast, she won the Screen Actors Guild Award for Outstanding Performance by an Ensemble in a Drama Series in both 2003 and 2004. Furthermore, Conroy won the Outstanding Performance by a Female Actor in a Drama Series Award in 2004.
4. She Had a Guest Role in Desperate Housewives
Conroy has had small roles in many television series and movies. One of these was 'Desperate Housewives' in which she had a guest role. She was invited onto the series in 2008 by ABC. In the episode in which she appeared, she played a rich woman called Virginia Hildebrand who tried to buy the love of the Solis family.
5. She Played Many Different Characters in 'Horror Story: Murder House'
In the first season of this series, which was aired in 2011, Conroy played a woman called Moira O'Hara. This character was also played by another actress, Alexandra Breckenridge. In the second season, Conroy played the Angel of Death. She then played series regular Myrtle Snow for the third season. This character was a member of the Witches Council in New Orleans. When she returned for the fourth season in 2014, she played a wealthy woman called Gloria Mott. A Twitter announcement in July 2017 revealed that Conroy will make her sixth appearance on the show in 'American Horror Story: Cult'.