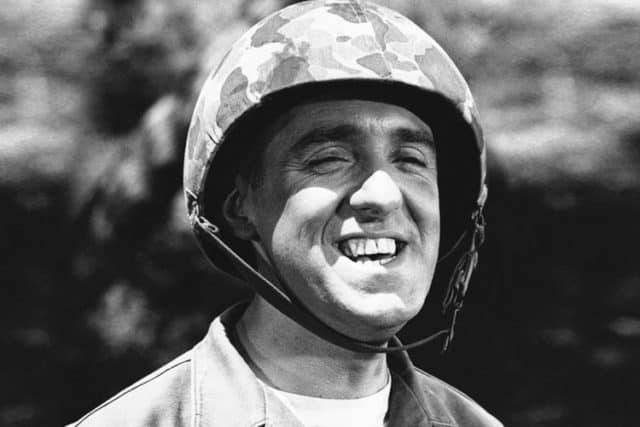 Oh sure… there have been plenty of tributes to Jim Nabors in recent days. He recently died from a heart attack at 87 years old. Most tributes gave us a mini-biography of his amazing acting career and how audiences were always surprised to learn that the "aw shucks" country voice he adopted as Gomer Pyle was completely different from his astounding baritone singing voice. Gomer Pyle was a goofy, loveable character. Truth is, it's hard to describe to audiences today what it was like to hear him sing for the first time after only hearing the twangy Gomer Pyle for such a long, long time. But, we're going to give it a go.
We completely understand that Jim Nabors acting career belonged to an older generation. It's likely that today's media viewers have completely missed The Andy Griffith Show, Gomer Pyle, U.S.M.C., The Jim Nabors Hour, or even the hilarious film The Best Little Whorehouse in Texas. These gems from decades ago turn up on classic TV channels on a regular basis, but there are plenty of great new programs elsewhere, too.
One way to describe the astonishing moment when Jim Nabors let loose his singing voice is this…. Think about the way it felt when Dorothy opened the door to see the Land of Oz for the first time. That moment of movie magic… when the black and white film images were replaced with glorious color…. it was indescribable! Those of us who saw it for the first time on our brand-new color TVs, after years of seeing only black and white TV, were awestruck. That particular experience still happens for kids today… it really does. That's always amazing – because we have so many rich and varied media experiences available. Why should we still be struck with wonder when we see the classic, often-seen film The Wizard of Oz? It's about experiencing quality and magic simultaneously. That's exactly the same kind of wonder Jim Nabors created for audiences when he opened up his character to let us hear his huge singing voice. How unlikely to discover such a singer in Gomer Pyle! Quality and magic together… that was Jim Nabors.
Here's the first time the we got to hear him sing on The Andy Griffith Show. The audience was as completely surprised as the townspeople. Gomer was a simple, twangy-voiced mechanic in a small town, until this moment:
Hear Gomer's gorgeous voice as he's singing a folk tune:
Here's Gomer's one of a kind voice- twanging and singing — in this video compilation:
Here's Carol Burnett with Jim Nabors as Gomer Pyle. This video is great because the character of Gomer and all his goofiness is contrasted with his enormous singing abilities. The duet with Carol Burnett is just plain fun:
Here's the famous video about Gomer losing his singing voice just in time for a performance. We get to hear Gomer in his usual twangy singing voice, and then his stellar performance of "The Impossible Dream" with The United States Marine Corps Band. There's nothing like it!
Yes, Jim Nabors' life story was reviewed recently, too. Those who didn't yet know that Nabors spent the later years of his life as the owner of a macadamia plantation in Hawaii, now know it. He had owned it for 25 years, and kept his second home there. Other bits of forgotten trivia also have hit the media. He also nearly died from hepatitis B and became a liver transplant survivor. He regularly sang "Back Home Again in Indiana" before the start of each Indianapolis 500 race from 1972 to 2014. He married his life partner, Stan Cadwallader, one month after Washington State made same-sex marriage legal. He received many honors and awards for his singing and acting along the way. Both he and his character Gomer Pyle received honors from the Marine Corps. Nabors recorded many single records and 28 albums. He performed for many TV shows over the years, singing or as fictional characters.
Ultimately, Jim Nabors was an incredibly talented performer. We are lucky to have his singing available in classic TV recordings. He was a wonderful character and one astounding human being
Tell us what's wrong with this post? How could we improve it? :)
Let us improve this post!