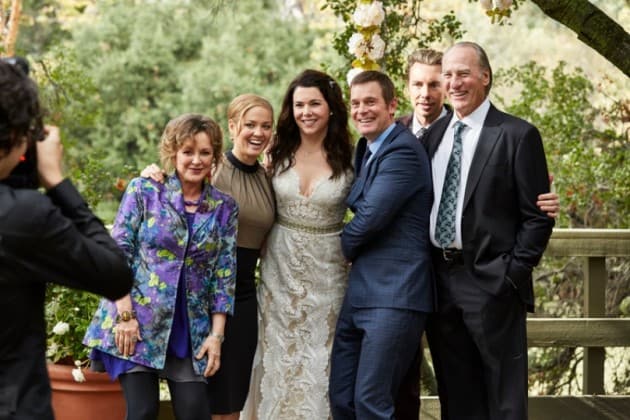 With the 2014-15 TV season coming to a close, TVOvermind is taking a closer look and reviewing the most recent seasons of some of network TV's biggest shows. We last examined FOX's "Empire." Next up: the sixth and final season of NBC's "Parenthood."
"May you grow up to be righteous, may you grow up to be true, may you always know the truth and see the lights surrounding you; may you always be courageous, stand upright and be strong, and may you stay forever young." – Bob Dylan
The theme music that you hear at the beginning of each of Parenthood's 103 episodes encapsulates the overall theme of the series, a family drama that manages to show the evolution of an ensemble cast over the course of six seasons. For the sixth and final season, though, the lyrics to Bob Dylan's masterpiece "Forever Young" resonates more than ever as each and every storyline through the show's history wraps up as its characters fully become the people that they were always intended to be.
Since its premiere in 2010, Parenthood (loosely inspired by the 1989 film of the same name) told us the story of the Braverman family, an oftentimes dysfunctional group of individuals that exhibit more real love for each other than I have ever seen elsewhere on television. Never a success in the ratings, Parenthood nonetheless managed to attract an extremely loyal (if somewhat small) audience, and critical success led to the show's renewal for a final season of thirteen episodes. The one stipulation for this final season, however, was a somewhat large budget cut, and this was accomplished by each main character taking a few episodes off.
Even with episodes not including every character, Parenthood's final season managed to give appropriate time to every single storyline. While everyone had plenty to do this year, the driving force on the narrative was the rapidly declining health of the Braverman patriarch, Zeke (Craig T. Nelson). After a health scare during a birthday trip to Las Vegas with some of his children, Zeke and his family begin to realize that they may not have as much time left together as they wished. Throughout the remainder of the season, Zeke's health is an absolute roller coaster, making viewers experience all of the powerful emotions in a way that only Parenthood knows how to do. In the end, Zeke passes away peacefully, but not before being able to give away his daughter Sarah (Lauren Graham) at her wedding. The theme of the year was one of beginnings in the face of endings, and this was best shown through the pregnancy of Sarah's daughter Amber (Mae Whitman). After an up-and-down relationship with her former boyfriend, Amber gives birth to a healthy baby boy that she appropriately names after her grandfather.
The other two major (though definitely not only) storylines in the final season of Parenthood dealt with the rocky relationship between Julia (Erika Christensen) and Joel (Sam Jaeger) and the future of The Luncheonette, the recording studio owned by Adam (Peter Krause) and Crosby (Dax Shepard). Both of these stories, in classic Parenthood fashion have their ups-and-downs and false endings, but they both manage to wrap up in the absolute best ways possible by the series finale.
Speaking of the series finale, what an absolutely amazing episode "May God Bless and Keep You Always" was. I would go so far as to say that Parenthood's finale is in my personal top ten series finales ever, if only for the final montage. Early on in the season, Zeke tells his son Adam what he wants to happen after he dies, and the entire Braverman clan comes together to close out their story perfectly while offering glimpses at each of their futures. The series finale, to say nothing of the entire final season as a whole, is a great example of perfectly executed storytelling, and it's a real shame that a larger audience didn't experience the show while it was on the air.
As with Jason Katim's previous series Friday Night Lights, Parenthood has always done a remarkable job with its use of music, and the sixth season of the show is no exception. Each episode sports an amazing soundtrack of indie music that has been immediately added to the playlists of millions of viewers, and the clever use of music helps the show stand out in the vast landscape of dramas that exist.
As I mentioned before, every storyline during the show's final season was executed perfectly, and one reason that this was possible was due to the pure and absolute talent. Since her major storyline in Parenthood's third season, Monica Potter's Kristina Braverman has been one of the biggest highlights of the show, and this season is no exception. I really can't think of another character on television that has ever made me feel as much as Potter's portrayal of Kristina did during the past few years, and hers is a performance that I will never forget. While the entire cast was great, the strongest performance to me (aside from Potter) was from Bonnie Bedelia as the Braverman matriarch Camille. Throughout the season, we felt her pain and her joy as she experienced all of the change happening in her family, and it was a real treasure to get to see these stories take place in front of her eyes. Aside from the main cast, I can't think of a single recurring or guest character that didn't shine in whatever role they were given. Shoutouts in particular, though, to Ray Romano's Hank and Sarah Ramos's Haddie for masterfully portraying their characters no matter the size of material that they were given.
We seem to be living in a time in which the family drama is fading in popularity on television, so it's really a great thing that we were able to experience Parenthood before this age dies. Despite the small audience, we were able to get a fantastic six seasons from this show, and the final season should go down in history as one of the best ever. Parenthood itself will forever live in the hearts of so many fans, and I'm hopeful that millions more will come to love the show through Netflix in the years to come.
What did you think about the final season of Parenthood? Let us know in the comments below!
[Photo via NBC]