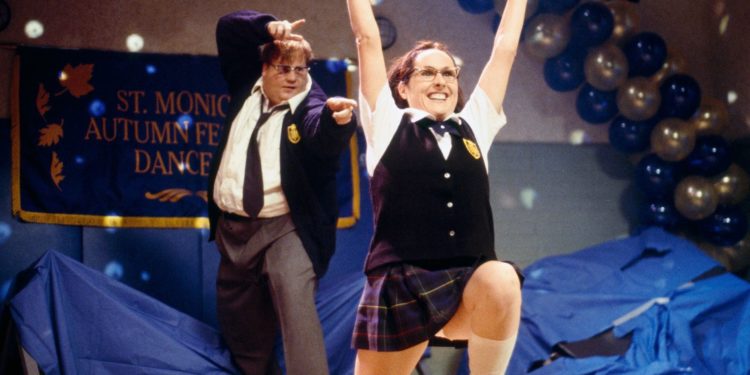 When we look at the photos and videos of Molly Shannon, we feel that she is too happy and satisfied with her life. We also feel that she doesn't have any problem because she is beautiful, impressive, successful, powerful and of course, famous. Many of her pictures and videos keep circulating on the internet. People love talking and hearing about this adorable lady. However, you never know this cheerful personality can also have problems. Molly Shannon's cheerful personality and smiling face shouldn't be confused with her perfect life because she doesn't really have one. Most recently, the actress revealed that a childhood tragedy led her to accept certain roles. Some of those roles have been created especially for Molly Shannon, and she had done justice with them. For instance, the popular character of Mary Katherine Gallagher is inspired by one of her childhood incidents. She played this role in Saturday Night Live.
What was the actual incident?
At the age of 4, something shocking happened with Molly Shannon. She lost her mother, cousin, and younger sister in a car accident. It made her feel too depressed. On the other hand, her dad had driven under the influence. He was able to survive this accident but got seriously injured. "I was very heartbroken and very sad and just trying to hold it all together as a kid," Molly Shannon revealed everything when she spoke to the Los Angeles Times. This interview was published a few days ago. "There's no way that you could feel that type of deep pain about your mother and your sister being dead, so you just hold it all in, and it comes up later in life."
Molly Shannon's self-created character
It should be noticed that Molly Shannon got the chance to self-create her favorite SNL character. From 1995 to 2001, she reprised the character so many times during her tenure on the program. According to the star, "Gallagher was really based on me, how I felt after the accident — really nervous, accident-prone, wanting to please, f— up but full of hope." She then said that she had exaggerated everything I felt when she was a child and turned it into a marvelous and amazing character. In case you don't know, let me tell you that this character is an energetic Catholic school-going girl. It let Molly Shannon feel free. She could show all of her skills. She got too involved in this role that she considered herself in the zone as Gallagher all the time.
She devoted herself fully to this character and didn't find any problem about waking up every day to go to the set for getting the shooting completed. She used to wonder where the cuts and bruises were coming from. 56-year-old Molly Shannon considers it weird. She says that she was too involved in the role that she did not even care if she had cut herself or she was bleeding. She didn't care about anything but her role. She was reckless, which is because she had gone through a lot in her life. She focused on her role and did not worry about anything else while trying to perform well and giving her best.
Her latest appearances
In recent times, Molly Shannon has made an appearance on The White Lotus. This is an HBO program. She is also in the cast of HBO Max's The Other Two, where she is playing the role of Midwestern mother Pat Dubek. This character has been created for her by former SNL head writers Sarah Schneider and Chris Kelly. She will also work on the Showtime comedy I Love This for You. Besides, the star will be found in her memoir called Hello, Molly! This is going to debut in April 2022. In this book, you will be able to find stories about her personal life, her relationships with her family, her childhood, her later life, and her professional life.
Talking about her tragic childhood is difficult
According to Molly Shannon, it is too tough to talk about her tragic childhood. She has seen so many ups and downs. She often feels vulnerable when she is asked to open up about her personal life publicly. "You feel like you put your heart right there on the table," the star said. "But I hope that my story can help other people."The White Lotus
Tell us what's wrong with this post? How could we improve it? :)
Let us improve this post!