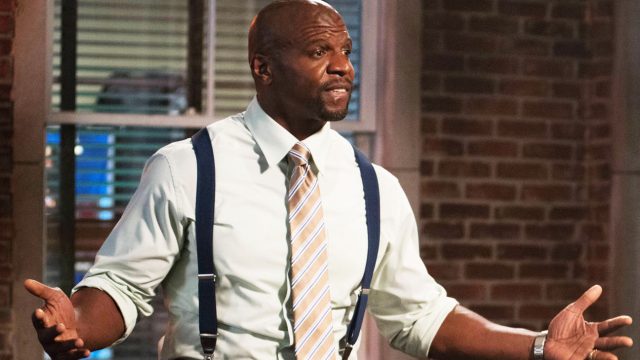 So Terry Crews is the one man that decided to speak up and he's not getting a single bit of attention or press. So far he's gotten a blurb here and there detailing what happened to him, otherwise there's been nothing. One reason for this is that Crews hasn't pressed the issue for his own reason. He doesn't want to be ostracized and lose favor in Hollywood. Some folks might call that cowardice and an inability to do the right thing, but it's a very practical decision. He doesn't want to lose his job, he doesn't want to lose the security that working brings, and unfortunately that means swallowing a very bitter pill. It means not pressing the issue against a person that should be stripped of the nearly everything they believe is theirs by right.
Adam Venit, agent to Adam Sandler and several other A-list stars, was the man that Crews named as having groped him during one of Sandler's parties. The agent apparently made gestures and gave Crews looks that he didn't understand or care for, and when he approached him Venit reached out and grabbed Crews' genitals. In many neighborhoods it wouldn't matter if the two men involved were homosexual or not, that would be grounds for a beating right there on the spot. At a party filled with plenty of people that had camera phones ready to whip out at a moment's notice however Crews managed to calm himself just enough to avoid pummeling the agent as some might have gladly done.
After this however he did advise Sandler to speak to his agent and was quite agitated. Can you blame him? Ever since then it's been like Crews has dropped off the map. He still acts, he still has work, but any mention of him has simply quieted down to almost nothing. If one wanted to find an explanation they might say that he's been keeping on the down low and staying quiet for a while. But if a person wanted to point to the conspiracy angle they might say that since he spoke up even a little bit the powers that be, whoever they are, have decided to blacklist him in a way that won't ruin his career but will make it known that he's fallen out of favor.
What a life. Any time it seems that we talk about celebrities in any venue it seems that there are always rumors of something shady going down behind the scenes, something we can't see but are instinctively aware could possibly happen. Crews' attempt to speak out about his assault, because that is what it would be classified as, seems to have gained him little more than a good snubbing by Hollywood, the same industry that doesn't want to expose too many of their problem children for fear that the web might start unraveling and a good number of them could finally be exposed. His attempts to simply be heard have been effectively relegated to the metaphorical back page of the news, and it's more than a little disturbing.